Travelling by bus is the simplest way to get around Myanmar if you are on a budget – and it is the only way to get to certain destinations (unless you are prepared to pay for a private car).
Bus routes are run by a variety of different private companies, and they serve most parts of Myanmar– with the exception of some border and mountian areas such as Kyaing Tong and Putao (for some background on this issue, go to about Myanmar).
Please note that the map on this page indicates primary bus routes accessible to foreigners, not all bus routes.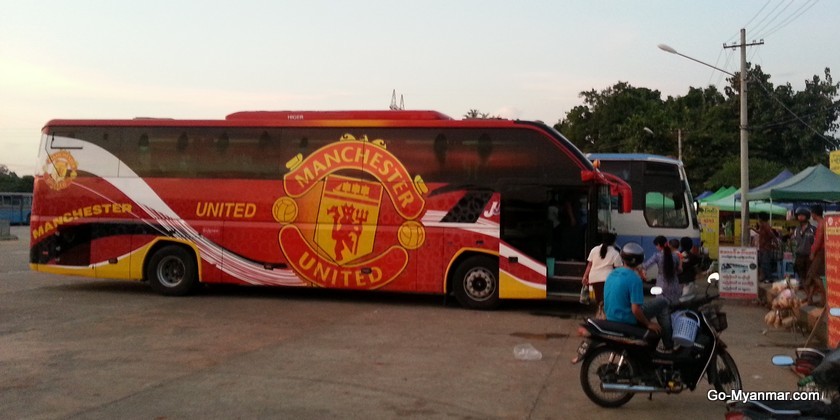 Long-distance bus travel
In major centres such as Yangon, Mandalay and Bagan, the long-distance bus stations are located far from the centre of town, so you will need to buy your ticket online here or in advance from a booking office or hotel in the centre of town.
Tickets can be bought at bus stations, but it is recommended to book early for popular routes (such as Yangon to Bagan, Mandalay or Inle Lake), particularly during the tourist high season from November to to April. Things can get particularly busy during the Thingyan (Burmese new year) water festival in April.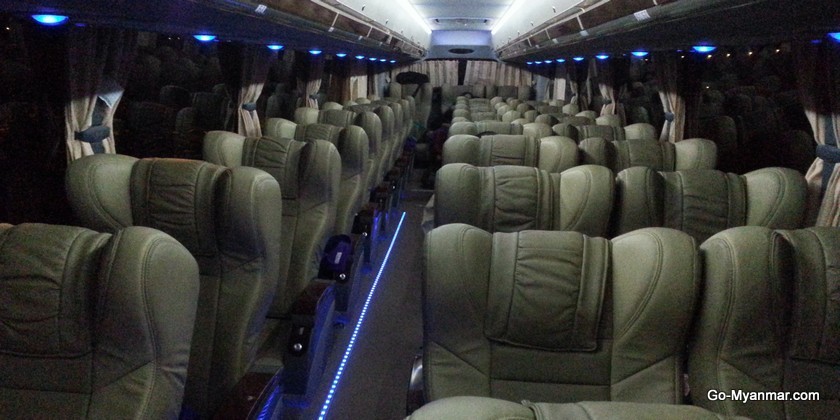 Long distance bus tickets typically cost between K6,000 to K30,000, depending on the length of your journey; buses are usually faster and cheaper than trains. Schedules may be unfamiliar to many foreigners – long-distance journeys often start between 4pm and 10pm, meaning that you may arrive at your destination very early in the morning. Equally, buses sometimes leave very early in the morning (as early as 4am), particularly from more remote destinations.
To make online bookings contact us here, or go to individual destinations to find out about bus routes and times to specific places. When you book online, we can send you a ticket scan by email, which will be accepted when shown on your smart phone at certain bus stations (local bus ticket sellers are not always easy to reach in larger cities). Note that it is cheaper to buy bus tickets locally in Myanmar than through this website, but we are able to offer secure online advanced booking for peace of mind.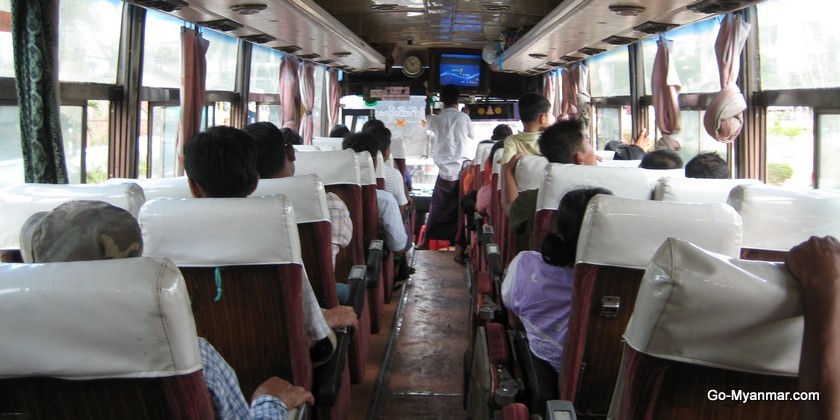 Local buses
In larger cities such as Yangon and Mandalay, there are local bus networks, which are popular and sometimes crowded. Understanding routes can be difficult for visitors as signs are not written in English and numbers are in Myanmar script, but with a little help from locals, buses can be a fun and cheap way to get around. Journeys rarely cost more than K300.
Important notes on bus travel
The long-distance buses on major routes in Myanmar are modern, air conditioned vehicles, but some older buses in less touristy areas are in worse condition. In extreme cases, they may have no working windows, and may have people, sacks of grain, or even live animals filling the aisles!
On most major routes it is possible to choose between different levels of luxury, which is reflected in the price of the ticket. VIP buses (sometimes called Express buses, although they are not always faster) are very comfortable, usually having reclining seats and 2+1 seating (as opposed to the usual 2+2). For more comprehensive information on routes, go to individual destinations.
Many bus schedules operate over night, which allows you to make the most of your days.
Most longer journeys feature at least one 

refreshment stop

. These offer you the opportunity to stretch your legs and get a drink and a bite to eat; if you are travelling to or from Yangon, most buses stop for half an hour at 115 Mile, a large complex of restaurants and hotels on the main Yangon-Nay Pyi Taw-Mandalay Expressway (2.5 hours north of Yangon). Buses do not have toilets on board.
Bottled water, and sometimes a small snack, are supplied on all VIP buses and some other buses.
Air conditioned buses can get 

cold

; it is a good idea to have another layer to cover up with, although blankets are sometimes provided.
Myanmar pop and rock videos or romantic movie dramas (not the most sophisticated of styles) are often played on buses – loudly. A 

personal music player

 is highly recommended.
Some off-the-beaten-track routes cover 

very rough, dusty roads

 – and can become impassable in the rainy season, so 

journey times can vary

. Although buses tend to be more reliable than trains and public boats, on less well-trodden routes it is possible your bus might need to cool off or have minor repairs.
If you do travel to less touristy parts of the country (particularly border areas), it is a good idea to have photocopies of your Myanmar visa and passport photo page, which may be demanded by officials.