The city – an introduction
The name 'Mandalay' is perhaps the most evocative of any destination in Myanmar (mainly due to the famous poem by Rudyard Kipling, who in fact only ever spent two days in the country and never came here!) – and yet it is a city whose significant charms need to be uncovered. But if you take the time to explore, there is much to be enjoyed, including many temples, monasteries and markets, as well as great street food and panoramic views from Mandalay Hill.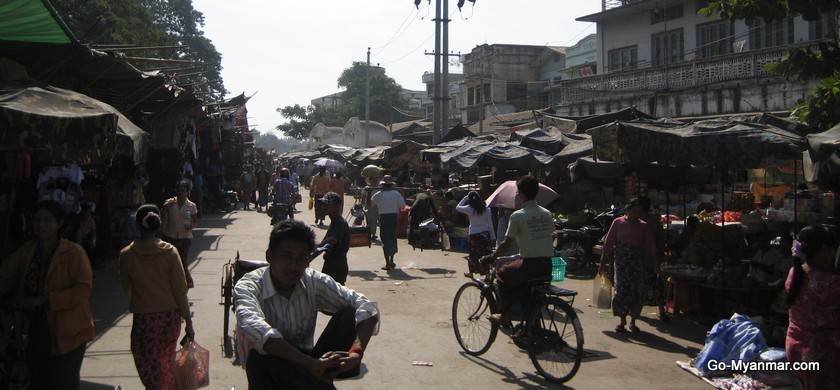 Compared to the many ancient capitals scattered around the country, Mandalay is in fact a relatively new city, having been built in 1857 when King Mindon was trying to re-establish Burmese prestige after the country's defeat in the Second Anglo-Burmese War. It was therefore constructed on a grand scale, and the size of Mandalay Palace (more info below) is testament to this.
Orientation and other practical info
When you first arrive in Mandalay, you will find a large, dusty and flat city, with its streets based on a grid system (numbered north to south 1st to 49th and east to west 50th to 90th). Getting around downtown (roughly located at the south-west corner of Mandalay Palace moat, near Mandalay railway station) and its assorted markets, restaurants and temples can be done on foot, but if you want to go any further – for example, to Mandalay Hill, the Shwenandaw or Shwe In Bin monasteries, or the Mahamuni Temple, you will need to get a taxi or pick up.
Alternatively, you can hire a self-drive motorbike to see the sights for around K12,000 per day at a number of places in the downtown area, including Mandalay Motorbike Rental. At the other end of the scale, a spectacular way to see Mandalay is by hot air balloon; price per person is US$275 and the season runs from mid-November to the end of March. To make a booking or enquiry, click here.
A US$10 ticket (valid for a week) is required to enter many tourist sites in Mandalay and the surrounding area, and can be bought at most places that require it for entry. In some locations (such as Inwa, Amarapura and Sagaing), the ticket is technically required – but in reality you are rarely asked to show it.
There are a KBZ and CB Bank Visa- and Mastercard-ready ATMs dotted around downtown Mandalay.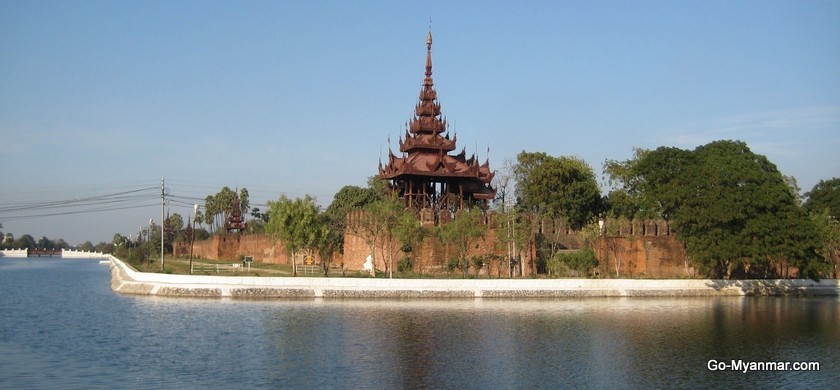 Mandalay sights and activities
Mandalay Palace
The scale of King Mindon's ambition is obvious on first sight of the vast Mandalay Palace and its grounds. The walled citadel, surrounded by a large moat, is situated in the middle of the city, to the north of downtown; it certainly looks imposing from the outside, but unfortunately, along with much of Mandalay, it was devastated by bombing in the Second World War.
Within its walls you can now find a huge army camp (with obligatory golf course, a must for the generals) and a reconstruction of the original palace, which, as is all too common in Myanmar, has been done with a somewhat heavy hand. However, it is still interesting to visit in order to get an impression of what used to be, and some original artefacts are held at the museum. Entrance is through the east gate; the $10 Mandalay zone ticket is required.
Shwenandaw Kyaung
In contrast to the reconstructed Mandalay Palace is the Shwenandaw Kyaung, a perfectly preserved monastery which has recently undergone restoration work overseen by the World Monuments Fund.
Called the Golden Palace monastery in English, it was originally the royal apartment in which King Mindon died, and was sited within the palace walls; it was moved to its current location on the corner of 14th and 62nd streets by Mindon's son, Thibaw – the last king of Burma – and converted into a monastery. Made entirely out of teak (not gold, despite its name), it is adorned with beautifully intricate carvings. $10 Mandalay zone ticket required for entry.
For a wider selection of photos of the Shwenandaw Kyaung, go to our Flickr photo album.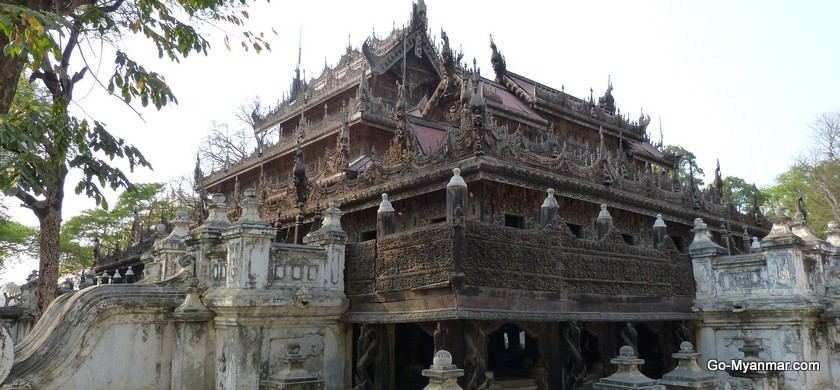 Mandalay Hill
The place from which the city gets its name, Mandalay Hill is a welcome respite from the heat and dust of the streets, and offers stunning 360 degree views of the whole city, the Irrawaddy River and the distant hills. It is particularly beautiful at sunset, with the fading rays glinting off the gold and green of the Sutaungpyei Pagoda, which is located at the summit. Mandalay Hill is a holy site, and is said to have been climbed by the Buddha, who prophesied that a great city would be built here, where his teachings would flourish.
In religious terms, walking to the top is the most meritorious way to ascend the hill, and on the main route (from the south) you will see numerous interesting payas on your barefoot 45-minute journey, starting with two giant white chintes (giant lion-like creatures) that guard the entrance. It is a gentle climb, all covered, but can get extremely hot, particularly during the middle of the day. The alternative is to take a pick-up to the top – certainly you may wish to take one down again if you have made the effort to do the climb.
The road up the hill is separate from the main roads in Mandalay, and motorbikes are charged a K200 entry toll, plus a K200 parking fee at the top. Mandalay Hill is located to the north of Mandalay Palace and is visible from most of the city. There is a K1000 camera fee. In the peak season from November to February it can get crowded at the summit, sometimes making it difficult to find a good view.
There is a night market near the base of Mandalay Hill, where you will find food and drinks stalls, a rooftop bar, a swimming pool and music.
Western Mandalay, Eindawya Pagoda & Zegyo Market
Located in the western part of downtown Mandalay (near the end of 27th street), the Eindawya (Ein Daw Yar) Pagoda and Zegyo Market are in many ways the heart of this city. Like so many religious sites in Myanmar, the pagoda is a living and breathing community in itself, with shops lining its entrances, monks to be found playing football, and people to be found worshipping.
Built in 1847, it is a classic example of a Myanmar shrine, with the 28-metre tall stupa standing proud in the middle, surrounded by characterful buildings of varying design and purpose, including a monastery – all facing the stupa. A Black Buddha, brought from India in 1839 and carved from quartz, can be found here.
Zegyo (Zay Cho) market is the biggest market in Mandalay and is as old as the city itself. Although an interesting and lively place to wander around, the main building unfortunately now an undistinguished modern structure – the main draws here are the neighbouring dusty, bustling markets of 86th street, which are rich in atmosphere and have a huge selection of locally produced goods, from fresh food to handicrafts.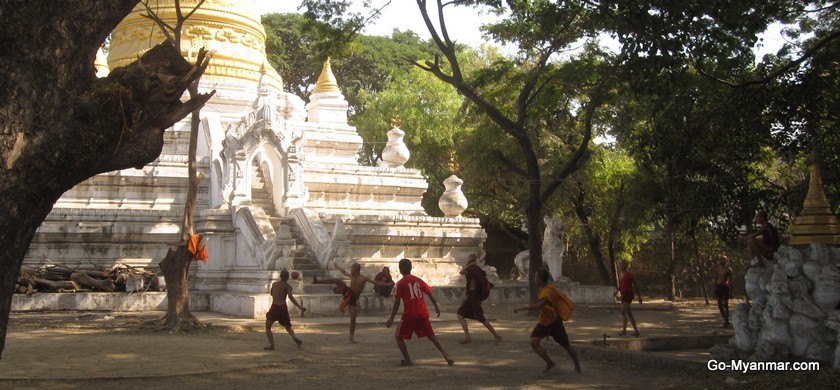 Western Mandalay is the most satisfying part of town to explore by foot or bicycle: heading west from the Eindawya Pagoda, you will find a number of colonial era and traditional wooden monasteries; some charming, quiet pagodas; a lovely teak bridge spanning the Thinga Yazar canal; and eventually the bustling Irrawaddy riverfront.
Shwe In Bin Monastery
Another building to have stood the test of time, this beautiful and ornate teak monastery was constructed in 1895 by Chinese merchants, and features many impressive woodcarvings and contains a number of traditional art works. The setting, outside central Mandalay, is a peaceful and relaxing place to witness Buddhist monks go about their daily lives. It is located southwest of downtown, by a small river on 89th and 38th streets.
Mahamuni Buddha Temple
One of Myanmar's most important religious sites, the Mahamuni temple often throngs with pilgrims, and is set in a large religious complex that is most famous for its seated Buddha, which stands at 3.8 metres tall and has been adorned with so much gold that its body is now a mass of golden blobs. The one part that is still clear is its beaming face, which is washed by monks, and has its teeth cleaned, in a ceremony every morning (at 4am or 4.30am). The temple is located south of downtown, between 82nd and 84th streets.
The Mahamuni Temple hosts several festivals through the year (more information below).
For a wider selection of photos from around Mandalay, go to our Flickr photo album.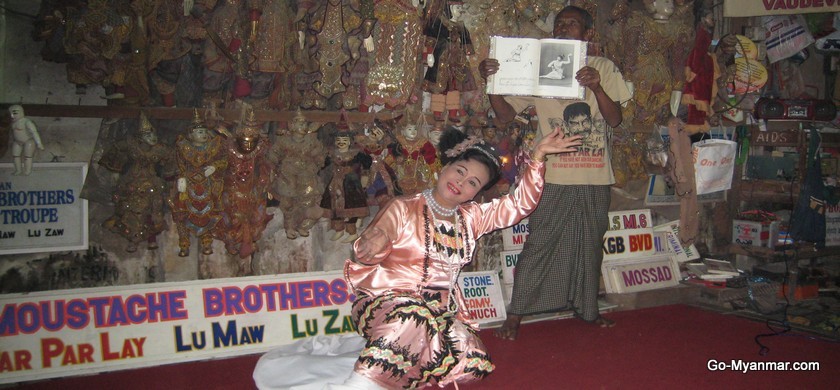 Comedy, marionettes and theatre
Mandalay is famous for its culture, and amongst the most well known of its residents are the Moustache Brothers, a subversive a-nyeint pwe comedy troupe who have been sticking their fingers up to the ruling generals for years. They have been sporadically jailed and put under house arrest, and it is in this house that they perform their show (on 39th street, between 80th and 81st); it lasts around one hour and is on most evenings from 8.30pm. Entry K8000.
For some colourful doses of traditional Myanmar entertainment, go to Mandalay Marionettes or the Mintha theatre (close by to each other on the corner of 27th and 66th streets). To find out more about Myanmar theatre, go to entertainment, music and festivals.
To book Mandalay city tours and other activities, fill out this form. We also offer a variety of tours of Myanmar that include the sights of Mandalay - find out more here. 
Festivals
The Kyauktawgyi Pagoda Festival is one of the largest of the year and takes place in September or October. It celebrates the huge marble Buddha that rests at the pagoda, and includes contests to weave monks' robes, which are offered to the Buddha images at full moon.
The Taungbyone Nat Festival takes place in the village of Taungbyone, 20 kilometres north of Mandalay. Held in July or August, the festival lasts five days, leading up to the full lunar moon, and is a celebration of nats – guardian spirits. Many nat performers are homosexual or transgender, and the festival has a large gay following. Little accommodation is available in Taungbyone, so most people take a taxi to the festival for the day and return to Mandalay in the evening. To find out more about the festival check out our Taungbyone blog.
The Chinlone Festival takes place at the Mahamuni Temple in June or July. The best Chinlone (one of Myanmar's traditional sports) players come from around Myanmar to compete.
Also hosted at the Mahamuni Temple is the Payagyi Festival (January), which features rice cooking contests held in the evening followed by incense burning the following morning, as homage to the Buddha.
For exact dates and full Myanmar festival listings, go to our festivals calendar.
Eating and drinking
If you wander around downtown Mandalay, particularly between the south west corner of Mandalay Palace moat and Zegyo Market (between 22nd and 28th streets), you will find many inexpensive roadside restaurants serving a variety of tasty local dishes, as well as Chinese, Indian and Tibetan food.
Here is a selection of some of the best places to eat in Mandalay:
Lashio Lay is a downtown restaurant popular with locals and foreigners alike, serving good value authentic Shan food, and is open later than most other places. Price K2000-K4000. Location: 23rd street, between 83rd and 84th.
27th street food stalls. Near Zegyo Market you will find a number of street stalls selling cheap and tasty chapatis. Beers usually need to be brought or ordered from another store.
Karaweik tea house serves delicious dumplings and a variety of other local dishes. Price K1000-K3000. Location: 22nd street, between 83rd and 84th.
Green Elephant has a lovely, atmospheric garden setting and offers traditional Myanmar food, as well as Thai, Chinese Indian and Western dishes. Price K10000-K15000. Location: 27th street, between 64th and 65th.
There are street side beer stations scattered all around Mandalay, although relatively little western-style bar or coffee culture. The options are growing however, and most bar options are located around the south east corner of Mandalay Palace. Here are the highlights: