Pindaya is famous for its limestone caves, its attractive lakeside setting, and the traditional Shan paper umbrellas that are manufactured here. Set deep in the hillsides, the caves (some of which serve as meditation chambers) contain some 6000 Buddhas of various sizes, which are made of white marble, bronze or plaster, and coated with gold leaf. At the entrance to the caves sits the 15 metre tall Shwe U Min Pagoda.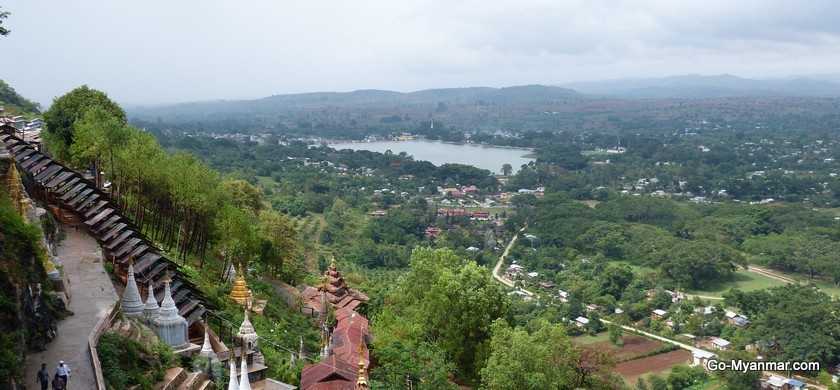 The caves are a pleasant 45 minute walk from Pindaya town centre. A good round trip involves first walking south along Shwe U Min Pagoda Road, which includes an atmospheric section passing between gigantic trees whose trunks and branches weave unusually along the ground; you can then return from the caves to Pindaya along the covered walkway that follows the hillside – where there can also be found a beautiful teak-built monastery. There is a US$3 entry fee to the caves.
The town of Pindaya itself is set on a pleasant lakeside and has a number of good hotels, including some set in colonial-era buildings (more info in accommodation section above). You can take to the skies for spectacular views of Pindaya and the surrounding countryside with a hot air balloon; balloons are available on a private charter basis and you can find out more by filling in this form.
Pindaya can be visited on a day trip from Kalaw. A minibus (K35,000 one way) or tuk tuk (K25,000 one way) will take around 2 hours to get from Kalaw to Pindaya. There is a $5 entry fee for the Pindaya area (which is separate to the caves entry fee).
We offer a variety of tours of Myanmar that take in the sights of Pindaya - to find out more go here.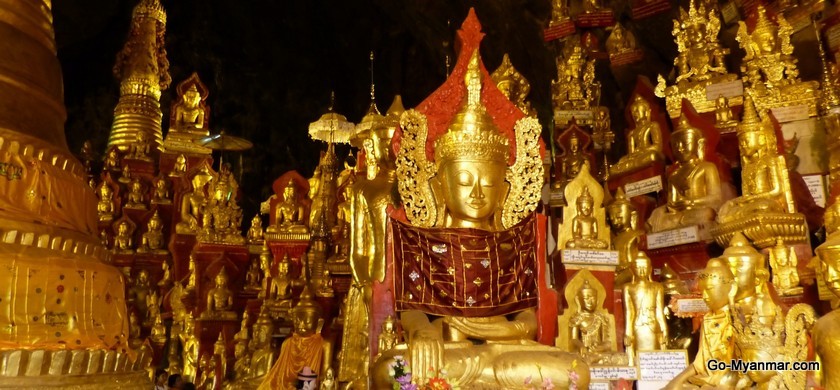 For a wider selection of photos from Pindaya and the caves, go to our Pindaya Flickr photo set. 
The long hike from Pindaya to Kalaw
If you have the time and energy, a great alternative to a day trip is to go by road from Kalaw to Pindaya, and return to Kalaw on a hike through the hills and tribal villages of this beautiful part of Shan State. The Danu and Pa-O tribes who live here have their own languages and look quite distinct from the Burmese, both ethnically and in their dress.
They are also passionate about their independent identity, often displaying local flags on their houses and vehicles. The journey from Pindaya to Kalaw will typically take three days and two nights, although you may be able to cover it in two days and one night if you manage to cover a lot of ground (and don't get lost!).
There is no formal accommodation between Pindaya and Kalaw, but monasteries are always happy to welcome foreigners (male and female) for the night, and they will usually provide you with a hearty meal. In Pindaya town centre, you can find a tour information centre run by an old trekking guide called U Myint Thoung, who will happily give you advice and directions.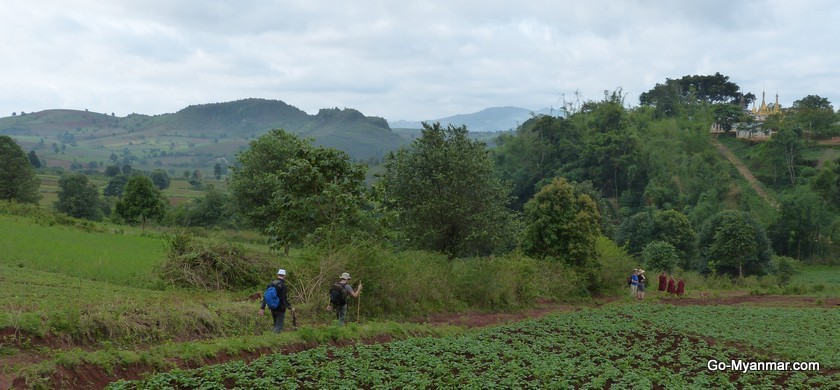 Bear in mind that on your trek through these parts of the Shan hills, you will rarely find locals who speak English; if you have a smart phone with GPS, that will be of help for bearings (if you do not Myanmar mobile network access, make sure to load your map using wifi beforehand).
For a wider selection of hill trekking photos, go to our hiking between Pindaya and Kalaw photo set.
Festivals in Pindaya
The Shwe U Min Pagoda Festival takes place in Pindaya in February and is a major festival for the Taungyo hill tribe; it is also popular with other tribes such as the Pa-O and Danu, and features dancing, music and fairground attractions. For dates and full Myanmar festival listings, go to our festivals calendar.