Most Myanmar people, particularly men, love a drink – and are more than happy to enjoy one in the company of foreigner visitors. During the day and early evening, it is always easy to find a restaurant or beer station to sit down and have a refreshing beer or glass of rum (albeit sometimes on a small and shaky stool!).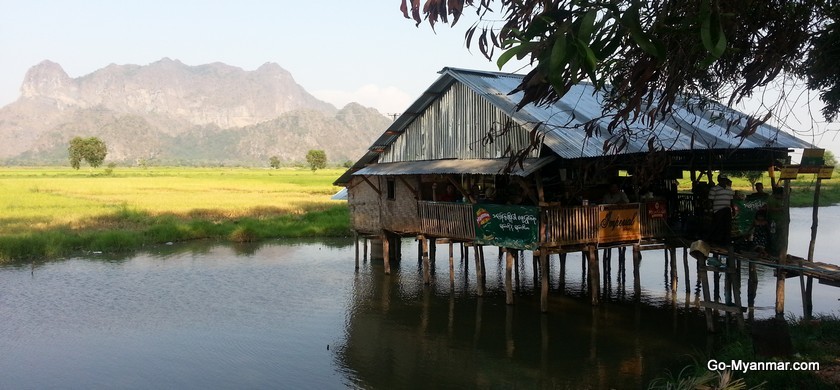 The concept and traditions of drinking in Myanmar are different to other parts of the world, however. Due to decades of poverty and frequent electricity black-outs, nightlife does not really exist outside large cities and some luxury hotels and resorts; in general, finding anywhere outside these areas that is open after 9pm can be difficult. But as people become wealthier and more foreign tourists and business people arrive, things are slowly changing.
Places to drink
Simple, open air restaurants that serve alcohol are called beer stations, and can be found on the streets of cities, towns and villages around Myanmar. They usually serve one of the country's decent draught beers (more information below), and are at the heart of Myanmar drinking culture; people come to meet, talk, eat and drink – and engage in one of the nation's favourite pastimes, watching live European football.
Although women are entirely welcome at beer stations and other drinking establishments, the majority of patrons tend to be male. Local men and women rarely mix publicly in the way they do in western countries.
Yangon has by far the largest choice of beer stations, bars, pubs and clubs, but don't expect a scene like those in more developed regional cities like Bangkok. Mandalay, Nay Pyi Taw and some beach resorts have western-style bars – sometimes attached to luxury hotels – that are open until later in the evening. 
To find out about places to drink around the country, go to individual destinations. For information on bars and nightlife in Yangon, go here.
Types of drink
Beer, rum and whisky are the most popular alcoholic drinks in Myanmar, whilst locally brewed toddy is also generally available, and wine can be found in higher-end restaurants and hotels.
Myanmar's selection of domestic lager beers compare favourably with imported and 'international' brand beers; they have won European (Belgian) quality awards and are good for a refreshing cool drink in what can be a very hot climate. They come in 330ml cans, 640ml and 750ml bottles, and on draught, and prices range from K700 to K3000. Popular local beers include:
Myanmar Beer – the biggest seller and the favourite of most visitors to Myanmar (5% alcohol). Comes in standard (green label) and Premium (a wheaty self-proclaimed 'craft' beer).
Dagon Beer – another widely available and decent local brand (5%).
Mandalay Beer – a popular and long-established Myanmar lager, this has a rougher edge. Comes in blue label (5%) and red label (7%).
Foreign brands such as Tiger, Heineken, Carlsberg and Tuborg are widely available in urban areas and tourists spots, but are usually a little more expensive. There are also some new local Myanmar beer brands created by the big international breweries that have recently arrived, including Yoma and Regal 7.
Myanmar Rum, Mandalay Rum and Grand Royal Whisky are the most popular local spirits, and are in fact significantly cheaper than beer on the basis of alcohol content; a 350ml bottle of rum will usually cost less than K1000.
Locally made toddy (htan ye) is the preferred tipple of many rural people, and is usually fermented from the sap of the same palm trees used to make sugar. You might see this drink being distilled, and a few swigs are often given as a gift, on trips through the country.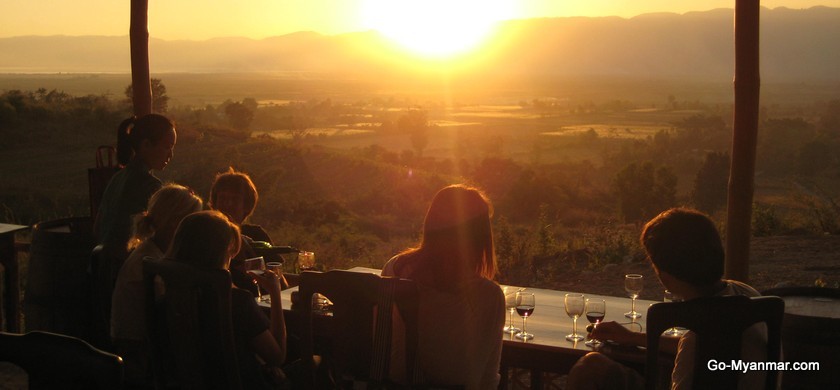 Myanmar's only wines are produced in two vineyards near Inle Lake, Red Mountain Estate and Aythaya Vineyard. which both make for fun and scenic visits. The quality of Myanmar wine has improved markedly over the last few years, although it still has some way to go to match better European and New World wines – which are generally available in luxury hotels and resorts, high-end bars in Yangon, and some supermarkets.
For drink prices, go to setting your budget.