After decades of being stifled by the heavy hand of a dictatorial regime, Yangon's museums, art galleries and markets are now being allowed to grow independently – fulfilling the enormous potential that Myanmar's people and culture offer.
Museums
The National Museum is the country's leading museum of Myanmar art, history and culture. Its unpromising exterior and poor curation hide a wealth of treasures from Myanmar's royal age, including the Lion Throne of the last king, Thibaw. You can find the museum on Pyay Road – a short taxi ride from downtown (K1500). Entrance to the museum is K5000, and it is shut on Tuesdays.
The home of independence hero Aung San at the time of his death, Bogyoke Aung San Museum a colonial-era villa which is now exhibits memorabilia from his all too short life; it is also where his daughter, democracy hero Aung San Suu Kyi, grew up. Previously only open for one day a year, it is now open all year round and is located at 15 Bogyoke Aung San Museum Lane (north of Kandawgyi Lake, K2,500 taxi from downtown).
Of similar historical interest is the U Thant House, the carefully renovated residence of the 1960s UN Secretary General which offers interesting background on this great statesman's life and is also host to public events and lectures. Location: 31 Panwa Road, Kamayut Township (K2,500 taxi from downtown).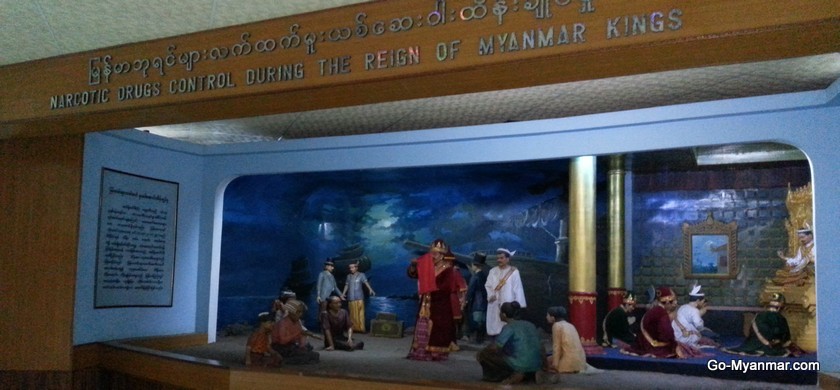 For something totally different, head to the Drug Elimination Museum – a fascinatingly warped look into what Myanmar was like until recently. A gigantic monument to government propaganda, it makes for a fascinating, bizarre and sometimes trippy look at what the military junta did to clamp down on the drugs trade. Highlights include the sheer scale and excess, including many dioramas of the good (and sometimes violent) work done against drugs; some seriously spurious history; and a special section where you are led in by the friendly museum staff, which is designed to give you the feeling of being on drugs – complete with many degenerate mannequins.
Entry fee is $3, plus a $5 camera fee. The museum is located on the corner of Hanthawady Road and Kyun Taw Road, Kamayut Township (K2500 taxi from downtown). Open Wednesday to Sunday 9am-4pm.
Galleries and book stores
At the forefront of the changing landscape is local artist Aung Soe Min; his Pansodan Gallery showcases a wide variety of local painters and hosts a drinks evening displaying new art every Tuesday from 8pm; it can be found on the first floor of 286 Pansodan Road, up a flight of stairs from the pavement. 
Myanm/art is a gallery, reading room, and exhibition space located on one of downtown's most elegant streets, on the top floor of 98 Bogalayzay; it represents emerging artists from around Myanmar and works to raise awareness of their ongoing projects.
 Just around the corner from Myanm/art, Deitta is a contemporary gallery dedicated to nurturing the documentary arts in Myanmar, including photography, film making and writing; it is located downtown on 44th Street in an elegantly restored colonial-era loft space. Temporarily, it's open only for events or by appointment.
 In a more formal setting is the River Gallery, which has two spaces – one in the famous Strand Hotel and another one a couple of minutes walk away, up 38th Street. Set up in 2005 by a New Zealander, Gill Pattison, River Gallery showcases Myanmar's wide range of contemporary artists.
After an extensive period of renovations to a colonial mansion, the new Goethe-Institut Myanmar features a 250-capacity auditorium, a large and breezy outdoor area, an upstairs gallery and a lovely cafe. The 'Goethe Villa' is located just north of Kandawgyi Lake on Kabar Aye Padoga Road.
 Internationally recognised Myanmar artist Aung Myint, a pioneer in experimental art, opened the 

Inya Art Gallery

 in his garage in 1989 to showcase his work. The gallery, still housed in this unprepossessing space, can be found at 50 B Inya Road, next to Inya Lake.
 There is also a large collection of older Myanmar art at the National Museum.
Discover Yangon's emerging art scene and meet traditional artisans across Myanmar on our art tour.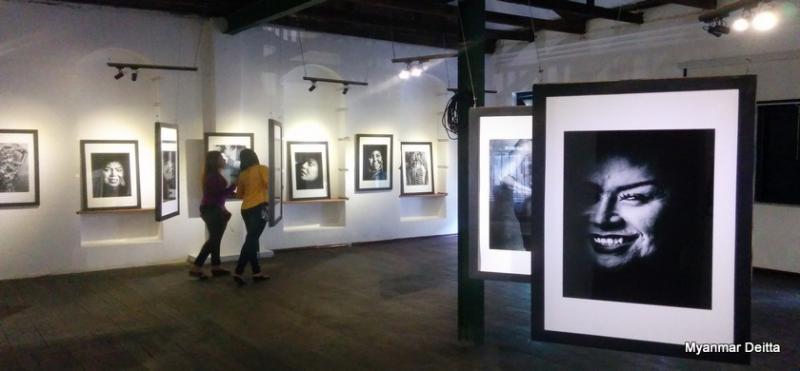 If you are looking for English-language books, there are a number of street sellers downtown, but the established places with the best selections are Inwwa Bookstore (located downtown at 301 Pansodan St – upper block) and Monument Books (150 Dhammazedi Road, Bahan Township – near the Shwedagon Pagoda and a K2500 taxi from downtown).
Markets and shopping
Markets are known in Burmese as zay or zei, and Yangon has a huge number of them, selling a wide variety of goods. Here are some of the highlights, followed by some more western-style shopping options.
Bogyoke Aung San Market (often shortened to Bogyoke Market or referred to by its original name, Scott Market) is situated on the northern edge of downtown on Bogyoke Aung San Road and is Yangon's most famous place to shop. A colonial-era building constructed in 1926, in it you can find over two thousand shops and stalls selling food, clothing, handicrafts, jewellery, antiques and paintings – an art gallery can be found on its east side.
Haggling is the order of the day at Bogyoke Market, but even if you don't buy anything, the market is a pleasant place to wander around and soak up the atmosphere (although it is now to a large extent geared towards tourists). Bogyoke market is open every day from 10am to 5pm, except Mondays and public holidays; Visa- and Mastercard-ready ATMs can be found here and it is a good place to find money changing shops on Saturdays and Sundays, when banks are closed.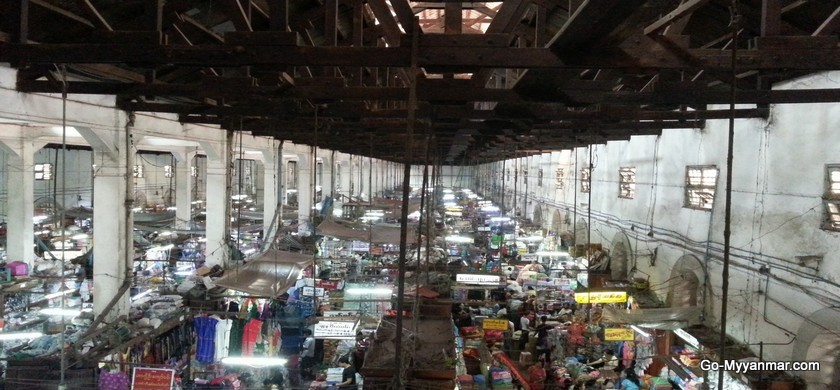 Theingyi Zay is perhaps a more authentic Yangon experience than Bogyoke Aung San Market, in that its prices are lower and its customers are almost entirely locals. It is a huge place that takes up four downtown blocks around Shwedagon Pagoda Road, and is housed in a mixture of classic Yangon buildings and ugly post-war structures; it gives visitors a chance to witness the invigorating hustle and bustle of Yangon and see an array of sometimes unknown products, including a wide selection of herbs and medicines. Catch the morning market (6am to 10am) on the 26th Street section of Theingyi Zay to see it at its most vibrant.
Another huge and lively local market is the 24-hour Thiri Mingalar Market, which also houses a number of beer stations and teahouses that are open around the clock. The market is located on Bayint Naung Road in Hlaing Township (K3500 taxi from downtown).
Something more intimate can be found at Mia Ruby, a tiny shop that sells jewellery designed and made in Myanmar from hand cut, natural and untreated rubies, sapphires and other precious gems from non-military mines in Mogok. Mia Ruby is located downtown at 79 Pansodan Street, below the social enterprise handicrafts store Hla Day (to find out more about Yangon's growing number of social enterprises and community projects go here). 
More modern, western-orientated shopping malls can also be found in Yangon. They include:
Junction City Corner of Bogyoke Aung San Road and Shwedagon Pagoda Road (downtown, diagonally opposite Bogyoke Market). Yangon's newest and largest shopping mall, hosting branded stores, restaurants and a cinema. 
Myanmar Plaza 192 Kabar Aye Pagoda Road, Bahan Township. Another large and modern shopping mall, further out of town by Inya Lake, this place features everything from electronics and sports clothing stores to a KFC, a Hard Rock Cafe and some high end restaurants. K3,000 taxi from downtown.
Marketplace by City Mart (Golden Valley) 403 Dhammazedi Road, Bahan Township. A smaller shopping mall with supermarket featuring a wide range of western foods, smaller stores, cafes and a Pizza Hut. K3,000 taxi from downtown. 
Swimming, spa and massage
Several of the larger hotels in Yangon, including The Chatrium, allow non-guests to use their swimming pools, usually for around $20. Cheaper local options are Western Park Royal swimming pool, on the west side of Kandawgyi Lake and Kokkine swimming pool, located at 34 Kokkine Swimming Pool Street, Bahan Township (off Saya San Road); K2500 taxi from downtown. Phone: +95 1 542749, 703525.
To relax and wind down after a day of activity in Yangon, Inya Day Spa is a great place to head for pampering. They both offer a large range of high quality massages and treatments (including Thai massage) in stylish and relaxing environments.