Mount Kyaiktiyo (Kyite Htee Yoe), famous for the huge golden rock perched at its summit, is one of the three most sacred religious sites in Myanmar, along with the Shwedagon Pagoda and the Mahamuni Temple. Pilgrims come here from far and wide to worship and add gold leaf to the rock, which seems to defy gravity by delicately balancing on the edge of the 1100-metre high mountain.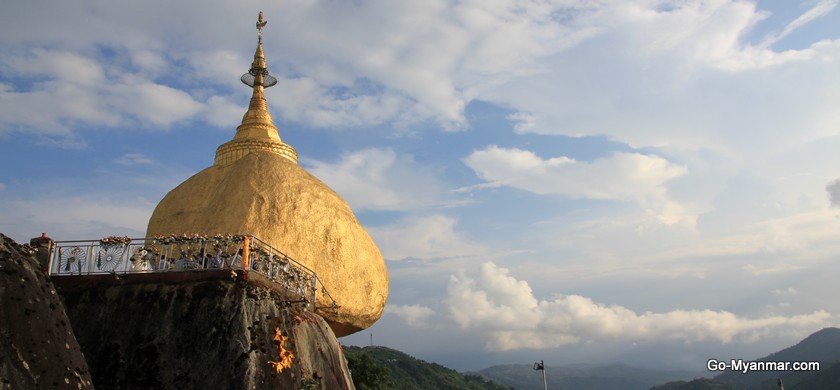 For many visitors, the rock (standing 7.6 metres tall) and the gilded pagoda which sits on top of it (itself 7.3 metres tall), which are said to cover a hair of the Buddha, are the main draw, but another reason to make the journey are the panoramic 360 degree views of the surrounding Mon State mountains from the summit. Bear in mind that the summit area can get very crowded during the peak season from November to March.
For a wider selection of photos from Mount Kyaiktiyo, go to our Flickr photo set.
Kinpun and ascending the mountain
There are a few hotels at the top of Mount Kyaiktiyo, but many people stay in the 'base camp' village of Kinpun (sometimes spelt Kin Mon), which has a lively atmosphere and a good range of places to eat. If you are staying in Kinpun, it makes most sense to arrive in the late afternoon or evening, and then ascend the mountain the following morning.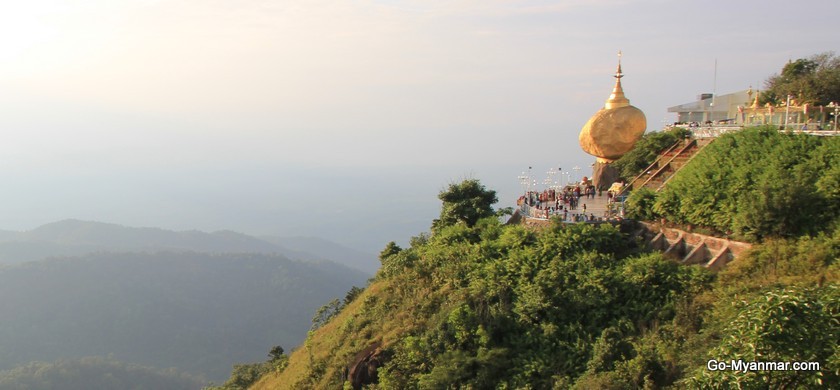 The journey up Mount Kyaiktiyo involves taking a typically crowded open-top truck, which rushes alarmingly through the spectacular jungle scenery like a roller coaster).
There is a stopping point located 1.5 kilometres from the summit, called Rathi Taung or Yathaetaung.  From here, you can choose to walk the fairly steep and strenuous route to the top; take the bus onwards; or take a cable car to near the summit (ticket is USD5). By the time you have reached the pagoda at the summit, you will truly feel as if you have been on a pilgrimage!
It is possible to hike to the top of the mountain from Kinpun, which is an even longer (five hours) and more exhausting journey than taking the truck, but the walk is mostly covered by the jungle canopy and gives the chance to see some lovely views and stupas along the way. The path is straightforward to the top and is well paved.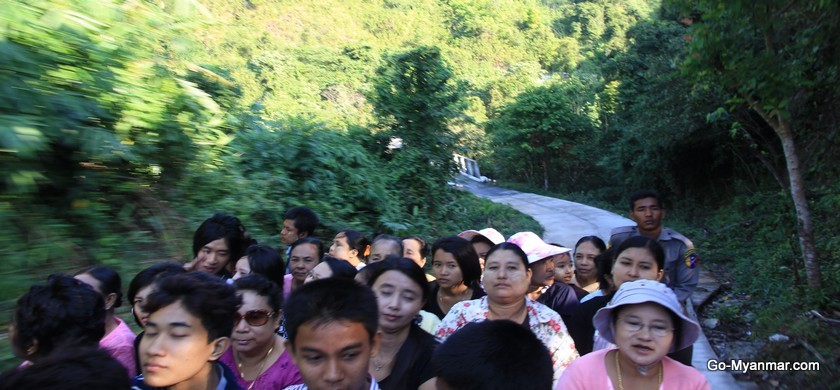 If you want take part in the full religious experience when you get to the summit, there is a fee to place some gold leaf on the rock – but only men are allowed to touch the rock.
Kyaiktiyo Pagoda Festival
The Kyaiktiyo Pagoda Festival (also known as the Nine Thousand Lights Festival) takes place at Mount Kyaiktiyo late in the year and features food offerings at dawn and candle lighting after dark, illuminating the mountaintop. For exact dates and full Myanmar festival listings, go to our festival calendar.
We offer a variety of tours of Myanmar that include Mount Kyaiktiyo - find out more here.