One of Myanmar's many old capitals, Pyay (pronounced 'Pyee' and known in colonial times as Prome) is a quiet, stupa-studded Irrawaddy riverside town, around 290 kilometres north of Yangon.
The hilltop Shwesandaw Pagoda, in the centre of town, is one of Myanmar's biggest pilgrimage sites and offers panoramic views of the river and lush surroundings. Also to be found nearby are the UNESCO World Heritage-listed ancient Pyu capital of Sri Ksetra and the unique Akauk Taung (Customs Hill) Buddha cliff carvings, set on the Irrawaddy river.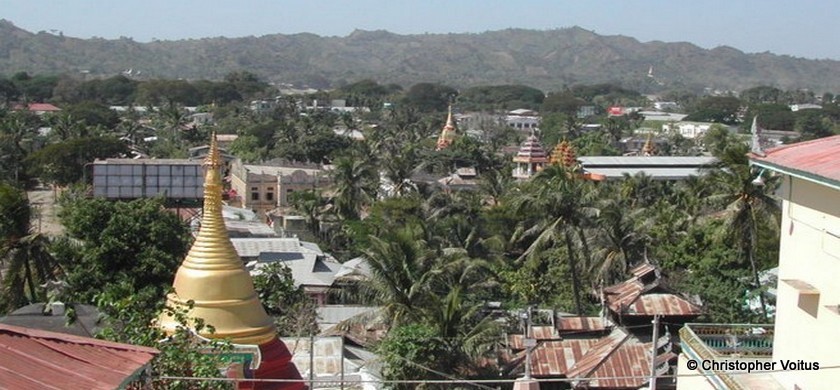 For a wider selection of photos from the town, go to our Pyay photo album.
Another point of interest in the area is the Shwe Myet Man Paya or Buddha with Golden Spectacles. Located on the road to Yangon in the town of Shwedaung, this temple is a unique and odd curiosity; it is said that the praying to this Buddha image can cure diseases, especially – and unsurprisingly – those linked to the eyes.
Sri Ksetra (Thayekhittaya)
Just east of Pyay lie the ancient ruins of Sri Ksetra, meaning 'City of Splendour' in Sanskrit. Also known as Thayekhittaya, it provides a glimpse of an even older civilisation than those of Bagan or Mrauk U – that of the Pyu, who built this huge city between the 5th and 9th centuries.
Added to the UNESCO World Heritage list in 2014, the site is centred on the remains of the royal palace and, although not much remains of the original city, there are a number of tombs, palaces, pagodas and other religious sites to explore – including the huge, cylindrical, brick-built Baw Baw Gyi Pagoda, said to be the oldest Buddhist monument in Myanmar; the Rahanta Cave Pagoda; the Lay Myet Hna monument; and the royal cemetery.
To get to Sri Ksetra, you will need to take a bicycle, motorbike or taxi from the centre of Pyay. The turn off is marked on the main road heading 8 kilometres east of Pyay, and you can see the ancient city walls from the road. Head first to the museum at the centre of the site (K5000 entry), which contains a number of items and relics from the wider site that are safely preserved there – with useful background information in English. There is a further K5000 fee for entry to the site itself.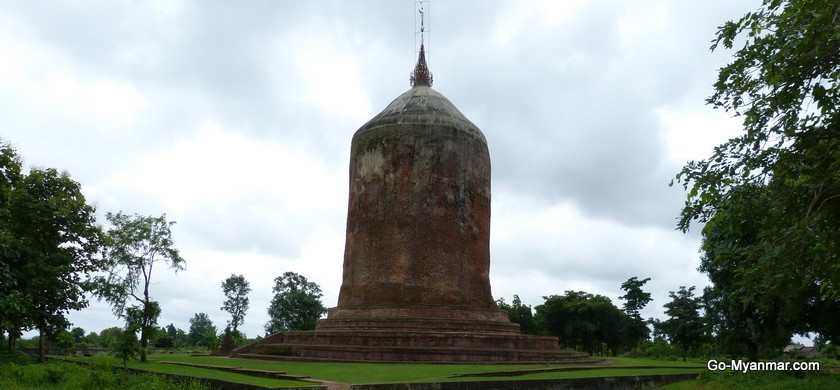 The Sri Ksetra site covers 47 square kilometres – which means it is too large to walk around, particularly taking into account the heat of day and that the surviving sites are spread out from each other. If you have a bicycle or motorbike, you can explore the site yourself (maps are available and there are some English-language signs dotted around identifying the various structures); the alternative is to find an ox cart to take you around. Organised tours will take you between the different monuments by coach.
For a wider selection of photos from around the site, go to our Sri Ksetra photo album.
Akauk Taung (Customs Hill)
Akauk Taung is a scenic spot south west of Pyay where dozens of Buddha images have been carved into the cliff walls overlooking the Irrawaddy. Some say it was made by taxmen as they waited to collect money from passing boats, which explains its alternative name of Customs Hill.
To get to Akauk Taung you will need to hire a motorbike or take a taxi from Pyay to Htone Bo (Tonbo) village – a journey of around two hours by road. If you can, it is a good idea to load maps onto your phone using wifi in Pyay and then use GPS, as there are no English road signs. From Htone Bo it is a further 30 minutes by boat to Akauk Taung (there are usually plenty waiting on the riverfront to be hired).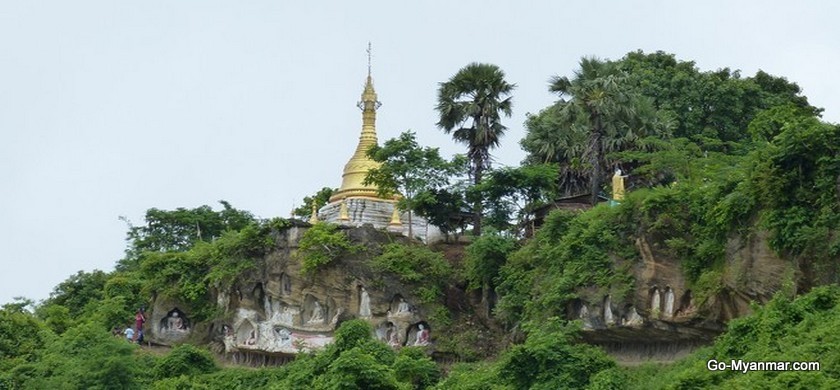 As you follow the river bank and get near Akauk Taung, the Buddhas carved into the cliffs get steadily more grand until you reach a mooring point, where you can take a path up the cliff to a hilltop pagoda and monastery with views of the Irrawaddy and far over the distant floodplains.
For a wider selection of photos from the cliffs and pagoda, go to our Akauk Taung photo album.
Festivals, access and ATMs
The Shwesandaw Pagoda Festival takes place in Pyay in February or March and celebrates the yearly opening of the sacred tooth hall, which is said to contain a Buddha tooth relic. For exact dates and full Myanmar festival listings, go to our festivals calendar.
Being six hours from Yangon, and thus a lengthy round trip, Pyay is best taken in as part of an onward journey to Bagan or Mandalay. If you are on a tour or travelling with your own transport, the western route from Yangon will allow you to take in Akauk Taung along the way.
There are a number of Visa and Mastercard ready ATMs in central Pyay, including a CB Bank ATM in the foyer at the Lucky Dragon Hotel on Strand Road.