Mount Popa is an extinct volcano on the slopes of which can be found the sacred Popa Taungkalat monastery, perched dramatically atop a huge rocky outcrop. The monastery is entirely surrounded by sheer cliff faces and offers stunning views of the surrounding plains and Mount Popa itself.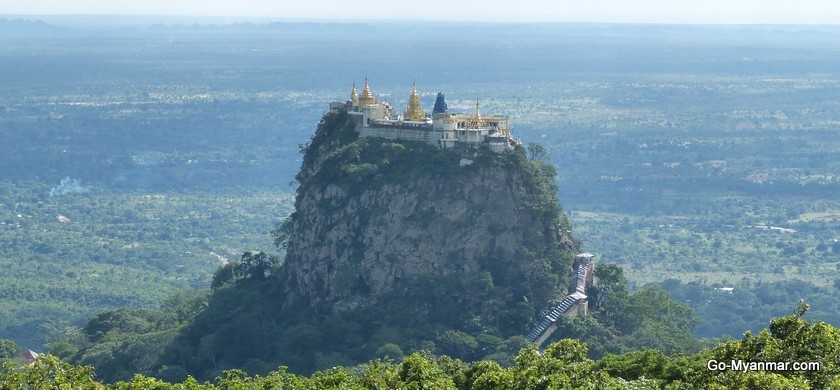 Popa Taungkalat monastery
The monastery at Taungkalat (meaning 'Pedestal Hill') is famed for being home to 37 nats (Burmese spirits), which are represented by statues at the base of the volcanic outcrop. From here, you can climb up the 777 steps to the monastery at the top, where you will find a 360 degree panorama and a labyrinth of shrines to explore.
But beware the macaques! These little locals may look curious and friendly from a distance, but given half a chance they will steal anything they can get their hands on: food, purse or camera! There are a number of teahouses and beer stations at the base of Popa Taungkalat, serving drinks and simple Myanmar dishes.
The Mount Popa Nat Festival takes place in March and celebrates two brothers who were reincarnated as nats (spirits); for dates and full Myanmar festival listings, go to our festivals calendar. For a wider selection of photos from Popa Taungkalat and Mount Popa, go to our Flickr photo set.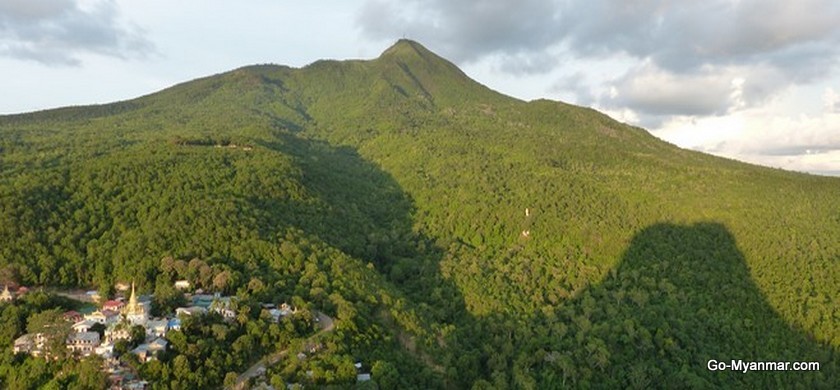 Mount Popa – the mountain
The monastery is frequently confused with the much larger Mount Popa, which looms over it and is sometimes called Taung Ma Gyi (Burmese for 'Mother Hill'). If you have the time and the conditions are right, then climbing Mount Popa is well worth the effort; the plunging valleys around the peak are dramatic, and on a clear day you can witness views stretching vast distances; as far as Bagan and the Irrawaddy River, and sometimes beyond. On your way up, you will also find the best views of the Popa Taungkalat Monastery, as well as an impressive array of flora and fauna, including many different species of birds and butterflies in a striking array of colours and sizes.
Some scrambling needs to be done in the steep final section towards the 1,518 metre summit, but for the most part it is a straightforward hike of 3-4 hours (one way). Make sure to pack plenty of drinks and snacks, however: apart from the luxurious Popa Mountain Resort (which can be found near the beginning of the climb) there is no food or drink available at any point on the ascent, and temperature and humidity levels can get very high.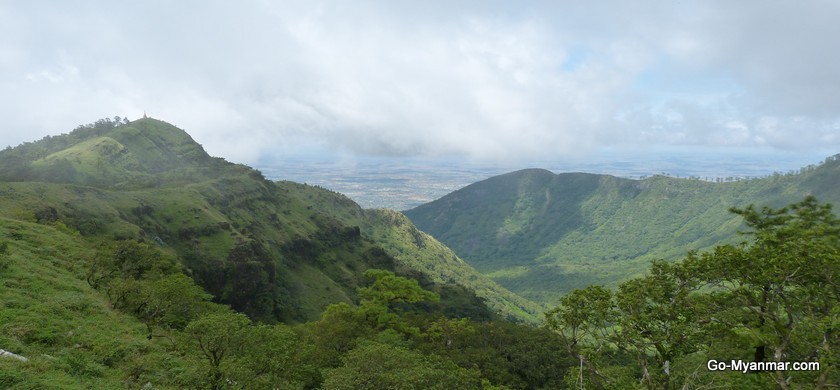 You can start your journey from a number of different places, but the main reference point is the Popa Mountain Resort turning off point approximately 1.5km from Popa Taungkalat on the Popa Taungkalat to Kyauk Padaung road (the turning off point is clearly signposted in English).
We offer a variety of tours of Myanmar that include Mount Popa - find out more here.