Tedim (also spelt Tiddim) is a remote and charming mountainside town in northern Chin State; as with much of this part of Myanmar it is deeply Christian, with many churches representing a variety of denominations. 
Christianity may dominate, but the local monotheistic Pasian sect has its spiritual home in Siangsawn Model Village, a fascinating place located on a hilltop just to the north east of Tedim. The religion has its roots in the early 20th century, but this planned community was built from scratch in 2006, including a number of homesteads; a brick factory; a clock tower; and a mirrored showpiece structure, inside of which you will find images infinitely reflecting back on themselves - said to represent what Pasian founder Pau Cin Hau sees from his place in the heavens.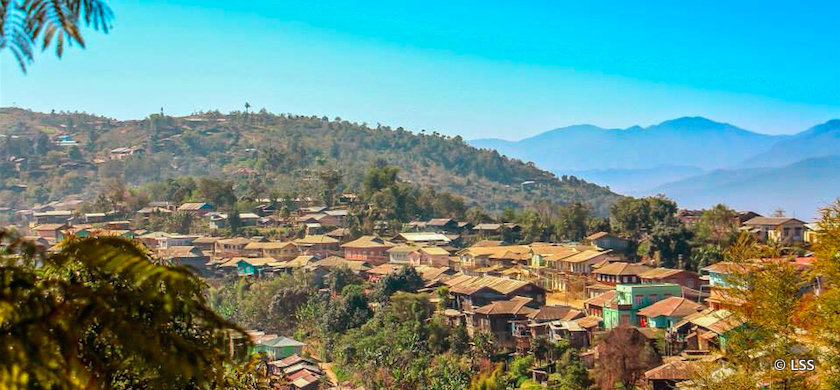 In Tedim town, there are a number of restaurants, guest houses and hotels on the main road that runs north-south; one of the most popular places to eat is 528 Restaurant, which serves great pork curry. 
The road to Tedim
A big part of the appeal of Tedim is getting there; the mountain road into Chin State from Kalaymyo is stunning and takes in a windy spot that offers 360 degree views of the surrounding peaks and valleys, dubbed 'Wuthering Heights' by some locals (although don't expect villagers in the area to necessarily know it by that name!).
The spot can be found two and half hours' drive to the west of the Kalaymyo, five kilometres up the road which spurs off towards Tedim (the other road goes south to Falam and Hakha); you will know you are at the spot when the road opens out with panoramas on both sides, and there is a large metal memorial cross on your left hand side.  
During the Second World War, these mountains saw a large amount of fighting between the Japanese and British as the latter withdrew from Burma in 1942, and just downhill from Wuthering Heights are the remains of a military outpost called Fort White; only some bricks remain set down from the road, but you will get a sense of what it would have been like to be stationed in such a remote place.   
See our YouTube video from Wuthering Heights.
Rih Lake
About a four-hour drive west of Tedim, is the famed Rih Lake. The uniquely heart-shaped body of water lies deep in the Chin hills among impressive scenery. Despite that, the lake's muddy edges may disappoint any prospective swimmers who make the significant journey to reach it.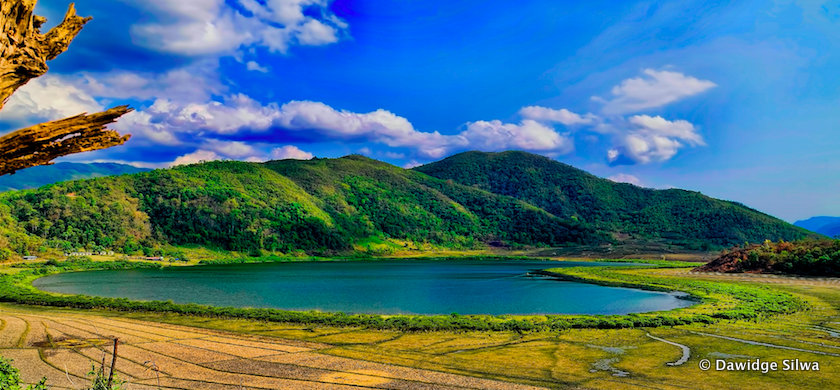 Rih Lake is less than five kilometres from the Zokhawtar/Rikhawdar​ border crossing between India and Myanmar, the most far flung and furthest west crossing. By the lake you will find a restaurant and guest house, though there are better dining and accommodation options in the nearby town of Khawmawi.