At the heart of Yangon (Rangoon) is its bustling downtown and riverfront, where businesses, shopping, river trade and many hotels are centred.
Designed in the mid-1800s by Lieutenant Alexander Fraser, who also designed Singapore, the streets are laid out on a grid pattern – with numbers increasing from west to east, making navigation fairly simple (but bear in mind the occasional road has a name rather than a number). The downtown and riverfront area is walkable, although you should always bear in mind the heat of the day.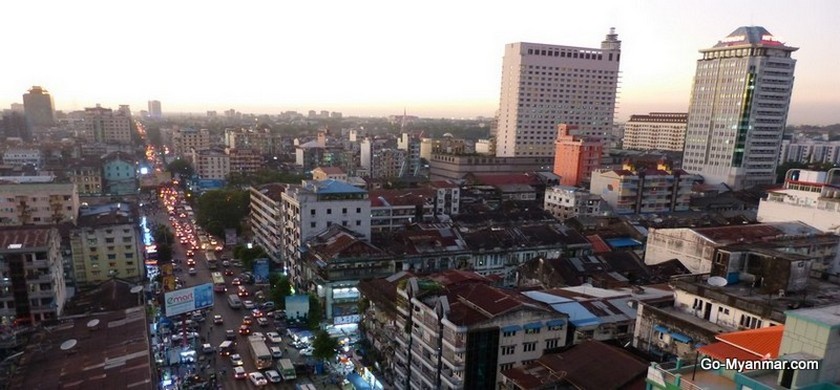 Downtown
At the centre of downtown is the crossroads of Sule Pagoda Road and Mahabandoola Road. This is the location of the ancient Sule Pagoda (situated in the middle of a large roundabout) and Mahabandoola Garden, immediately to its south east. Sule Pagoda acts as a good reference point to get your bearings downtown, and the garden is a haven from the noise of the streets; at its centre is Yangon's Independence Monument, a large white obelisk.
Second World War bombing brought much destruction to downtown Yangon, so not all of its original colonial architecture is intact – but plenty still remains, making it unique amongst large cities in Southeast Asia. As you wander around, there are fascinating buildings to discover on almost every street; some restored, some in desperate need of repair.
Take a look at our YouTube video of Mahabandoola Garden Park from the south.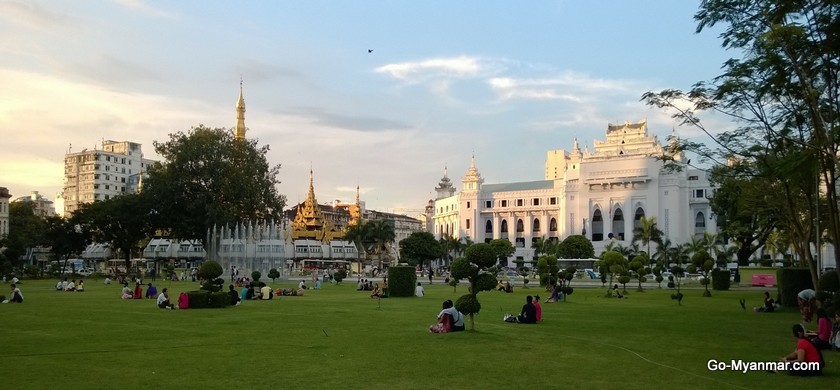 Some of the downtown architectural highlights include:
For a wider selection of photos, go to our downtown Flickr photo album.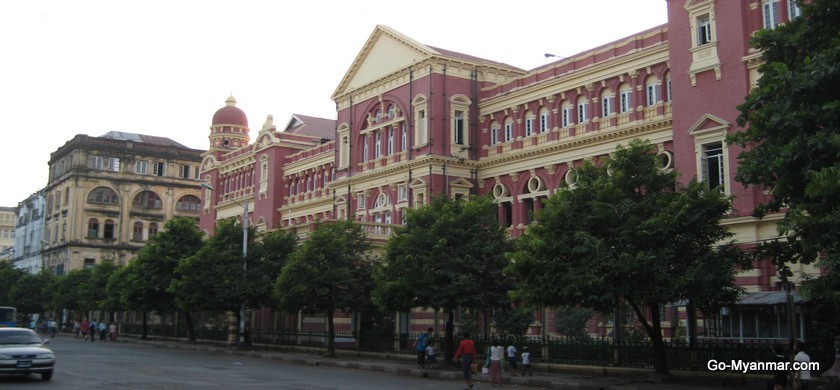 The Pegu Club
Just to the north of the downtown grid is one of Yangon's most richly atmospheric buildings, the Pegu Club. In times past, it was the place to go for the Burmese colonial elite – and was visited by Orwell and Kipling. A huge building, its teak structure now lies abandoned and rotting, to the extent that you explore it at your own risk. If the exterior is impressive, the large halls and corridors inside are even more so, with their colonnades and parquet floors giving a tangible sense of faded glory.
The Pegu Club is encircled by small tenements, and the compound is frequently locked. If you are lucky, the guard may let you into the grounds. The entrance gate is located on the north side of Zagawar Street, just off Pyay Road (opposite the Russian embassy). It is a lengthy walk or short taxi ride (K1500) from the centre of downtown.
For a wider selection of photos, go to our Pegu Club Flickr photo album.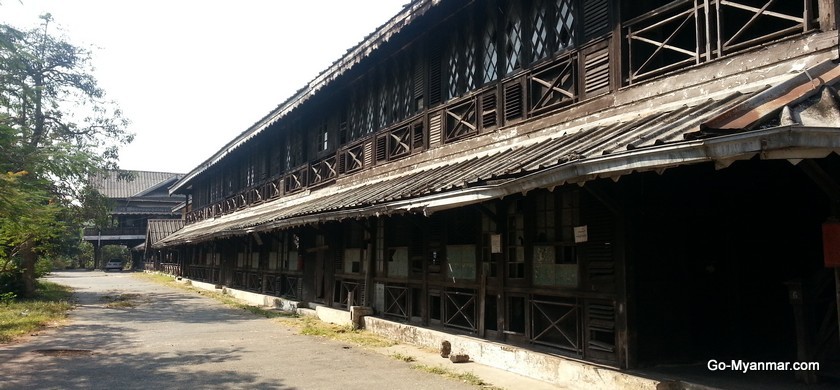 The buildings described above only scratch the surface of what Yangon has to offer – the Strand riverfront also features a delightful and varied array of colonial-era buildings (see below) and a full list of structures on Yangon's City Heritage List can be found here.
In 2012, a 50-year moratorium was imposed on the demolition of buildings in Yangon that are over 50 years old, and the Yangon Heritage Trust was founded by prominent Myanmar historian Thant Myint-U to help ensure the survival and considered restoration of these beautiful and historically significant buildings.
We offer a variety of tours of Myanmar that include the sights of downtown Yangon - find out more here. You can also find Yangon city tours and activities that can be booked via this website (on the right hand side bar further up this page). 
Yangon Central Station and the Circular Railway
The original Yangon Central railway station was destroyed during the Second World War but the current building, completed in 1954, remains an interesting example of Burmese post-colonial architecture, comprising classical elements. The station serves as a link to other parts of the country and is also the starting point for the Yangon Circular Railway, a 46-kilometre, three-hour commuter loop that also serves as a fascinating slice of local life, with lots of smiles, waving and singing with locals. Sit in an open doorway to get the best view out of the train, and hold on for a sometimes bumpy ride!
The station can be found just to the north of central downtown. Circular railway tickets cost $1 and you will need your passport. Trains leave roughly every hour between 6am and 2pm; check at the station for precise times.
For other things to see and do in downtown Yangon, go to markets and religious monuments. For eating and drinking, go here. 
The riverfront
Yangon's riverfront, along which runs Strand Road (known as Kanna Lan in Burmese), is a hive of trading activity and hosts one of the greatest concentration of architectural gems in the city; buildings include the Yangon Region Court, Custom House, the famous Strand Hotel, and the Myanma Port Authority. Walking this historic stretch at sunset is the most beautiful time of day to take in these colonial treasures.
For a wider selection of photos, go to our riverfront Flickr photo album.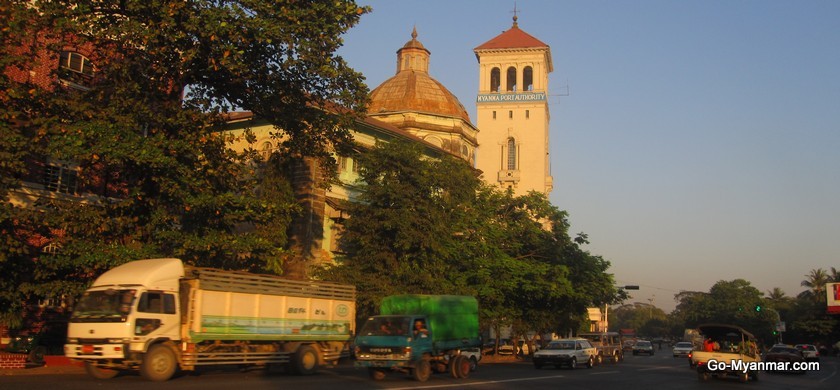 Across the road from these buildings are the busy Yangon river docks, where boats both large and small come to load and unload their goods, destined for the city's masses.
There are a number of cruises that leave from Botataung (east end of downtown) and Wardan (west end of downtown) jetties for a relaxing few hours on the Yangon River. And from Pansodan Ferry Terminal you can take a boat across to Dala, where you can see local markets and take in much slower pace of life on the delta; many locals commute across the river to Yangon, because prices are lower – and people poorer – in Dala. Public ferries leave every 30 minutes; foreigners are not allowed to take small private boats.