Away from the centre of Yangon you can find a number of picturesque lakes and attractive parks.
Kandawgyi Lake
Originally a reservoir constructed during colonial times, Kandawgyi Lake is one of Yangon's most pleasant open spaces, hosting a green, tree-filled park and the imposing Karaweik, a replica of a classically styled royal barge located on the eastern side of the lake.
The area surrounding the Karaweik has a number of restaurants and cafés, some of which have views acrooss the water and the Shwedagon Pagoda, offering western and local food. This part of the park costs K300 to enter, the rest of the park is free to enter.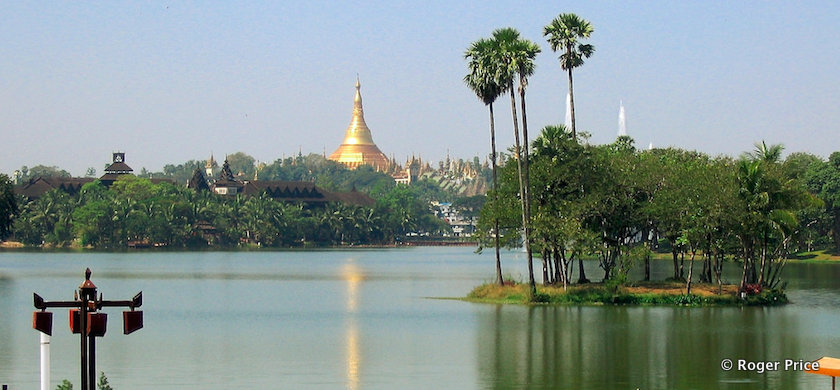 The park also hosts the Mingalarbar Balloon, a tethered balloon that offers panoramic views of the surrounding area and Shwedagon, taking up to twenty passengers 100 metres in the air (USD22 per person); it can be found on the west side of the park. Signature Restaurant can also be found nearby, offering average food but providing a nice place to relax with a drink with views across the water.
From January 4th every year, there is a seven day festival held at Kandawgyi Lake to celebrate independence from British rule, and it hosts various other lively festivals throughout the year. Immediately to the south west of the lake is Yangon Zoo , where both the facilities and animals are generally not in a good condition (K2000 entrance fee).
Kandawgyi Lake is within walking distance of downtown (1.5km) and the Shwedagon Pagoda (750m); alternatively a taxi from either location costs K1500.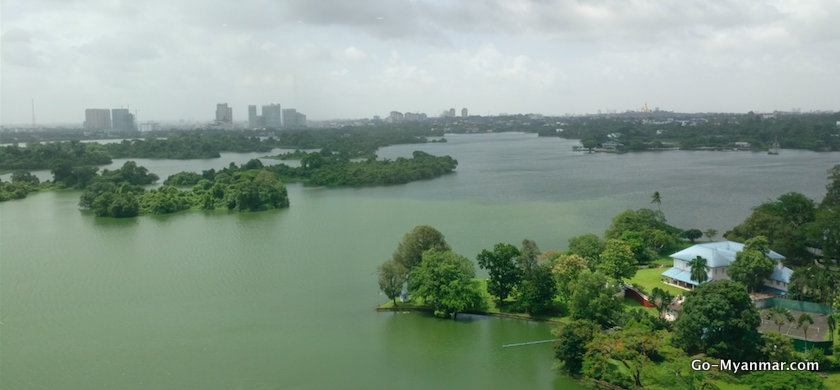 Inya Lake
A larger lake located further to the north, Inya Lake (K3000 taxi from downtown) offers opportunities for swimming, rowing, sailing and golf. The Yangon Sailing Club is a beautiful spot for sunset drinks; it is located at on the west side of the lake at 132 Inya Rd, Kamaryut Township. On the east side, opposite the large Sedona Hotel, there is a driving range and clutch of good restaurants.
Inya Lake is perhaps best known for two things: Aung San Suu Kyi's house, where she spent so much time under arrest, is on University Avenue on the lake's southern shore (many of Yangon's rich and powerful live in mansions surrounding the lake, and Aung San Suu Kyi's old foe, the long-time dictator General Ne Win, lived across the water from her until his death in 2002) and, rather differently, it is also known for young couples enjoying some romantic time together (the lake is next to Yangon University). 
For a wider selection of photos of Yangon's lakes, go to our Flickr photo album.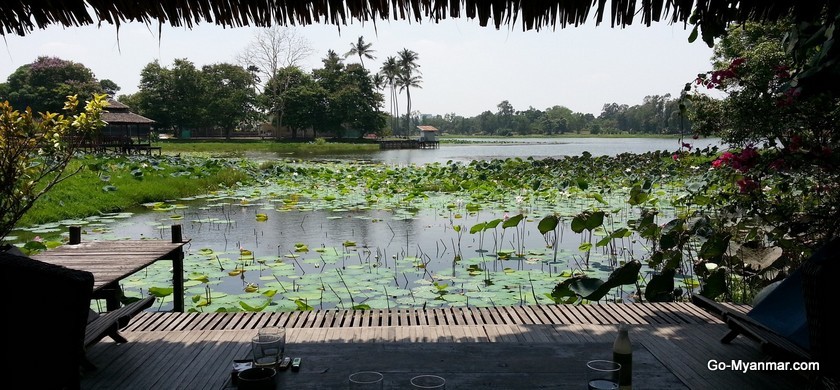 Other parks
Another pleasant and green sanctuary from the hustle and bustle of urban Yangon is People's Park, which can be found directly to the west of the Shwedagon Pagoda. In the park you can find an old steam locomotive, an old Myanma Airways aeroplane, an outdoor gym and a planetarium! The main entrance is on Ahlone Road opposite Summit Parkview hotel. Entrance to People's Park is free, taxi fare is K2500 from downtown.
If you fancy a day trip outside Yangon, Hlawga Park is a relaxing nature reserve an hour's drive north of the city which features a lake surrounded by tastefully built bungalows. Animals wandering around the place include monkeys, deer, elephants and (contained) hippopotamuses. Although the bungalows have beds, the park closes at 5pm. Entry is K800 per person and K1000 for a car; taxi from downtown is K10,000.
We offer a variety of tours of Myanmar that include the sights of Yangon - find out more here.