Of the three main beach resorts on Myanmar's Bay of Bengal coast, Chaung Tha is the most down to earth, and you can find the largest number of locals on holiday here.
The beach lacks the white-sand perfection of Ngapali and Ngwe Saung, but it has several offshore islands to explore and snorkel around, and offers the same delicious range of fresh seafood as its more exclusive rivals (Chaung Tha is the same distance from Yangon by road as Ngwe Saung, and you can travel between the two beaches by motorbike along a coastal track).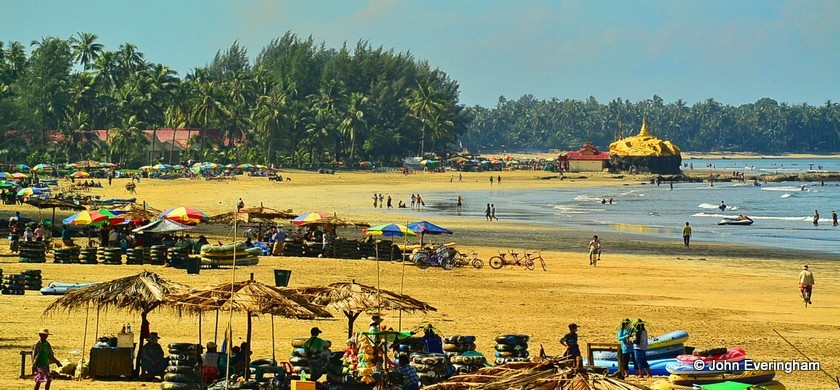 Things to do
Chaung Tha's main beach may be scrappy, but it is fun, particularly when it is full of locals on a weekend away from Yangon - popular times of year include new year, the Thingyan water festival and the end of the Myanmar school summer holidays in May. Take a look at our YouTube video of Chaung Tha beach. 
The busiest area is towards the south end of the beach, where you will find budget accommodation and plenty of simple beer stations, tea houses and souvenir shops. Higher end restaurants tend to be found at the better hotels, but there is an atmospheric little sea food place called Annawa Pathein that can be found at the south end of the village, where you can see the freshly caught catch before digging into your meal with lovely views of the bay. 
Classic beach activities are aplenty in Chaung Tha, including horse riding, bicycle and quad bike hire and inflatable rings. For the more adventurous, there are two islands that can be visited nearby: a larger one directly to the south of the main beach, which can be explored by foot and has a hilltop pagoda at its northern headland, with great views out to sea; and a smaller sand and rock island which can be seen on the horizon from the main beach (trips by boat cost K5,000 per person to the large island and K9,000 per person to the sand island). 

Further afield
A lovely white sand beach, cleaner and less busy than the main beach - and with bigger waves - can be found four kilometres to the north of Chaung Tha. Heading on the road up the coast, it can be idenitified by the pagoda and twin rocks at its southern end; check out our YouTube video of the beach, taken from the pagoda. The area is called Kyauk Maungnama in Burmese, and is a popular spot for locals.
As with virtually every town in Myanmar, there is a pagoda and standing Buddha to visit; Chaung Tha's Buddha, located on a hilltop to the north east of town, is made interesting by its unsual design, encased by serpents on three sides. 
Practical info and seasonality
Ask at any hotel about motorbike hire in Chaung Tha, which costs around K10,000 per day. Note that most hotels shut during the low season from May to October, although a limited number remain open throughout the year.
Plan a trip or make an inquiry by getting in touch with one of our experienced travel advisors here.