Road transport comes in a variety of different forms in Myanmar, ranging from cheap and cheerful trishaws (cycle rickshaws) for getting around towns and cities to rental cars (usually with driver), for those who can afford to avoid the possible delays and discomfort of long-distance public transport. But most foreigner visitors will take taxis.
Note that in Myanmar you should always bargain, and negotiate the cost in advance (unless you are booking through an agent or using a taxi ride-hailing app, more info below). 
Taxis and rental cars
Taxis in Myanmar mostly come in the form of Japanese saloons (sedans) or estate cars; some are well worn, but there are an increasing number of more modern vehicles on the road.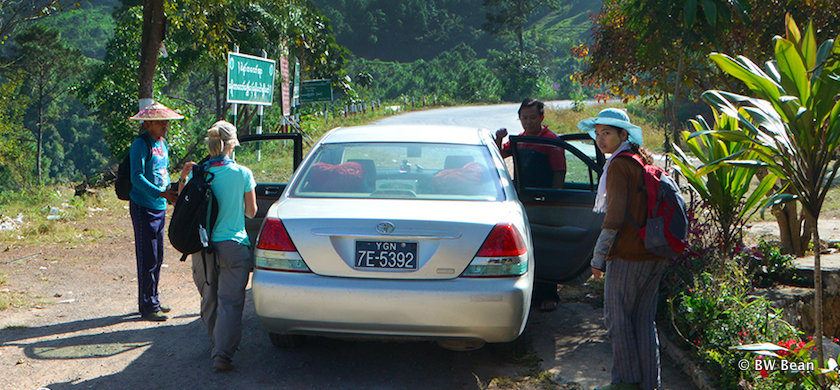 Short taxi journeys in central Yangon will typically cost from K1,500-K2,000; journeys over 3 or 4 kilometres will cost correspondingly more. In other regional cities, there is less competition between taxis so foreigners often end up paying more. You can flag down taxis almost anywhere, but taxis from hotels, restaurants or shopping centres will generally be more expensive. The ride-hailing app Grab operates in Yangon and is often the easiest and cheapest way to arrange a ride.
If you are travelling around the country, having a modern, air-conditioned car and driver for the day (or days) often allows you the greatest comfort and flexibility. Go to our car and minibus hire page for more information about rental with driver. If you are interested in self-drive, Yoma Fleet offers vehicles from pick up points at major destinations around Myanmar. 
Important notes on taxis and car travel in Myanmar
Negotiating taxi and trishaw prices in Myanmar can sometimes be a frustrating and baffling experience. On occasion, a driver well set a price that is far too high, and will stick to it no matter how hard you try to negotiate. In this scenario, it is best to move on to the next driver, if possible. In most large cities in Myanmar, there are usually 

plenty of taxis around

 – at any time of day or night.
Most (though not all) taxi drivers in large cities and tourist spots speak some English.
The majority of cars in Myanmar have been imported from Japan. So, despite the fact that people drive on the right in Myanmar, most of these cars have the steering wheel on the right – i.e. the 

incorrect side

. This can sometimes make for hair-raising overtaking manoeuvres.
Air conditioning is sometimes not switched on in taxis, and you may be asked for a surcharge if you want it turned on.
When you hail a cab, the driver will often sail several metres past you before stopping – an irritating practice that seems to have no logical explanation!
There tolls on Myanmar roads – for entering towns, crossing large bridges, and for the Yangon – Nay Pyi Taw – Mandalay expressway. If necessary, it is advisable to check for these costs when negotiating the price.
It is possible to travel over land to Myanmar by car; to find out more, go here. 
Trishaws and tuk-tuks
Trishaws, or cycle rickshaws (called saiq-ka in Burmese, a phonetic translation of the English 'side-car'), are one of the most readily available forms of short-distance transport in Myanmar. You will find them on most street corners and you can expect to pay around K500-K1000 for a short journey, although in Yangon foreigners tend to be overcharged. Motorised tuk-tuks are also popular in some places and are a little more expensive, but still one of the cheapest ways to get around.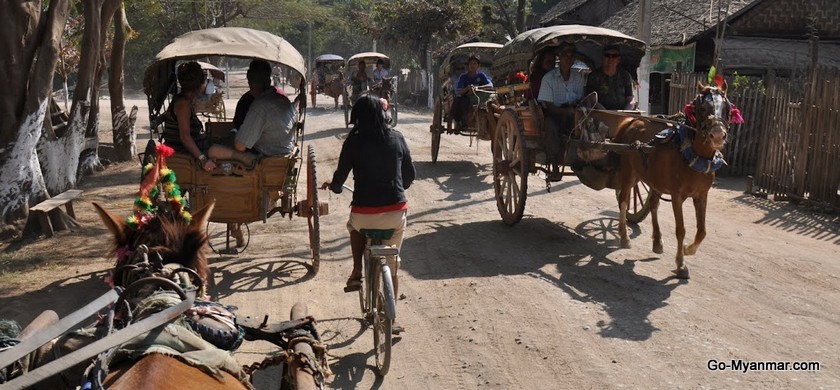 In smaller towns, and in some destinations such as Bagan and Pyin Oo Lwin, horse and cart remains a popular way to get around. These are often used as basic transport, in which case you can expect to pay similar prices to taxis (see below), or for longer guided tours, which will of course cost more – usually around K10,000 to K15,000 per day. 
Pick-up trucks (called lain-ka) bridge the divide between taxis and buses. They often start from bus stations and other popular spots, and can usually be found covering established routes – both short- and medium-distance. Pick-ups do not follow a timetable; the driver waits for the vehicle to become satisfactorily full before leaving, and will then pick up and drop off passengers along the way.
Pick-ups can be convenient for short distances, usually costing less than K800, but only the most hardy and determined would use them for long journeys; the rear accommodation, where most passengers sit, is made up of basic wooden benches, and can get crowded (locals will often hang off the back of the vehicle, grabbing specially fitted ropes). If you wish, you can pay more to sit more comfortably up front with driver.
To hire a car or make an enquiry, fill out this form