A sleepy fishing village with hotels spread along its beautiful white sand shore, Ngwe Saung (pronounced 'nway saung') is a perfect place to relax after a few weeks' travelling around Myanmar. One of the most laid-back places you will find in the country, the real joy here is to sit back and take in the sun's rays and picturesque beach views, or try the catch of the day in a local restaurant.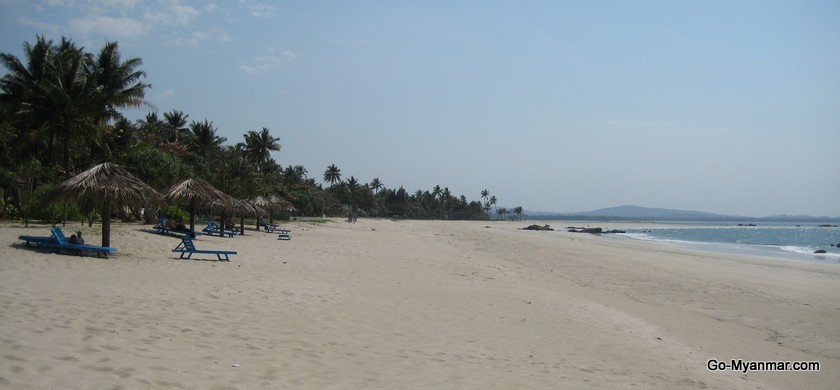 Ngwe Saung village and restaurants
The beach stretches for several kilometres and Ngwe Saung village can be found towards the northern end; it has a host of places that serve a variety of fantastic seafood dishes, including crab, shrimp, lobster, and various types of fish, as well as shops selling locally-produced handicrafts.
The walk to the village from some of the hotels at the southern end of the main beach can take up to an hour – although it is worth it not only for the food, but also to catch the sun setting over the Bay of Bengal. Some of the hotels along the way also have beach front restaurants. If you are feeling lazy after a filling dinner, it is easy to get a motorbike taxi back to your hotel, or you can hire your own (more information below).
For something a bit different in Ngwe Saung you can try Ume cafe, an inviting spot that serves excellent Japanese and Asian fusion food and has a fire dancing show every evening at around 7.30pm. It is located on the road south of Ngwe Saung village, opposite the Ocean Blue Beach Resort.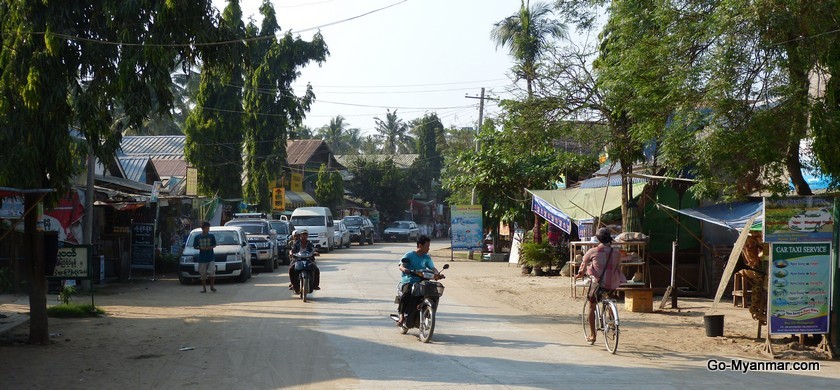 Exploring the beach and other activities
During the day you can walk to the the small island towards the southern end of Ngwe Saung beach, which is accessible by foot when the tide is out. It offers panoramic views of the beach and out to sea from its summit and snorkelling opportunities amongst the coral and brightly coloured fish that can be found in the waters that surround it. 
You can also hire a boat (with guide) to some of islands that lie a few kilometres offshore, where you can snorkel in the crystal clear waters. Check out our fishing boat trip YouTube video, taken near an island to the south of Ngwe Saung. 
For the active beachgoer, check out Ngwe Saung Yacht Club Water Sports. Standing on the beach in front of the Ngwe Saung Yacht Club & Resort, this bamboo hut is the only place in Myanmar to rent surf, boogie and skim boards. Though the surf rarely offers much of a ride, when it does kick up (usually at dawn), this is where the wave breaks. 
Hiring a motorbike allows you to explore up and down many kilometres of sandy beach around Ngwe Saung (some sections may need to be covered on the tarmac road that runs parallel to the beach, depending on water levels). To the north, the sand ends not far north of Ngwe Saung village, but there are some gems to discover further south, beyond the small island; the beach becomes more and more deserted until you arrive at an isolated fishing village, with its own beachfront beer station.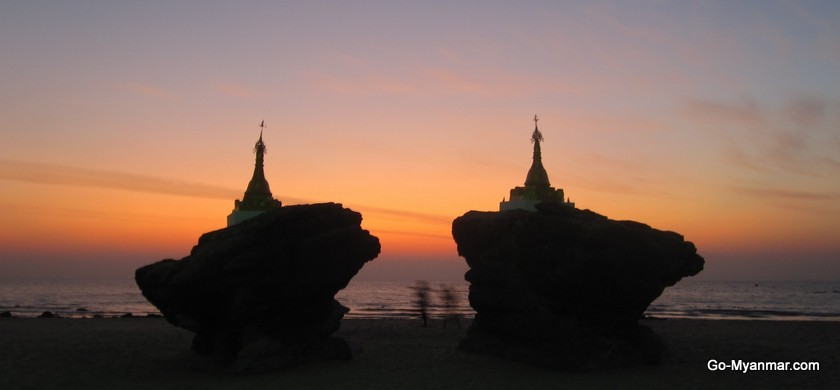 Further south still, you will reach a river inlet with a tiny rope-operated ferry, just big enough to take three motorbikes. From here, you can travel a few kilometres further south to another fishing village, where the sand ends. The whole bike journey south from Ngwe Saung can be done in a few hours – but beware of the high tide, which may restrict your passage along the beach.
Take a look at our YouTube video of Ngwe Saung beach and, for a wider selection of photos, go to our Flickr photo album.
We offer a variety of tours of Myanmar that include Ngwe Saung beach - find out more here. 
Further afield
If you want to go further afield, you can drive through beautiful and lush jungle scenery (as well as several friendly villages) to the charming Irrawaddy Delta city of Pathein (3 hours), or you can head up the coast to the nearby beach resort of Chaung Tha (2 hours), taking some small cross-river ferries on the way. There is also an elephant camp at Padaung Village, less than one hour away from Ngwe Saung on the road to Pathein. Motorbikes can be hired at most hotels for around K10,000 per day.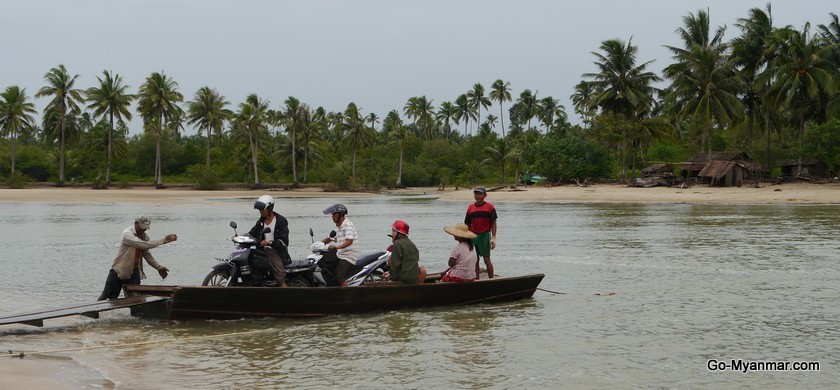 Practical information
Most hotels shut during the low season from May to October, although you will find some hotels open throughout the year. This can be a lovely time to visit, and the surf is impressive – but the weather can be a lottery, with occasional extended periods of rain. Swimmers should also be aware that currents can be dangerously strong if you swim too far out, and there is no beach guard or safety equipment at any time of year.
As a general guide, Ngwe Saung is less exclusive than Ngapali Beach, but is significantly closer to Yangon and offers a wider choice of mid-range accommodation.