It hosts an attractive lake, which can be found close to the centre of town. Lined by trees and a monastery, the lake also has a central pagoda on a jetty and there are a number of beer stations, tea houses and restaurants dotted around, including one with attractive views of the river bend. There are a number of fun day trips that you can do from Ye - find out more below. 
Check out our YouTube video of Ye's riverfront and, for a wider selection of photos from Ye, go to our Flickr photo album.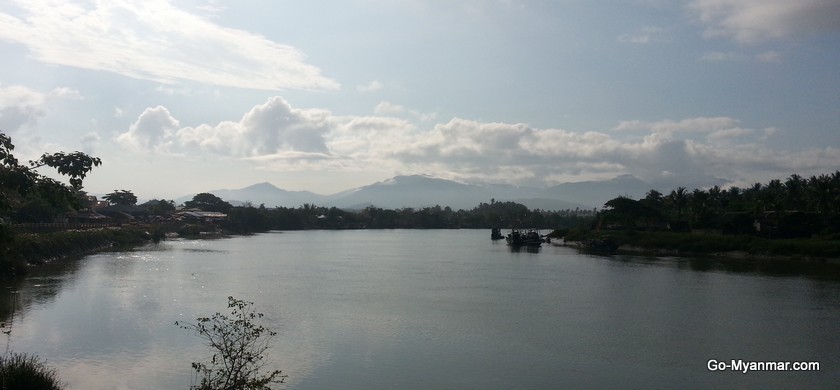 Duya village and Ka Byar Wa beach
A short five kilometre drive to the west of Ye is Duya village, which takes you on a scenic road that winds between rice paddy fields. Although it is the closest place of interest in the area, foreigners remain a rarity in Duya - you will be greeted with curiosity and enthusiasm and get to see authentic local Mon culture (K35,000 taxi from Ye).
Further south, Ka Byar Wa (Ka Bia Wa) has the best beaches in the area (one hour drive from Ye, K35,000 taxi). The bay here is home to a fishing village where you'll find traditional boats sheltered from the Andaman Sea by a large headland, at the northern end of which there is a rocky point with a pagoda with great views of the mainland and out to sea. There are beautiful, secluded spots to swim and take in the sun to the north and south of the village, which has been designated as a resort area by the government - although no hotels have been built yet, there are a number of restaurants with good seafood and barbeque to be found.
For a wider selection of photos from Ka Byar Wa, take a look at this blog post.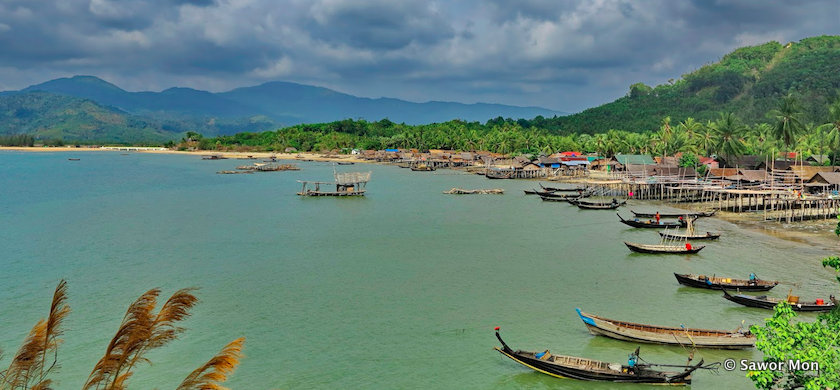 Upriver to Kyaung Ywar
In the opposite direction from Ye, heading eastwards inland you will find Kyaung Ywar  45 minutes up the road (K35,000 taxi). Also known as School Village, this remote outpost has dusty streets, a market and a nearby hilltop pagoda  to explore, the latter of which offers great views of the river as it winds through the jungle, and the mountains beyond.
You can hire a longtail boat to take you further upriver from Kyaung War to a small Mon temple where two branches of the river meet; here you can swim in the refreshing water or just relax at this idyllic spot. Boats cost K10,000 for up to 8 people - capacity depends on river water level.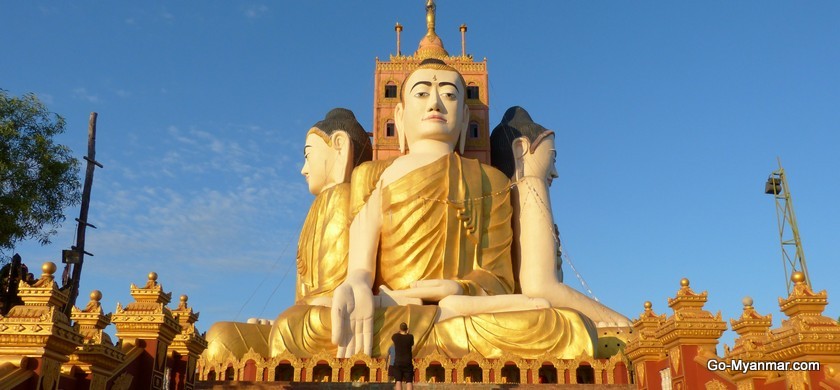 Ko Yin Lay (Banana Mountain) giant Buddhas and monastery
An imposing monastery complex can be found 10 kilometres to the north of Ye at Ko Yin Lay; it features a pagoda, a reclining buddha, and a structure with four giant buddhas. Inside the latter you will find numerous religious chambers, and from the top you can see 360 degree views of the surrounding Tenasserim hills (the entrance is sometimes locked and you may have to ask the abbot for permission to enter).
Also known as Banana Mountain, the monastery can be found on a spur road off the main road to Mawlamyine and can be reached by taxi or motorcycle taxi (K6,000 from Ye).
Plan a trip to the beach by getting in touch with a travel expert here