The variety of cultures in Yangon mean that a delicious host of cuisines are available – from native Myanmar cuisine, including popular Bamar and Shan dishes, to the staples of Chinese, Thai, Indian and western food. The many teahouses in the city don't only offer tea – they are great places to eat and mingle with locals or just people watch. And Yangon's nightlife, after years in the doldrums, is beginning to take off.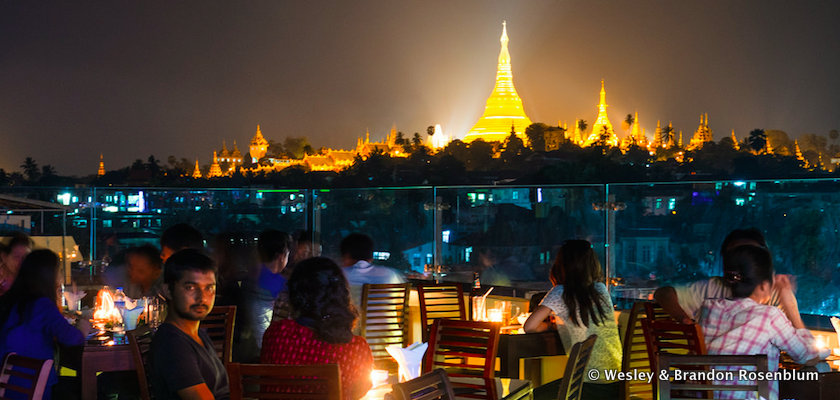 Below you will find an overview of the best restaurants and teahouses in Yangon (suiting a variety of budgets), as well as some information on Yangon's bars and nightclubs. To find out more about food, eating out, drinking and bars across Myanmar, go to things to do.
Restaurants
Great places to eat can be found by simply wandering around the streets of downtown Yangon; Chinatown, centred around 19th Street and Mahabandoola Road, is a particularly good place to find restaurants and stalls selling dishes from all over Asia. And Shwe Bon Tha Street and its surrounds in Little India are host to hundreds of vendors selling a range of tasty chapattis, samosas and other Indian fare. Below is a selection of some of the best restaurants in Yangon.
Cheap and cheerful
Anya Ahta is a characterful restaurant/beer station serving quality central Burmese food, and always has a good mix of foreigners and locals.  
Price: K3,000-K5,000. Location: 37th Street, between Mahabandoola and Anawrahta Road (downtown, near Sule Pagoda).
999 Shan Noodle Shop is a little street restaurant with helpful staff and tasty, inexpensive food, including Shan noodle, rice and tofu dishes. Closes 7pm.
Price: K1,000-K3,000. Location: 130 B 34th Street, between Se Pin Street and Anawrahta Road (downtown, near Sule Pagoda).
Ingyin Nwe South Indian Food Center has a very friendly English-speaking manager and excellent goat's brain curry. For those with a healthy appetite, they will keep topping up your food at no extra cost.
Price: K2,000-K3,000. Location: corner of Anawrahta and Bo Sun Pat (downtown).
Lotus Myanmar Food House won't win any style awards but provides a delightful and very well priced range of traditional Bamar dishes. 
Price: K3,000-K5,000. Location: corner of Mahabandoola and 42nd (downtown).
Nepali food shop is a simple downtown vegetarian place selling a variety of Nepali and local dishes (for more information on vegetarian food in Myanmar, go to food and eating out).
Price: K2,000-K4,000. Location: 29th Street (lower block, east side).
Friendship restaurant has a good range of simple Asian dishes and a pleasant mix of expats and locals in its (sometimes noisy) outdoor roadside location, outside of the downtown area to the north.
Price: K3,000-K7,000. Location: 135 Dhamma Zedi Rd, Bahan Township. K2500 taxi from downtown.
Mid-range

High end
Babett Eatery & Bar is a stylish and modern restaurant serving a delicious variety of French and Mediterranean-inspired dishes, well-crafted cocktails and qualitative wines in an open interior or comfortable, outdoor pergola terrace area. 
Price: K9,000-K22,000. Location: 5 Alan Pya Pagoda Street, on the ground floor of Hotel G. Phone: +95 1 243639.
Shan Yoe Yar is Yangon's number one spot for Shan cuisine; this large restaurant is located at the west end of downtown, and occupies a grand teak building with general seating downstairs and private rooms upstairs.
Price: K15,000-K20,000. Location: 169, War Dan Street, Lanmadaw Township; K1,500 taxi from the centre of downtown. Phone: +95 1 221 524.
Shwe Sa Bwe serves a wide variety of high quality cuisine in cultured surroundings – it is also a social enterprise founded by a Frenchman which provides underprivileged young Myanmar people with culinary and service training.
Price: K10,000-K25,000. Location: 20 Malikha Street, Mayangon Township; K3,500 taxi from downtown. Phone: +95 1 661983, 9 421 005085. Email:

[email protected]

Seeds Restaurant & Lounge is a stylish new place on Inya Lake, with a large outdoor area inspired by Balinese design. Run by a Swiss Michelin-star chef, it offers wide range of contemporary dishes fusing European and Asian influences.
Price: K30,000-K80,000. Location: No.63 A, U Htun Nyein Street, Ward 10, Mayangone Township; K3,000 taxi from downtown. Phone: +951 655 900, +959 972 784 841. Email:

[email protected]

L'Opera is an upmarket Italian restaurant, also with beautiful grounds on eastern side Inya Lake; it serves a number of quality western dishes.
Price: K20,000-K50,000. Location: 62D U Tun Nyein Street, Mayangon Township; K3,000 taxi from downtown. Phone: +959 7303 0755, +951 665 516. Email: 

[email protected]

Pyongyang Koreo is a restaurant with a difference: owned by the North Korean government, it offers a glimpse into the Hermit Kingdom, featuring a fascinating mix of deep bowing, loud singing, and giving bouquets of flowers (the food is overpriced and average).
Price: K25,000-K40,000. Location: A-5, Saya San Road, Bahan Township. K2,500 taxi from downtown.
Teahouses and cafés
As with restaurants, there are fun and lively teahouses to be discovered on many streets around the city; they often make a great place to head for breakfast. There are also a growing number of western-style cafés dotted around town.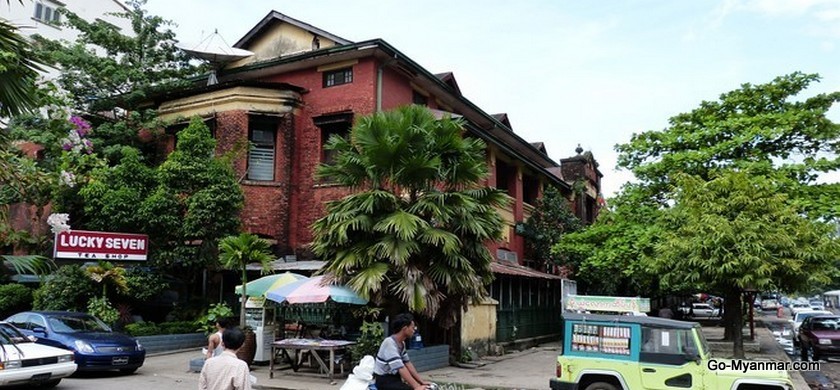 Here are some teahouse and café highlights:
Lucky Seven is a relaxed and authentic local joint; a great place to hang out, and also try Myanmar's favourite dish, mohinga. Lucky Seven is a chain of teahouses; the most conveniently located is at the east end of downtown.
Location: 49th Street (middle block).
Thone Pan Hla is another great example of local teahouse culture, and serves lots of Myanmar dishes.
Location: 454 Mahabandoola Road, downtown just to the west of Sule Pagoda. Note that this teahouse has no English signage.
Rangoon Tea House is a characterful and stylish interpretation of the classic Burmese tea house, with an extensive list of Myanmar teas and a fantastic, diverse menu of curries and local dishes. Also open in the evenings for dinner and drinks.
Location: 77 Pansodan Rd, (Lower Block, just north of Merchant Street on the west side). Phone: +95 (0) 9 517 8329.
Acacia Tea Salon is an upmarket place situated in a beautifully restored old villa, comprising tea rooms as well as a restaurant, and offering local and western food.
Location: 52 Saya San Road; K2,500 taxi from downtown. Phone: +95 1 554 739.
Nightlife
With the changes that are taking place in Myanmar, Yangon's nightlife is now flourishing. Until a few years ago, there was little to do after 10pm, but there are now an increasing number of bars and clubs open late – although for most locals drinking still centres around street-side beer stations, so don't expect a scene anything like Bangkok or Hong Kong.
Local options
19th Street (in Chinatown, west end of downtown) not only offers an eclectic range of food, but is also a colourful and atmospheric place to find inexpensive local beers and cocktails and soak up Yangon's nightlife. After 8pm, the beer and BBQ stations that make up the middle block of 19th Street place tables on the street, enouraging less vehicle traffice and a more buoyant atmosphere; the most foreigner-orientated in terms of decor and menu is Kosan, but a lively time can be had wherever you find yourself.
A similarly vibrant, but less touristy, area to head for a local drink is Sanchaung Street to the north west of downtown (K2,500 taxi from downtown). There are a number of large beer stations that line the eastern section of the street, the most popular of which is Win Star ; for a late closing option try Terminal 5 bar.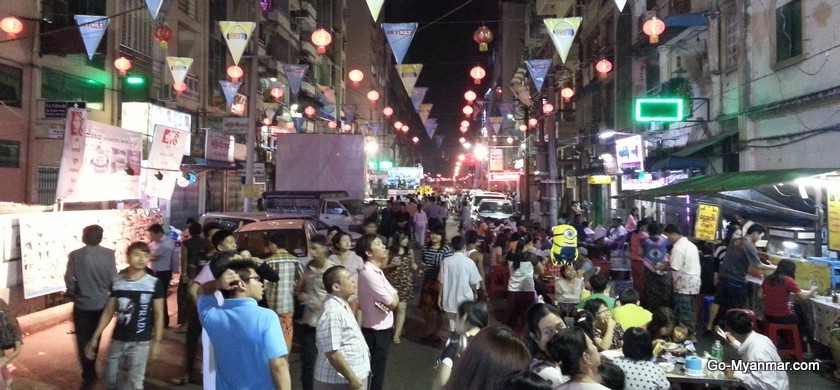 A less conventional, but no less lively, drinking spot can be found even further out of town at Thiri Mingalar Market. Few foreigners make it out to this huge place, which has a number of teahouses and beer stations located at the very back (near the river). Like the market itself, they are open 24 hours a day. Thiri Mingalar Market can be found on Bayint Naung Road in Hlaing Township, K3500 taxi from downtown.
Western bars and nights out
Yangon has an increasing selection of more upmarket options, and you can find a list of some of the best listed below. Most high-end hotels in Yangon also have a bar attached that is open till late; the Strand Bar at the famous old Strand Hotel is the most well known.
Yangon's best bars…
If you're after something a bit different, there are regular Saturday sunset boat parties on the Yangon River during the dry season that leave from Botahtaung jetty or Wardan jetty (monthly on Saturdays, check local listings) and occasional Friday and Saturday DJ nights at the Institut Francais. 
Nightclubs
Yangon's clubbing scene is pretty limited, and entrance fees and drinks can be pricy. However, there is fun to be had – although male travellers should be aware that many local women at these places may be 'ladies of the night'! Here are some of the nightclub options, all of which are a taxi ride to the north of downtown: