Reflecting Myanmar as a whole, Yangon is filled with religious monuments – you could spend days exploring these alone. Most of these are of course Buddhist shrines, but Yangon is also famous for its distinctive diversity, historic churches, Hindu temples, mosques and a synagogue can also be found around the city.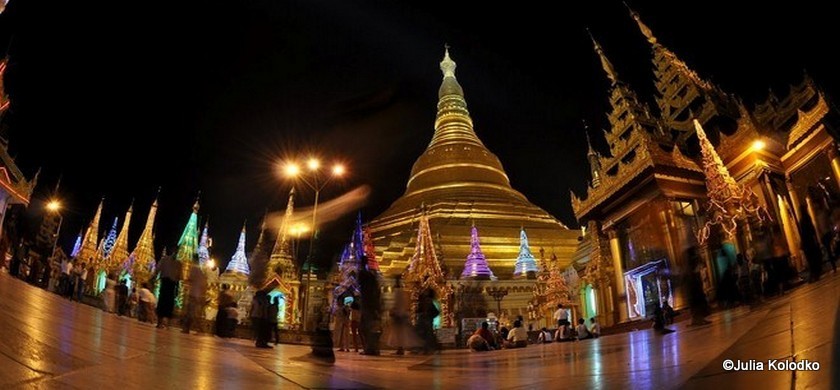 The Shwedagon Pagoda
Dominating Yangon's skyline, the Shwedagon Pagoda is Myanmar's most sacred religious site; 'shwe' means gold in Burmese and 'Dagon' is the historical area in which the pagoda is situated. The structure contains the relics of four Buddhas (those who have reached enlightenment, or Nirvana) and, regardless of one's personal beliefs, it is a truly awe-inspiring monument. Said to be more than 2500 years old, over the years it has been destroyed by earthquakes and had its treasures pillaged many times, only to be rebuilt; the structure has existed in its current form since 1769.
Standing on Singuttara Hill to the north of downtown Yangon, the Shwedagon Pagoda is the largest in Myanmar, standing 99 metres tall – it is also plated with 21,841 solid gold bars and has a tip encrusted with thousands of diamonds, rubies and sapphires. Shimmering magnificently as it does in the bright sunlight (although it is equally beautiful seen at dusk or lit up at night), its sheer size makes it a stunning sight to behold. Rudyard Kipling described it as 'a golden mystery upheaved itself on the horizon, a beautiful winking wonder that blazed in the sun'.
For a wider selection of photos, go to our Shwedagon Pagoda Flickr photo album.
Huddled around the main structures are an array of smaller shrines, statues and temples, and the pagoda is surrounded by four covered walkways through which you can enter. The eastern entrance is probably the most interesting, leading out onto the busy markets on Gyar Tawya Street, which has some fascinating colonial-era mansions.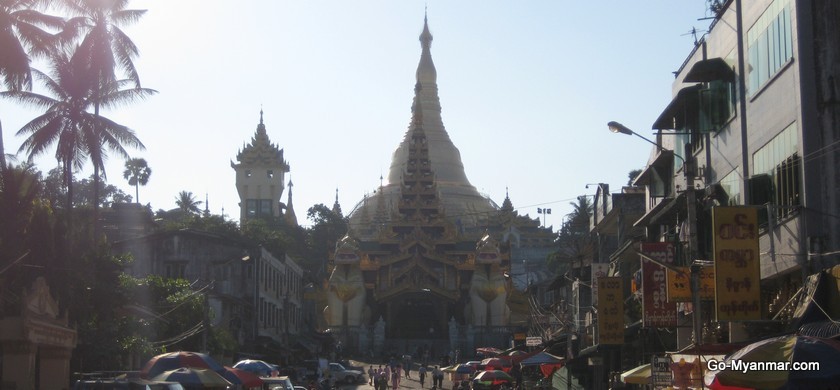 Both the street and walkway are full of shops selling Buddhist paraphernalia such as monks' robes and tasty street food can be bought here, too. The western entrance is certainly the most serene, and leads directly out to the tranquil Theingottara Park; the immediate surroundings of the pagoda can get very hot during the middle of the day, and this is a perfect place to cool down.
The Shwedagon Pagoda Festival takes place in late February or early March and is one of the biggest festivals of the year; it celebrates the enshrinement of the sacred hair of the Buddha that resides at the pagoda. To check exact dates, go to our festivals calendar. 
The entrance fee for foreigners is K10,000, and there are many guides in the area who will tell you more of the pagoda's history. For more information, go to the official website. The easiest way to get to the Shwedagon Pagoda from downtown is by taxi (K2,500).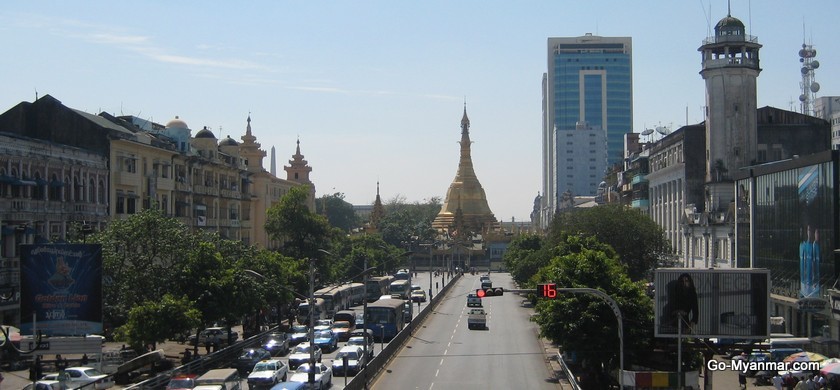 Other religious sites
Yangon has a large number of beautiful religious shrines and buildings, which reflect the variety of nationalities and religions that have built this city. Indeed over the years the downtown area has comprised a densely packed diversity of faiths to rival any city in the world. Highlights include:
Pagodas
Sule Pagoda At the very heart of downtown Yangon, this ancient shrine – said to be older than the Shwedagon Pagoda – is incongruously situated in the middle of a large roundabout. It is nevertheless a stunning structure, and holds great historical significance; it is said to contain a hair of the Buddha, and was a focal point for the 1988 uprising. It is located at the intersection of Mahabandoola Road and Sule Pagoda Road.
Botataung Pagoda. With a name that means '1000 military officers', this is one of the most venerated shrines in Myanmar, being another – along with the Shwedagon and Sule pagodas – that is said to have contain a hair of the Buddha. It is unusual in being hollow, which allows visitors to view the Buddhist relics held within. Check out our YouTube video of the Botataung Pagoda Festival. The pagoda is located on the riverfront, on Strand Road towards the east of downtown.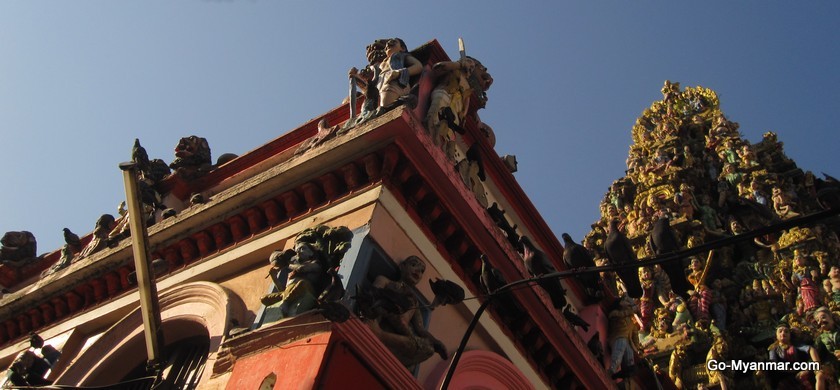 Hindu temples, synagogues and mosques
Shri Kali Hindu temple. This fascinating multi-coloured temple, situated on the corner of Konzaydan Street and Anawrahta Road (between 26th and 27th streets) in Yangon's 'Little India', was built by Tamil migrants during colonial times, and is covered from top to bottom with hundreds of representations of Hindu gods. There are a number of similar temples dotted around Yangon.
Moseah Yeshua synagogue. Although there are said to be only eight Jewish families left in Yangon, and the last rabbi left in 1963, this synagogue has been carefully maintained over the years. Built in 1894, it is beautiful example of the religious architecture of the time, and is looked after by a caretaker called Moses Samuels. It is located on 26th Street, just to the south of Mahabandoola Road.
Bengali Sunni Jamae and Narsapuri Moja Sunni Jamae mosques. These are just two of many mosques serving the long-established Muslim community in Yangon. The Bengali Sunni Jamae mosque is located right opposite Sule Pagoda and many halal restaurants can be found in the immediate area. The Narsapuri Moja Sunni Jamae mosque was built in the 1930s by immigrant Muslims from northern India, and can be found on 28th Street.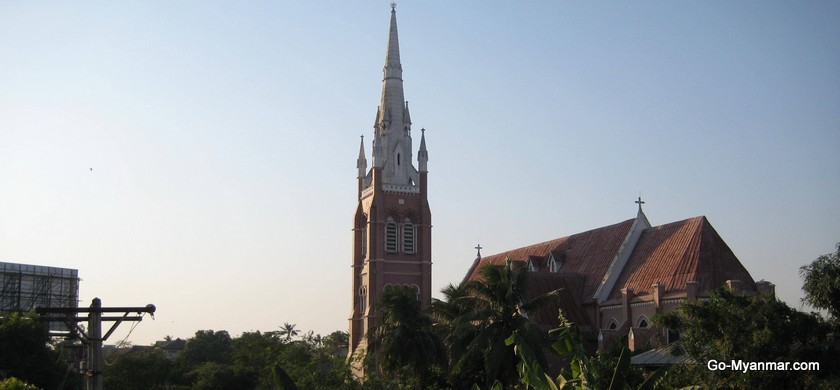 Churches
St John the Baptist Armenian Apostolic church. The Armenians once had a thriving community in Yangon and this church represents an important part of the city's history. Built in 1863 and sensitively renovated in 2015, it is Yangon's oldest surviving church. It has a has posters with historical information for visitors and holds regular Sunday morning services. It is located downtown on the corner of 40th and Merchant streets.
St Mary's Catholic cathedral is the largest church in Myanmar; the exterior is red brick, while the interior features an unusual mix of red, green and white. It was designed by Dutch architect Jos Cuypers and was completed in 1899. There are daily masses at St Mary's, and it can be found on the corner of Bogyoke Aung San Road and Bo Aung Kyaw Street.
Immanuel Baptist church was originally built by American missionaries in 1885, but was extensively rebuilt in 1952 after damage inflicted during the war. It can be found on the corner of Mahabandoola Road and Mahabandoola Garden Street (very near Sule Pagoda).
Holy Trinity Anglican cathedral was completed in 1894. It was designed by the architect Robert Chisholm, famous for his pioneering works in Madras (India), as well as Cadogan Hall in London. Holy Trinity is located on Bogyoke Aung San Road, just to the west of Bogyoke (Scott) Market.
Other memorial sites
The Allied War Memorial (also known as the Taukkyan War Cemetery) is a moving tribute to the soldiers who lost their lives in the Burma Campaign towards the end of the Second World War; many hundreds of graves can be found at this carefully maintained cemetery. It can be found north of the airport, at 9 Mile on Pyay Road (around K10,000 by taxi from downtown). There is another memorial near the end of the Burma Railway at Thanbyuzayet in Mon State.
The Tomb of the Last Mughal Emperor is an important historical site and a place of Muslim pilgrimage. Long kept secret by the British (who had exiled the emperor from India to Burma after his defeat), the tomb of Bahadur Shah II was rediscovered in 1991 and a mausoleum hall has since been built to celebrate this 'emperor-saint'. It can be found just to the south of the Shwedagon Pagoda at 6 Ziwaca Street (which connects U Wisara Road and Shwedagon Pagoda Road). K2,500 taxi from downtown.
For a wider selection of photos from Yangon's churches, Hindu temples and other religious sites, go to our Flickr photo album. Yangon's City Heritage List, which includes most of the city's historical religious buildings, can be found here.
We offer a variety of tours of Myanmar that include the sights of Yangon - find out more here.