Myanmar has an increasing number of businesses that put their profits back into local communities and/or focus on the professional training that the country so clearly needs. The majority of these places are by no means simply charities, however: ranging from gift shops to custom woodwork and furniture to restaurants, they provide goods and services that are often of the highest standard.
Here are some examples in Yangon:
Hla Day handmade products
Hla Day is a non-profit social enterprise that works with local artisans, disadvantaged groups and small local businesses to create quality handmade products with a fun and contemporary twist, capturing the unique flavours of Myanmar design and locally sourcing all materials. A great place for gift shopping, and located bang in the centre of downtown Yangon. 
Location: First floor, 81 Pansodan Street, middle lower block, Yangon.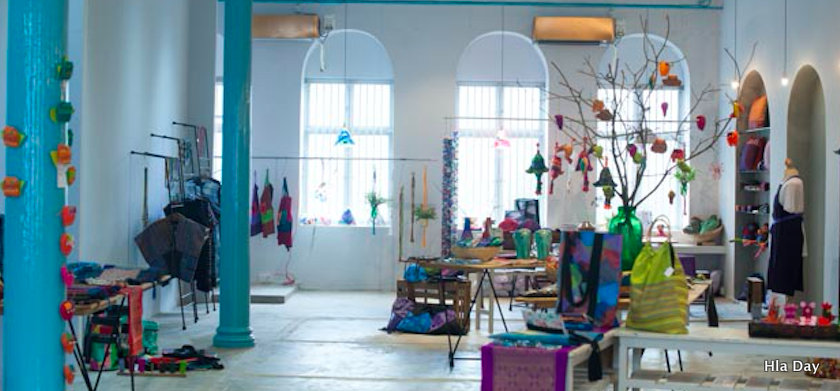 Yangon Bakehouse training cafe
A bakery that serves up quality breads, salads, soups, sandwiches and coffee, Yangon Bakehouse is dedicated to providing disadvantaged local women with job skills and experience, life skills training and opportunities for future employment.
Location: ​Ground Floor, Block C, Pearl Condo, Kaba Aye Pagoda Road, Yangon ; K2,500 taxi ride from downtown. Open 7am to 7pm.
Shwe Sa Bwe training restaurant
Shwe Sa Bwe is a stylish restaurant and hotel training centre which provides underprivileged Myanmar youths with culinary and service courses training. It has set menus for K25,000-K30,000, featuring mostly European dishes of the highest quality.
Location: 20 ​Malikha Road, Mayangone Township, Yangon (north of Inya Lake) ; K3,500 taxi ride from downtown.
Pomelo handmade products
Similarly to Hla Day (which was born out of the same business), Pomelo provides a range of stylish and sometimes playful handicrafts that are made by local artisans using locally-sourced materials; it also makes an ideal place for shopping for those last-minute gifts to take back home. 
Location: Pomelo, 89 Thein Pyu Road, Yangon (downtown, next door to Monsoon Resturant). Open 10am to 10pm every day.
LinkAge restaurant and art gallery
Hidden on a side street in central downtown Yangon, LinkAge operates as a self-financing business run by a local NGO, Forever Humanitarian and Development Projects. It offers cooking and service vocational training for Yangon street children; it also offers a fantastically tasty fusion menu.
Location: 1st Floor, 141 Seikkantha Street, Kyauktada Township, Yangon (downtown). Keep your eyes peeled, as the entrance is difficult to find in a doorway between two shops - then upstairs. 
FXB Myanmar handicrafts
FXB's aim is to bring education, opportunity, and self-sufficiency to young people living in Myanmar who are at risk from HIV/AIDS and human trafficking. They provide vocational training in areas including tailoring, weaving, furniture making, interior decoration and metal and wood work.
Showroom location: 294/3 Shwegondaing Road, Bahan township, Yangon ; K2,500 taxi ride from downtown Yangon. Open 9am-5pm, Monday to Saturday.
Pushing Myanmar skate park
To see an entirely different side to the city, head to Myanmar's first purpose-built skatepark. An internationally crowdfunded project, this place allows young people in Yangon to be active and socialise in a safe environment.
Location: Bayint Naung Road, just north of the junction with Hledan Rd, Yangon
We work with responsible businesses around Myanmar on the Go-Myanmar.com Travel Hub network.
For information on responsible travel in Myanmar, go here.