High up in western Shan State, Kalaw is an old hill station with a laid back atmosphere, refreshing climate and scenic views. Many of Kalaw's original colonial-era buildings remain, and it is also known as Myanmar's trekking mecca.
Whether you are after a brief stroll to to soak up the atmosphere and take in some hill views and the colourful flower-lined streets, or a longer multi-day trek to Inle Lake or Pindaya to witness the lives of the local hill tribes, Kalaw offers a wide variety of options for exploration – and a freedom of unfettered movement that is not always possible in other remote parts of Myanmar.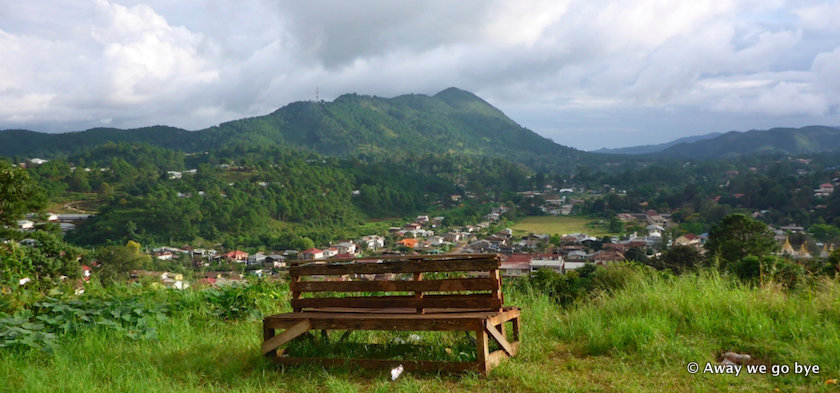 Kalaw - the town
At Kalaw's heart is its market, where villagers from the surrounding hills come to sell their produce; next to it you will find the Aung Chang Tha stupa, which glitters with silver and gold glass mosaics.
Most of the town's restaurants, food stands and beer stations surround the market, and offer a particularly eclectic range of foods, with descendants of Indian and Nepali rail workers who migrated here during British rule offering their own dishes to complement the local Shan fare. Amongst the best options are: 
If you are looking to wind down after exploring the town or hiking in the hills, the friendly staff at Pineland Paradise hair and body spa offer a variety of treatments; it can be found 25 minutes walk (or 5 minutes motorbike taxi) to the south east of town near Morning Glory Inn (best to call in advance on +95 81 50454, 9 360 20536, or 9 4016 38424 to book a session).
There are several cafes and hotels in the centre of Kalaw that provide internet access and there is a KBZ bank ATM where you can use Visa and Mastercard, located next to the market just off the main road (near the bus drop-off point).
The Tazaungman Full Moon Festival takes place in late October or early November, and features street parades, music and fireworks. For dates and full Myanmar festival listings, go to our festivals calendar.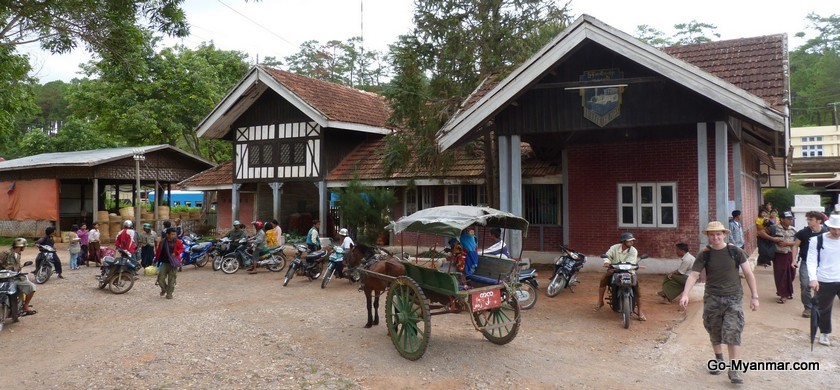 Short walks and nearby attractions
Shorter walks in and around Kalaw can easily be done independently. For some excellent views of Kalaw, its market and the surrounding hills, you can head up to the Thein Taung pagoda and monastery, which is north of Union Highway (the main road through Kalaw) and hosts a Buddhist monastery.
Take a look at our YouTube video from the Thein Taung pagoda looking southwards across the town of Kalaw.
A pleasant walk south west of the central market takes you to the Hnee pagoda, in which you will find a 500-year old bamboo Buddha, and the Shwe U Min pagoda (Shwe Oo Min Paya), a cave filled with golden Buddhas. On these walks, and in the surrounding hills, you will find reminders of British colonial times, such as restored cottages and a different kind of religious monument – Christ the King Church. This is a great example of active Christian worship in Myanmar, with popular daily mass and Sunday services.
A good example of Myanmar's new drive for eco tourism is the Green Hill Valley elephant camp. A 40-minute taxi ride from Kalaw, the camp was founded in 2011 to protect the local environment and care for ageing and poorly elephants, whilst allowing visitors to see them in their natural habitat. Short rides on the elephants are permitted, but all activities are conducted primarily with the animals' welfare in mind. Various trekking options are also available in the area.
For a wider selection of photos from Kalaw, go to our Kalaw Flickr photo album.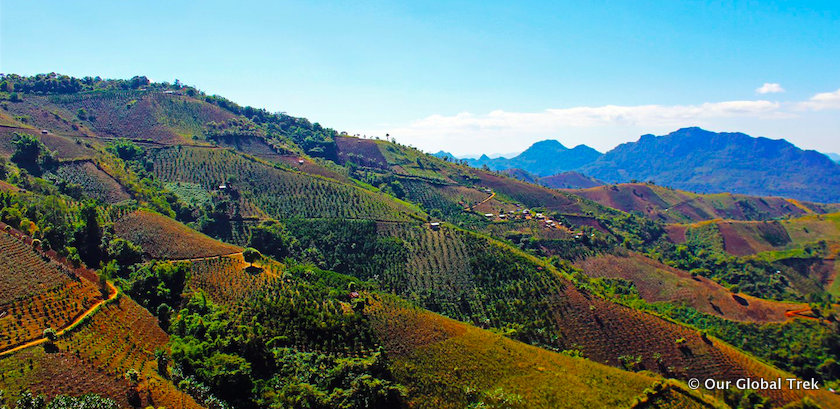 Longer treks
Because it offers such an interesting and scenic route to another one of the Myanmar's tourist highlights, the hike to Inle Lake tends to be the most popular long-distance trek. It typically takes two days, including one overnight stay at a homestay or monastery. Tours include cooked meals and bedding, and your bags can be taken separately by car to your hotel in Inle Lake. 
For a more immersive experience, and to really get a taste of the life of the local Danu, Pa-O, Palaung and Taung Yo ethnic groups, you can go on a longer or three-day hike. Guides can be found around the market and at most hotels, or you can book in advance through this form; guides will take you on trips with beautiful views of the Shan hills surrounding Kalaw, as well as numerous religious sites and hill tribe villages.
If you are feeling adventurous then there is nothing stopping you going it alone. Bear in mind, however, that villagers are unlikely to speak any English, and having a phone with GPS enabled will help (make sure to pre-load the maps with wifi if you do not have Myanmar mobile network access).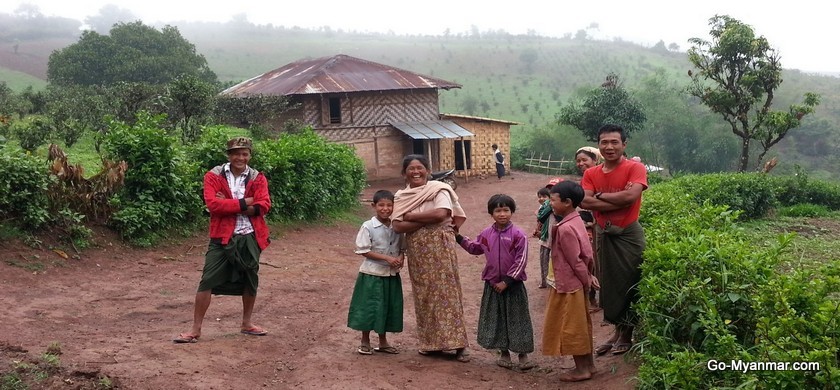 Another fascinating, and less well-trodden, trek is the journey from Pindaya. If you are travelling independently, the best approach is to take a two-hour minibus (K35,000) or tuk tuk (K25,000) to Pindaya; see the sights there; and then return by foot, which will take two or three days. 
Trekking in the Shan hills can be enjoyed at any time of year, although the cool season is perhaps the most pleasant in terms of weather - but sometimes not for the crowds. At other times the occasional rain shower (and accompanying mud) can sometimes make the going a bit tougher.
For a wider selection of hill trekking photos, go to our hiking between Pindaya and Kalaw photo set.
We offer a variety of tours of Myanmar that include Kalaw and treks in the surrounding area - find out more here.