Myanmar has a wide and eclectic range of dishes that reflect the many different nationalities contained within the union. The cuisine is less spicy than you usually find in Southeast Asia, but it is nevertheless influenced by neighboring countries, including Thailand, India and, perhaps most of all, China – particularly in the north.
Food in Myanmar is usually served with fresh ingredients, often including vegetables used together with tropical fruits. As with most countries in the region, white rice (htamin in Burmese) is used for most meals as a base to accompany a variety of meat, fish, vegetable and fruit curries or soups. A guide to vegetarian food can be found at the bottom of this page.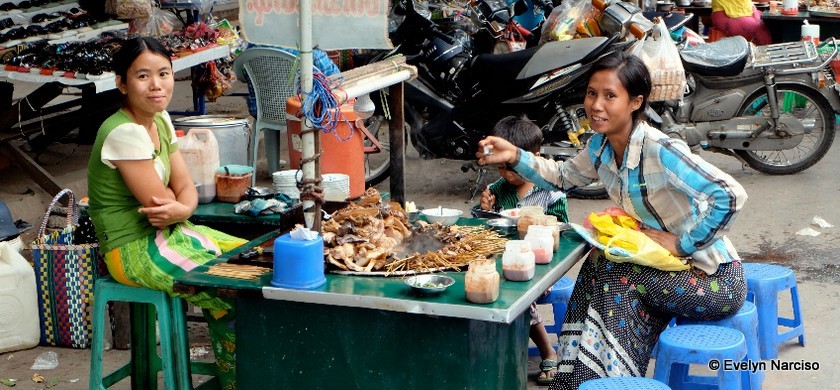 Across the country – on roads and in towns and cities – there are inexpensive food stalls where you can find anything from staple banana pancakes or fried chapattis to a wide variety of freshly-made local dishes, depending on your location.
Specialities and regional dishes
Myanmar has large rivers, an extensive coastline and a number of port cities, so seafood and fish are very popular. At coastal towns and resorts such as Mawlamyine, Ngapali and Ngwe Saung, a wide variety of delicious fish and shellfish – caught the same day by local fishermen – are served at restaurants to suit all budgets. Similarly in the villages of Inle Lake, local specialties such as Htamin jin – made of rice, boiled fish, tomato and potato – have fresh ingredients that are sourced entirely locally.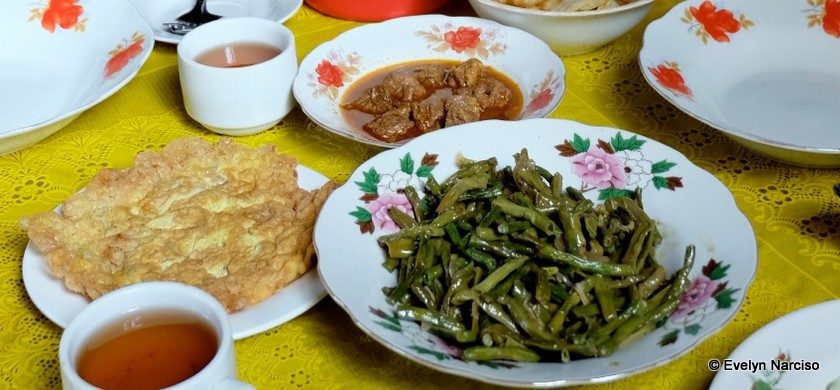 In inland and northern Myanmar, chicken, mutton and fish are the staple foods, although other meats are sometimes served. Shan noodles – rice noodles often served in chicken curries and soups – is one of the most famous inland dishes, and can be found almost anywhere, but is best known as the food of the Shan capital, Taunggyi.
Perhaps the most popular dish in Myanmar is Mohinga (rice noodles in fish soup), which is most often served at breakfast, but is available all day. Other specialties include Kachin fish, steamed in herbs, in northern towns such as Myitkyina. 
Teahouses
Teahouses are a big part of life in Myanmar: they are not only a place for drinking and eating, but also a place where friends, families and business associates meet to set the world to rights. Myanmar tea is typically served hot, milky and sweet, with additional – and sometimes unending – Chinese green tea.
Teahouses usually serve simple dishes through the day, and are a great place to sit down for a snack, meet the locals and take in street life, particularly at breakfast time. The food served depends on the individual teahouse: Myanmar ones usually serve noodles, Muslims ones are known for fresh samosas, and Chinese teahouses provide a range of meaty rice dishes.
To arrange a food tour or cooking class, get in touch here.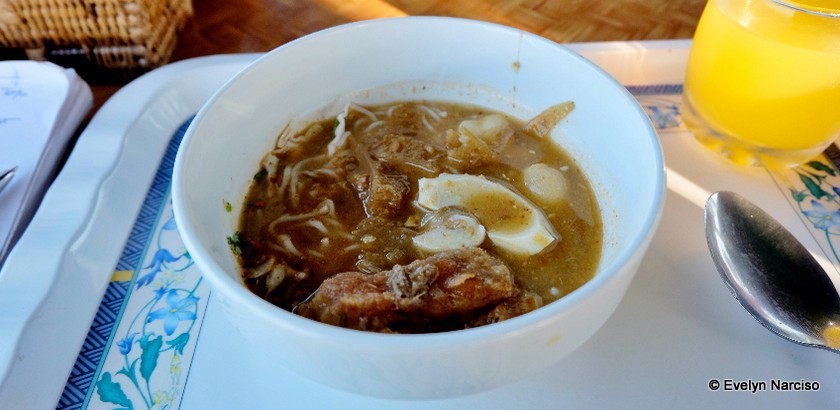 Food practicalities and things to watch out for
Restaurants, food stalls and teahouses may sometimes not have English menus, particularly in more remote regions. Getting by needn't be a problem if you become familiar with the Burmese names of some popular dishes; otherwise, you can point at what you like!
For preservation reasons, Myanmar food is often served with more oil and salt than foreigners may be used to. However, the oil mainly applies to curries – it rarely applies to other parts of a meal – and can be worked around. If you are finding that certain dishes are too salty, a polite request to reduce the salt added to a meal is acceptable.
To get the attention of waiting staff, the custom is to make a loud kissing sound. Saying 'excuse me' or 'hello' is unlikely to get you very far.
Knives are rarely used by locals at the dinner table, and are usually only available in more expensive or western-style restaurants; forks are more common. Locals will often use their hands to eat, and chopsticks are sometimes used for noodle dishes.
It should be noted that outside of established tourist and top-end restaurants, food preparation is not always up to western standards – it is advisable to take Dioralyte for rehydration and Loperamide for diarrhoea. You should only drink bottled water, although Chinese tea is good if you're thirsty, and often comes free with meals or other drinks.
Restaurants tend to shut relatively early in the evening. You are unlikely to find anything open after 9pm outside big cities – although foreigner-orientated restaurants and hotels stay open late.
When eating or drinking after dusk, you should be prepared for the possibility that you may be plunged into darkness if the electricity cuts out. Although it takes some getting used to, and a torch might come in handy, you should never feel in any danger.
Western food can only generally be found in Yangon, Mandalay, Nay Pyi Taw and the major tourist spots, although simple fare such pizzas may be found elsewhere. Western food will usually be significantly more expensive than local food, and is not always of the highest quality, although some foreign-run bars, restaurants and hotels in Yangon serve excellent western food. Real coffee is equally difficult to come by; although cheap (read: bad!) instant coffee mix can be found in most teahouses.
Vegetarian food
Due to the abundance of vegetables and fruits in Myanmar dishes – and elements of Buddhist culture – vegetarians are generally well catered for; being a vegetarian in Myanmar is a lot easier than in neighbouring Thailand, for example. Although Burmese on the whole are not vegetarian (except occasionally on their birthdays), in general they respect those who are.
The word for vegetarian in Myanmar is teh taa loo. By using the words shi (have) and la? (closed question), you can ask about vegetarian food.
Do you have vegetarian food? – Teh ta loo shi la?
Is this vegetarian? – Teh ta loo la?
Meat – Atha
I don't eat meat – Atha ma sa bu.
Some common Myanmar vegetarian dishes
Shan Noodles (available in most teahouses and any Shan restaurant, which can be found all around Myanmar).
Samosa Dote (street food consisting of samosas and falafels mixed in a bean soup, extremely tasty).
Tofu curry – beh-bya hin.
Rice with a scattering of beans – htamin see san.
Spicy vegetables and bean curd mix – malar hin.
Vegetarian biryani.
Savoury tofu soup, usually served with noodles – tofu ngwe.
There are also many Indian restaurants that have a wide range of vegetarian curries.
While meat-based food still predominates in most restaurants, it is rare to find a place that can't make something vegetarian for you. If you get really stuck, you can rely on fried rice and vegetables (htamin kyaw teh ta loo) with an egg on top (jek oo) as a last resort. Always remember to clarify that your dish is indeed vegetarian!
To find out about food in different localities around Myanmar, go to destinations.
For general food and drink pricing, go to setting your budget.