Nyaung Shwe (sometimes spelt Yawnghwe) is where you will find the best budget and mid-range of accommodation and the most vibrant town atmosphere in the Inle Lake area, with a number of restaurants and bars to enjoy after a day spent on the lake. Even if you do not stay in Nyaung Shwe (there are also luxury hotels around the shores of Inle Lake), you will probably pass through or stop for a drink or meal.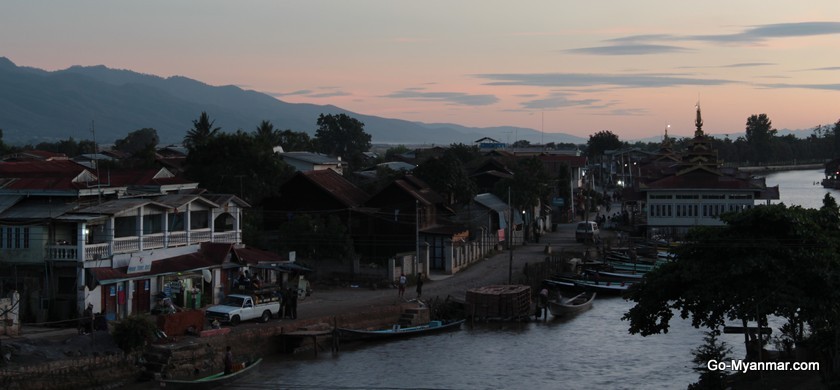 Like nearby Kalaw, the town has somewhat of a backpacker feel, and the dusty main street, Yone Gyi Road, is lined with inexpensive restaurants, shops and internet cafes, as well as several stupas and the Mingalar Market – where you can find local food stalls and buy handicrafts and fresh local produce from the lake. The Yadana Manaung Pagoda is the largest in Nyaungshwe and can be found on Paung Daw Seiq Road, parallel to Yone Gyi Road. Built in 1866, the unusual stepped design features elements of traditional Shan architecture.
A host of budget and mid-range accommodation can be found along Yone Gyi Road and dotted around the side streets on either side.  Take a look at our YouTube video of Nyaungshwe. 
There are plenty of restaurant choices in Nyaung Shwe, offering a range of Shan, Myanmar and western dishes, and if you wander around you will soon stumble on one of them. But amongst the best are:
Sin Yaw offers simple Shan, Burmese and Chinese dishes; the best place for a local flavour on a budget.
Location: Yone Gyi Road, near Minagalar market.
Pub Asiatico is the place to go if you're looking for a vibrant bar-type experience, with stylish decor, good beers and a range of hearty western dishes. 
Location: Museum Road, to the north of Yone Gyi. 
One Owl Grill, run by the same people as Pub Asiatico, is a great Mediterranean food restaurant with an eclectic range of smoothies, lassies, cocktails and wines. 
Location: Yone Gyi Road, next to the small canal. 
Min Min's simple noodle, curry and omelette dishes served with refreshing lassis or beers.
Location: Yone Gyi Road, between Mingalar market and the boat boarding area.
Viewpoint restaurant at the high end, with elegant colonial décor, tasty tapas and 'nouvelle cuisine' interpretations of Shan and Chinese dishes.
Location: west end of Yone Gyi Road, across the bridge from the boat boarding area. 
There is a Visa- and Mastercard-ready ATMs located around Nyaungshwe, including a KBZ Bank on Lan Ma Taw Street, just off Yone Gyi Road.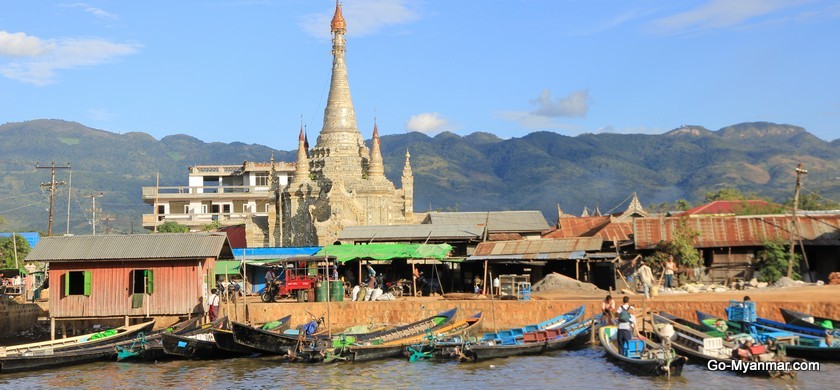 Getting to Inle Lake from Nyaung Shwe
The town of Nyaung Shwe is located about five kilometres to the north of Inle Lake; the boarding area is located around the bridge at the western end of Yone Gyi Road, where local fishermen and guides compete for mooring space. From here, you will want to set off early in the morning for your trip around Inle Lake.
Boat tours of Inle Lake can be booked through this website by filling out this form.
There is a K12,500 entry fee for the Nyaung Shwe/Inle Lake area, which is payable when you first take the journey into Nyaung Shwe from Shwenyaung Junction. For information on all the sights on and around the lake, go to our Inle Lake page.
We offer a variety of Myanmar country tours that include Nyaung Shwe and Inle Lake - find out more here. 
Tours of Inle Lake and the surrounding area can be booked through this form; It is also possible to take a spectacular hot air balloon trip over the water (US$325 per person); get in touch with one of our experienced travel advisors here.