The Bagan Archaeological Zone, as the larger area is formally known, comprises the temples of Bagan and four main settlements – Nyaung U, Old Bagan, Myinkaba and New Bagan; you can find information about them below. Visitors are required to buy a K25,000 entry pass for the zone, and have to show this when checking in to accommodation.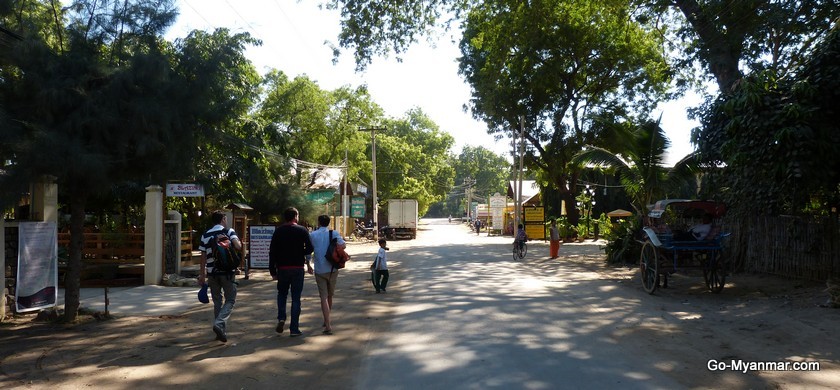 Nyaung U
Most people's arrival point in the region is Nyaung U (also spelt Nyaung Oo); the bus terminal, train station and airport can be found south east of town, and boats from Mandalay arrive right by the town centre at Nyaung U jetty (for information on getting to Bagan, go here). Of the settlements in Bagan, Nyaung U has the most charm and the best range of things to do; the centre of the village is atmospheric, with some colonial architecture and a market which is a hive of activity.
Restaurants and bars
The attractive 'Restaurant Row' (Thiripyitsaya 4 Street) has clearly been developed with tourists in mind, but it has a laid-back atmosphere and a wide range of cuisines on offer at most establishments – as well as plenty of spots to relax with a drink after a hard day of temple exploration. A number of local tour operators can be found here, and most restaurants have free wifi and offer bicycle and e-bike hire. Some restaurants include:
Pyiwa includes Chinese food and tasty potato wedges on its menu – and is located right next to a pagoda which is beautifully lit up at night.
Aroma 2 has a delicious range of rice and curry dishes. Phone: +95 9 2042630
Weather Spoon's has a great range of western and eastern dishes – and is particularly famous for its burgers (not connected with the UK pub chain!). Phone: +95 9 430 92640
Sharky's deli and café is just around the corner from Restaurant Row and offers more upmarket, fine dining fare with home-grown ingredients and an delicious range of ice creams. Phone: +95 9 253511032
Nyaung U has a good range of accommodation, particularly in the budget range.
There are Mastercard and Visa ATM facilities in Nyaung U, which can be found in the centre of town near the market and on restaurant row.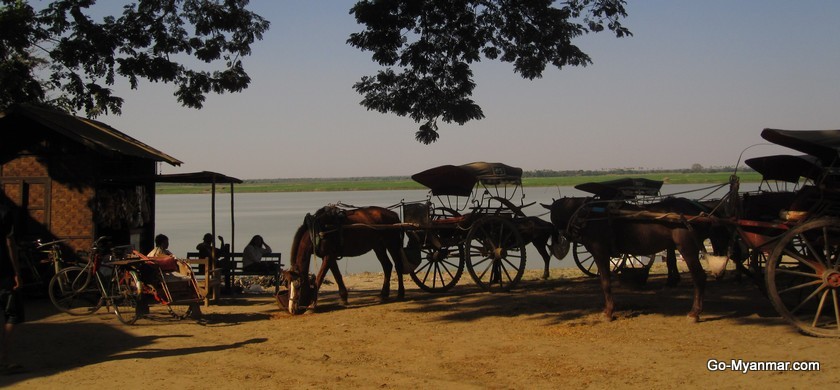 Nyaung U is the furthest settlement from the biggest concentration of popular temples, but there is so much to explore in the whole area that in reality this makes little difference; there are temples to be found everywhere.
Old Bagan
If you want to be in the thick of the temples, Old Bagan is the place to be, sitting as it does within what remains of the city walls of the ancient capital (some gates still remain). Old Bagan has some of the most beautifully appointed – and expensive – hotels in Bagan, several of which have great views of the temples or the Irrawaddy River. Between the stunning white-walled Ananda Pagoda and Tharabar Gate, you can find a selection of pleasant outdoor restaurants, including:
Sarabha II serves up a wide variety of Asian cuisine (and puppet shows) at. Phone: +95 61 60055
The Moon has beautifully prepared vegetarian delicacies. Phone: +95 61 60481
The Ananda Pagoda Festival features traditional performances and a market that boasts local produce of woven baskets and lacquerware; farmers also come from the surrounding countryside with carts full of offerings for monks. For dates and full festival listings go to our festivals calendar.
Myinkaba
Myinkaba, a village just to the south of Old Bagan, is famous for its traditional Mon-style lacquerware, the manufacturing of which dates back to the time of King Manuha, the last king of Thaton, who brought his artisans with him into exile here in the 11th century. Myinkaba is a centre for bamboo weaving (for use in construction) and has several family-run lacquerware workshops, including the Golden Cuckoo; if you want to take a memento home with you, it offers the best range of shopping in Bagan.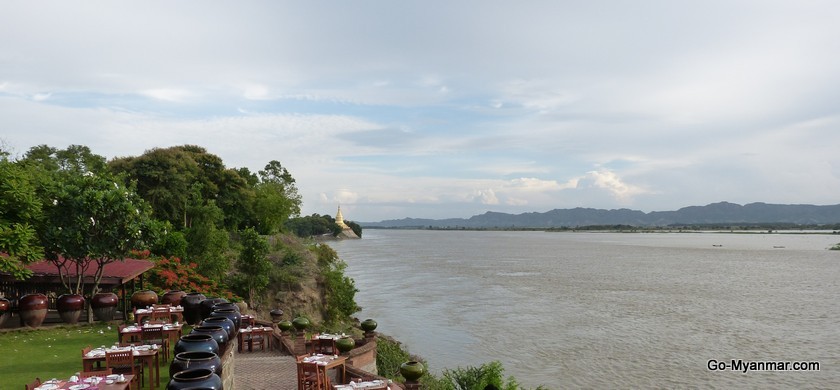 New Bagan
The furthest south of Bagan's settlements (but still closer to the most popular temples than Nyaung U), New Bagan has a good range of budget and mid-price accommodation. It was built in 1990, when the government relocated the villagers from Old Bagan, and so lacks the colonial charm of Nyaung U. New Bagan does, however, retain a pleasant atmosphere, it offers opportunities for local handicraft shopping and has some lovely restaurants, some of which are perched high on the banks of the Irrawaddy, offering views across the river.
Festivals and traditional Myanmar sports tournaments are sometimes held in the area around the pagoda in the centre of New Bagan.
New Bagan restaurants and bars include:
There are Mastercard and Visa ATM facilities in New Bagan located along Kayay Street, the main east-west thoroughfare. 
For a wider selection of photos from Bagan, go to our Flickr photo album.
We offer a variety of tours of Myanmar that include Bagan - find out more here.