Kalaymyo lies in a rustic part of Sagaing Division, very close to the border with Chin State; much of the population belongs to the ethnic Chin group, and Kalaymyo is the gateway to northern Chin State. Kalaymyo is alternately known as Kalay ('myo' means town in Burmese).
Most Chin are devout Christians (as opposed to the Buddhist majority in Myanmar), and this gives Kalaymyo a fascinating cultural mix - the town is split down the middle between the Chin and Bamar groups. There are said to be over 600 churches in the city, some only frequented by two or three families. The majority are Baptist, but there are also churches belonging to a range of other denominations, including Catholic, 7th Day Adventist, Jehovah's Witnesses and more.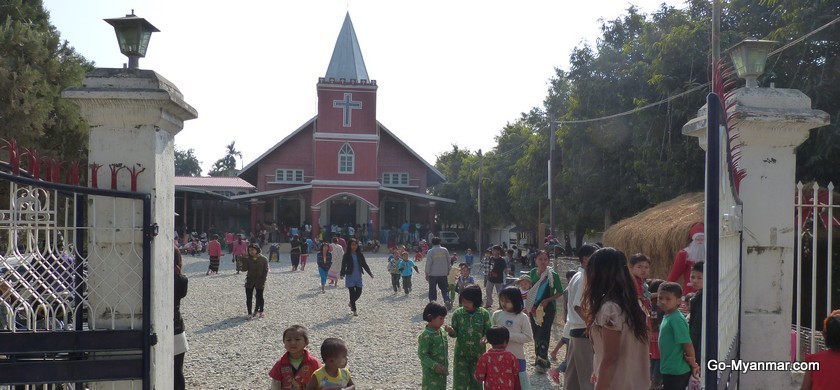 Such are the levels of religious observance that many houses in in Kalaymyo have signs proudly displaying what church the occupiers belong to; many churches can be found on the main east-west road running through Kalaymyo, particularly on the west side of town where most ethnic Chin live.
Swimming at Kyauk Ta Lone
For a different type of activity, Kyauk Ta Lone (meaning 'One Rock' in English) is a swimming area set in a beautiful valley to the west of Kalaymyo, located just over the border in Chin State. A popular spot for young locals to hang out, you can swim either in natural pools or in the fast-running (but safe and shallow) river; there is also an outdoor beer station. Check out our YouTube video from Kyauk Ta Lone.
To get to Kyauk Ta Lone, head west out of town and turn right on the small road immediately before the Chin border point, after which you head up the valley for about one kilometre. You can take a taxi or hire a motorbike for K8000 per day at Taung Za Lat Hotel (opposite the airport, which is unusually situated right in the middle of town!).
Kalaymyo's remoteness holds its own appeal, as does the access it provides to northern Chin State; the mountain road into Chin State, towards Falam, Tedim and Rih Lake offers stunning panoramic views. 
For a wider selection of photos from Kalaymyo and its surrounding area, go to our Flickr photo album.
We offer tours of Myanmar that include Kalaymyo and the surrounding area - find out more here.