January 26, 2014
Nature and wildlife tourism in Myanmar is still in its infancy. Wildlife reserves in Myanmar are generally under-developed and difficult to reach, meaning that few tourists make the effort to visit them. Meinmahla Kyun (Meinmahla Island) in the Ayeyarwaddy (Irrawaddy) Delta Region, however, provides an accessible three-day excursion from Yangon for visitors wanting to add a nature component to their Myanmar tourism itinerary.
Meinmahla Kyun Wildlife Sanctuary is the premier place in Myanmar to see saltwater crocodiles. Creeping along the island's mangrove-lined creeks by canoe while observing these creatures, either during the day or at night, is a thrilling experience and worth the trip by itself. Additionally, during certain months of the year, it is also possible to see the rare Irrawaddy Dolphin (November to February); a large population of migratory waterbirds (late October to early March); and an overnight trip camping on the nearby Turtle Island to see turtles nesting or hatching is possible from October to March.
Meinmahla Kyun was hit heavily by Cyclone Nargis and international NGOs have been working on mangrove restoration in the area since then. As a result, a mangrove walkway, nursery and information centre can also be visited on the island.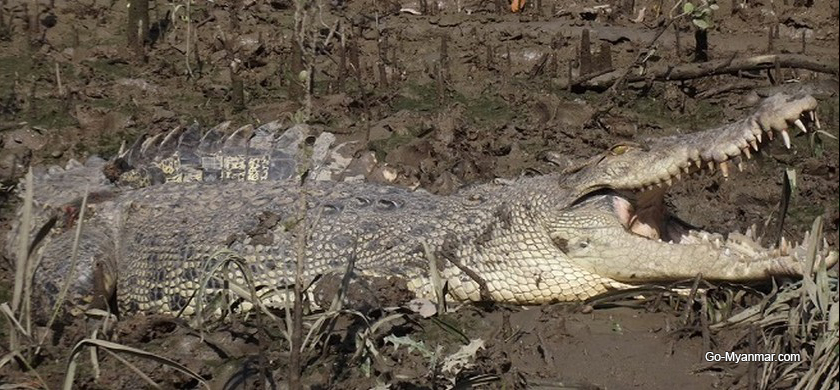 Facilities at Meinmahla Kyun are basic, with the FREDA Guesthouse the most comfortable option for visitors. One of the four rooms has a private bathroom. Otherwise, accommodation can be arranged at the ranger stations, which is generally mattresses on the floor with mosquito nets provided.
Visitors to Meinmahla Kyun Wildlife Sanctuary need to travel via the Sanctuary Headquarters in Bogale. From there, the Sanctuary staff can arrange the boat trip to Meinmahla Kyun, as well as accommodation and guiding by canoe. It's a good idea to call them in advance to let them know you're coming (Ph. +95 (0) 45 45578).
For information on getting to Bogale, click here.
Fauna and Flora International, the world's oldest conservation organisation, has been supporting Meinmahla Kyun Wildlife Sanctuary since 2012. For more information please visit www.fauna-flora.org.