February 19, 2014
In Myanmar, "shwe" means gold and you don't have to be here long to see that the country really lives up to its reputation as the "Golden Land". The landscape of Myanmar is dotted with pagodas and stupas that are sure to dazzle you, but with so many around, choosing which ones to visit can be a challenge. To help you on your journey of discovery, here is a selection of a few that you should definitely take the time to see.
Shwedagon Pagoda, Yangon
You can't visit Myanmar without going to its most sacred religious site, the Shwedagon Pagoda in Yangon. Believed to be the oldest pagoda of its kind in the world, it measures a staggering 99 metres and can be seen from miles away. It's not only these stats that make it important, but that it contains relics from four buddhas. As tourism has taken off in Myanmar, the number of visitors to the pagoda has dramatically increased and all through the day there's a steady flow of pilgrims, monks and foreign tourists circling its base. However, the most popular time to visit is at sunset. As the sun dips the pagoda is illuminated, creating a stunning impact against the dark night sky.
Shwezigon Pagoda, Nyaung U (Bagan)
The archeological site of Bagan is literally flooded with stunning temples to visit. Many have become charming crumbling ruins after centuries of neglect. However, there is one that has managed to keep its gleam. The Shwezigon Pagoda, which overlooks the Ayeyarwaddy River, is the only pagoda in the Bagan area to be covered from top to bottom in gold leaf. Its location, on the edge of the Nyaung U township, makes it a great place to start your tour around Bagan. As you enter, you will find the covered walkway lined with stalls selling souvenirs and buddhist paraphernalia. Considered by many Buddhists as one of the most important temples in Bagan, its definitely worth a visit.
Shwesandaw Pagoda, Pyay
Pyay is a city that is not very well known as a tourist destination. However, located at the crossroads of two main highways, many travellers find themselves here mid-journey. If this happens to you, make sure you spare a few hours to visit the Shwesandaw Pagoda (not to be confused with the temple of the same name in Bagan).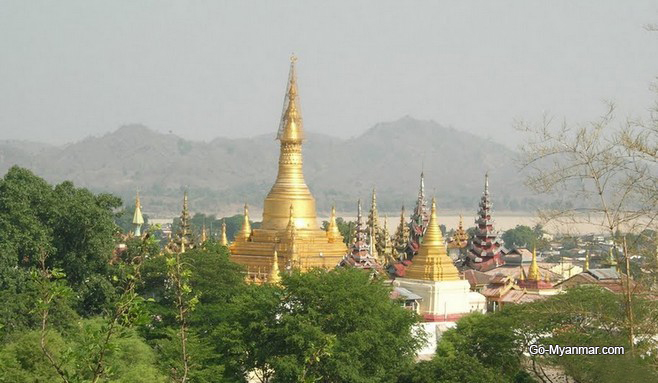 Having taken the lift up to the top of the hill, you are greeted by one of the most majestic pagodas in the region. It also benefits from great views of the city and the Ayeyarwaddy (Irrawaddy) river, enveloped in the lush green vegetation of the jungle-like surroundings. To one side there is an enormous and eye catching statue of a sitting Buddha, who appears to be watching over the temple. There is also a small, but interesting, collection of photos showing the pagoda through the years.
You're sure to come across very many temples as you travel around Myanmar. Each has its own story and unique features. This is a selection of a few of the temples in Myanmar that stand out from the crowd, but there are many more that deserve a visit. So get ready to discover "The Golden Land".
Carin Cowell – 18th February 2014
Carin Cowell is an independent online marketing and tourism consultant. Find out more here.