July 11, 2018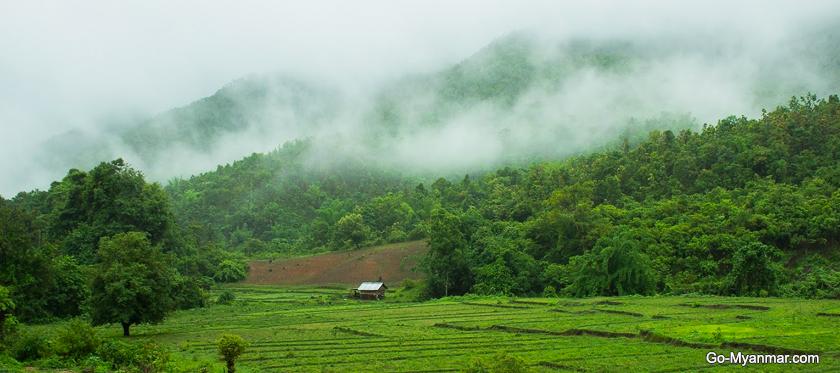 From May to September Myanmar experiences monsoon season, known locally as the rainy or green season. Beckoned indoors by heavy rains or deterred from venturing outside by looming clouds, tourists tend to lie low during this period. Locals too, get a bit sleepy, often extending siestas or opting for a weekend at the movies rather than in the mountains. But, this approach misses much.
The "wildest jungle", monsoon in the high forests and thick jungles of Myanmar is an experience found in few other places around the world, a unique brand of untethered, bursting vegetation grows and expands before your very eyes, exploding with color. Luscious vines, creepers, and leaves extend haphazardly in every which way. I found this wondrously exemplified in Pyin Oo Lwin, a town in the northeast reaches of Mandalay Division, when I visited last weekend.
Referred to locally as Maymyo, the former colonial hill station is located over 1,000m above sea level in the Shan Hills, a mountainous region bordering Thailand and Yunnan Province. This quaint town is a natural tourist destination, hosting the Kandawgyi Gardens, a unique mix of colonial, Chinese, Burmese, and Shan culture, as well as scores of nearby waterfalls. During the green season, Pyin Oo Lwin resembles much of Myanmar: locals leisurely wading under heavy umbrellas, longyi-clad shopkeepers lounging in wicker chairs under tin overhangs, few reasons to rush or hurry anywhere. This relaxed atmosphere, a slow drizzle, and the ubiquitous greenery transcends Pyin Oo Lwin from the hustle and bustle commonly associated with Southeast Asia. Yet, countering this backdrop of calm and quiet, are acres of wild jungle and miles of footpaths yearning to be explored.
For this, you need wheels. Though it's easy to hire a car (with driver) for the day, far more freedom is afforded renting a motorbike. Conveniently, most hotels offer rentals for 12,000MMK to 15,000MMK a day (insist on treaded tires!). For accomodation, most budget to mid-range hotels in town are quite unremarkable in their variety or comfort. Yet, the Golden Gate Resort stands alone. $35 USD puts you in a lovely bungalow tucked cozily away in their quiet and encompassing gardens. The peace, recluse and comfort here, after a day hacking through monsoon jungle or scrambling up mountains, is indispensable.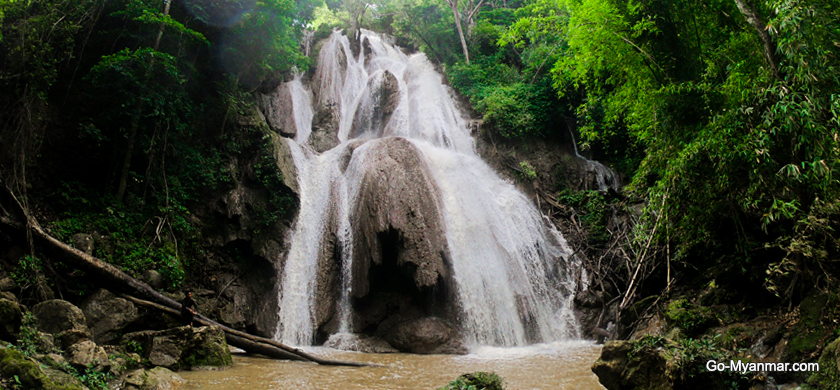 2 Days in Pyin Oo Lwin
On the first day I decided on the Seven Waterfall Trek, an adventurous journey recommended to be my by the helpful gentlemen at Pyin Oo Lwin Trek. Getting there, trekking, exploring, lunching and getting back, they correctly assured me, would be a full day.
Begin by heading south from Pyin Oo Lwin on the road west of Kandawgyi Gardens. After the Gardens, cross a new/developed-looking highway and shortly arrive at Sin Gyaung Lay, a small village. Follow the road straight, directly through the village. Henceforth, the pavement turns to red dirt, which shifts in flatness and consistency, especially as the monsoon season progresses. During or after rainfall, proceed with caution. 
The red dirt road climbs delightfully over small hills, curving around tree-lined bends, and diving further into a remote and tucked away valley. Pass the Shwe Pyin Oo Lwin Grape Farm, a restaurant with tables overlooking rolling grape pastures, making for a perfect lunch stop (unfortunately, no winemaking though). A few kilometers further is a four-way junction. At this junction turn left and continue for approximately ten minutes, arriving at the road's end and entrance to the 7 Waterfall Trek. You'll find a small teashop perched atop the hill's edge before a brilliant vista stretching as far as the eyes can see. The shop has not much beyond water, bananas, sugary drinks, some local snacks, and ear-to-ear smiles.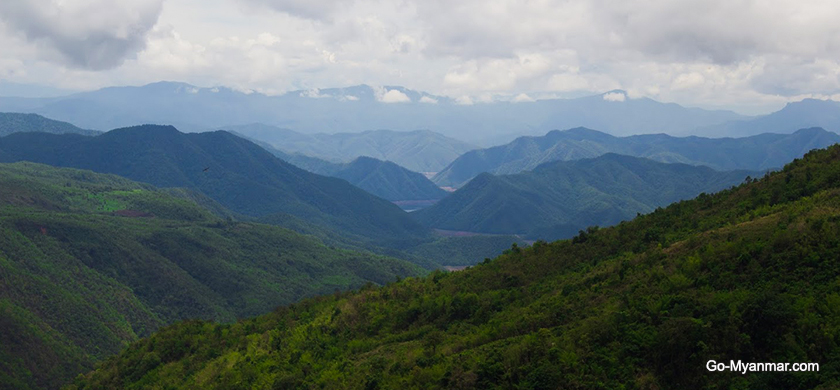 The trail heads downhill. After a 200-300 metres descent, arrive at the convergence of several creeks and a small rest area. The trail continues to the right, down the mountain. Yet, there are unmarked dirt paths venturing out and into the hills on the left . These paths make up a network of tracks and trails snaking through the Shan hills, vitally connecting rural houses to tracts of farmland to roads. So long as you can remember your way, running these hill trails is superb. Traverse miles of pine and deciduous forest, rolling farmland, hidden hamlets with smiling (and waving) families, leaf-laden footpaths, butterflies, birds and all sorts of green surprises.
At some point, expect the skies to open. The rains are totally unpredictable: they may slowly trickle or strike with divine ferocity. Nonetheless, it is glorious! The hillsides come alive, torrents of wind and rain whip across the sky, sounds of rain heard falling in the creek and dripping from leaves to the spongey forest floor. The oxygen is stirringly abundant, the air so cool, crisp and fresh you can literally taste it, swallowing in impossibly large and effortless gulps. Trails of fell logs and large rocks under low-hanging trees and wayward stalks of bamboo provide an exhilarating, natural maze. The 7 Waterfall trail continues downhill under a high forest canopy, zigzagging between bushes and a steep hillside, to its destination, several enormous waterfalls. This trek is a treat for the adventurer.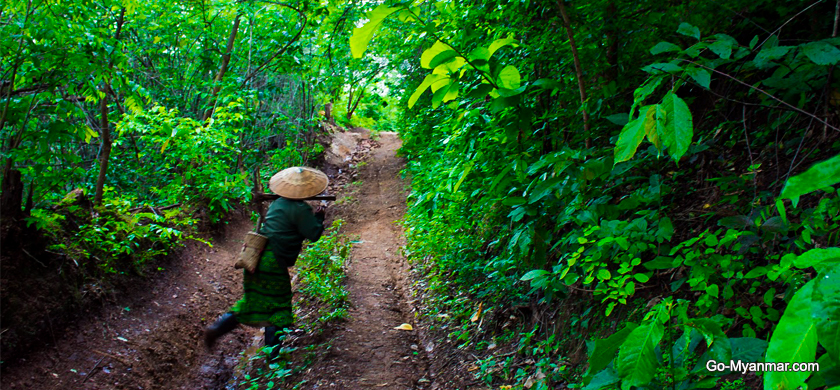 Driving back to Pyin Oo Lwin in the rain is a challenge, but a thrilling one. Endure rain, mud, reduced visibility, extending your legs for balance and squinting through raindrops. But absolutely not worth forfeiting for the confines and boring comfort of a car! As Yvon Chouinard, founder of Patagonia, once said, "when everything goes wrong, that's when adventure starts." Returning to the hotel after a day spent running over hills in the rain is like completing a marathon, a paradox of strength and weakness: little actual energy with sky-high adrenaline. This traveler recommends rewarding oneself by heading to the The Taj for an affordable and exemplary 3-4 course Indian/South Asian meal.
Day 2
During breakfast, I pored over Google Maps for something a bit more off the grid. Eyes set on a curious body of water south of town, I drove west on the Mandalay-Lashio Highway, the central artery of commercial road connecting China and Upper Myanmar. At Anesakhan, a village less than 10 kilometres from Pyin Oo Lwin, I turned east on Hnee Pagoda Road. Taking the right immediately after the pagoda compound's mega entrance, I drove for about 15 minutes before parking here.
The path soon forks. 200 metres to the left, is a spectacular viewpoint overlooking an expansive valley and a western hill range (an ideal spot for sunset). To the right, the trail flatly hugs a hillside before reaching and running along a fenced off plot of land. Follow the fence along a ridgeline, and after approximately 800-1000 metres, take the first and only right turn.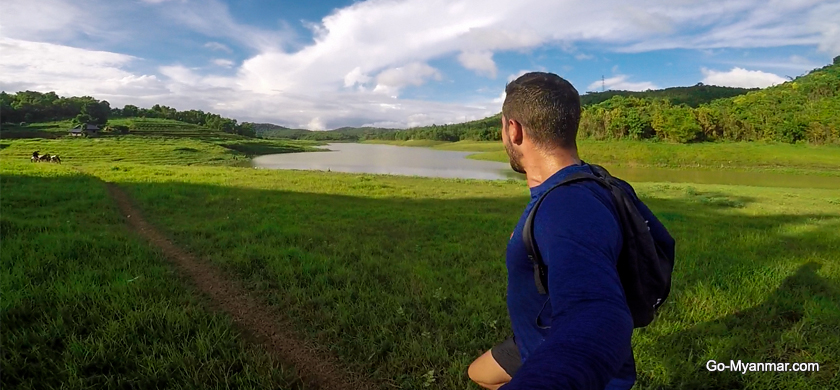 The trail diverges into smaller paths. Each path leads to the lake via a private farm, the proprietors of which seem more than happy to accept a smile as payment for crossing their land. The lake, or more likely, the reservoir, is a hidden gem. A small body of water surrounded on all sides by grass, gentle hills, wild forest, and tiered farms; the scenery is so picturesque it evokes deep breathes and an drawn-out Owen Wilson-like "WOW". 
After crossing the tiered farms, there's a footpath encircling lake, which is used and often occupied by local fisherman. After overcoming the surprise of seeing a foreigner, they and their families usually offer a kind and very smiley "Minglabar". Though not quite as adventurous as 7 Waterfalls, this secret spot offers a total break from the tourist trail while remaining accessible and local. Easily done in a half day.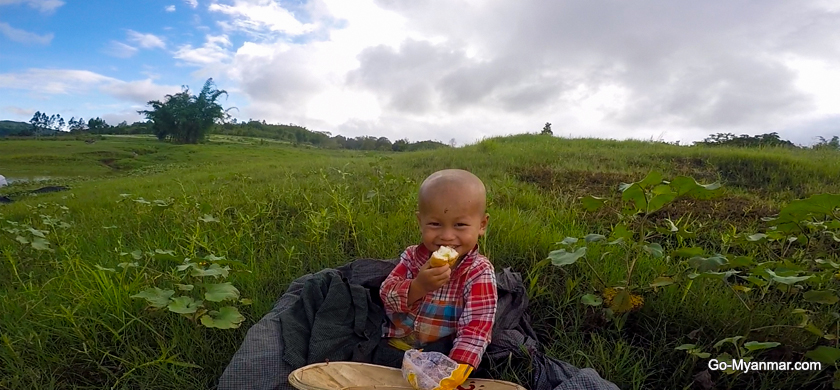 A spare afternoon in town before catching the overnight bus is just enough time to take in some sights. Among the most popular are the Kandawgyi Botanical Gardens. First created in 1915, they remain some of the largest and best-maintained in Myanmar. Pyin Oo Lwin is also magnificent melting pot of culture, ethnic groups, and cuisine. Choose from a variety of religious buildings to visit: the Sikh Gurdwara Sahib Temple, the Hindu Ganesh Temple, the Chinese Chan Tuk Buddhist Temple, the iconic Main Mosque, and the Maha Ant Htoo Kan Thar Pagoda, which though slightly out of town, offers tremendous views.
With monsoon in full swing and flora of the forest in full bloom, it's high time to get wet exploring, running, trekking and cycling the Golden Land.
For more information on Pyin Oo Lwin, visit this page. For a list of various trekking, cycling, and other outdoor tours, or to get in touch with a travel expert, go here.