February 15, 2015
In a foreign country, food becomes an adventure. In excitement, I will often google until my fingers are raw just to find a restaurent to get a taste of the "Nepalese-Thai-Italian" restaurant just around the corner. The Myanmar case is different. We don't have a Burmese restaurant nearby, so we'll just have to be taken by surprise. The Burmese food culture is being heavily influenced by its neighbours India, Bangladesh, China and Thailand. However most dishes are in fact Chinese.
Besides restaurants there are numerous food stalls which fill the streets. In addition, countless merchants come along on train or boat trips. I have to smile, because I remember the sentence "They indeed can fry – eh?!". The first time I heard this, was while biting into an enjoyable fried banana. The best which I have ever tasted.
Another fried speciality is Samosa, which I completely fell for. These are pastry bags filled with vegetables and you can get 10 pieces for 500 kyat. Other delicious fried foods are pancakes (which are similar to lard type pastries), shrimp cookies or flat bread served with chickpea and coriander.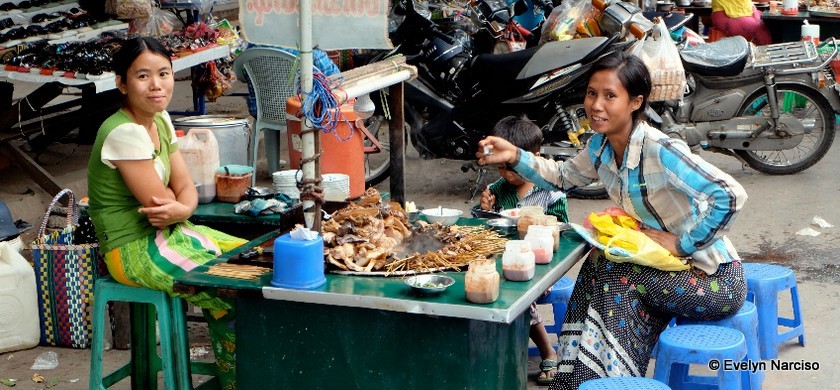 On top of that, fondue stalls (we shall call them that) can be found every so often along the street. Meat on wooden skewers are placed into hot oil and eaten after that. Sounds tasty and it probably is, but our western eyes are shocked when seeing the "exit-form" of the little meat skewers. Presented are pig snouts, tongues and much more. The eye is simply stuck, just like when watching a bad accident.
On the beaches in Myanmar you can see numerous merchants who walk along the shores, offering meat or fish skewers such as fresh coconuts. Somehow all of this is a little bit like the land of milk and honey.
Mohinga – soup can never be the wrong choice
The national dish in Myanmar is Mohinga. It is a strongly flavoured fish soup (which doesn't taste anything like fish whatsoever) with rice noodles and all sorts of different, delicious seasoning. The Burmese people consume the soup for breakfast early in the morning at close by markets or at cook shops along the roadside, however it is available all day long and all in all a popular snack, also as a take away. Feisty, the chef manhandles the noodles which fly into plastic bag. Seasoning on top of that, covered with broth and a knot: ready! Soup to go. Mohinga is mostly available for 500 Kyat.
You would like to try this at home? No problem. The fish needs to be prepared first. Here you will need the following ingredients:
300g catfish (optional trout)
1 stick of lemongrass
½ tsp turmeric
500ml water
Continue with the onion paste. You will need the following:
1 big onion (small dices)
3 garlic cloves
1cm fresh ginger
2 sticks of lemongrass
3 dried chillies (whole), soften in hot water
1 tsp shrimp paste (you can get this at the Asia shop)
½ tsp paprika
½ tsp turmeric
6 tbsp peanut oil
Next stop is the soup:
1,5 L water
12 shallots
75g roasted rice flour
3 tbsp fish sauce
1 tsp black paper
Further ingredients for the soup:
500g rice or asian noodles (cooked)
3 limes (halved)
5 hardboiled eggs (pealed and quartered)
2 handful of fresh coriander
2 handfuls of roasted onions (as a replacement for the big fritters, which are used in Myanmar)
Extra fish sauce and chilli flakes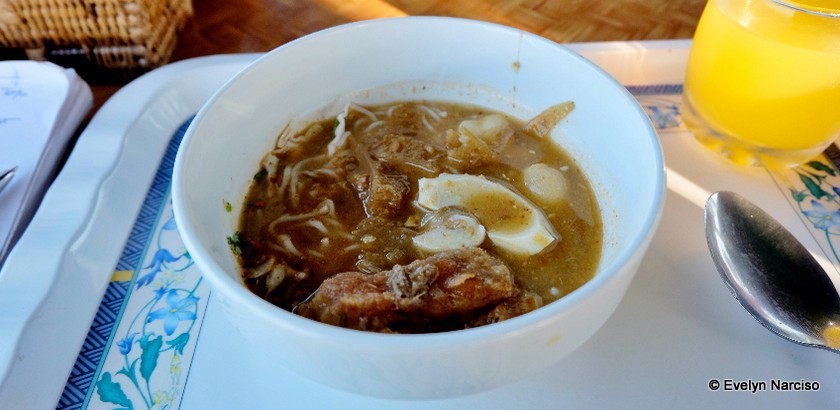 The preparation:
Place the fish along with water, lemongrass and turmeric into a pot and bring to the boil. Simmer for a further 6-10 minutes, until the fish is cooked through. Take the fish out of the pot. As soon as the fish has cooled down, peel off the skin, remove the fish bones and take the meat apart into flakes. Pour the fish broth through a sieve and place to the site.
Chop the onions, ginger, dried chillies and lemongrass which can be best mixed up using a mortar.
Heat the oil in a pot and add the onion paste. Simmer on medium heat for about 15-20 minutes, until the paste is soft and caramelised. Now, add the shrimp paste and stir well using a wooden spoon. Add the turmeric and paprika. Cook altogether for another few minutes (until you smell the aroma of the seasoning) and add the fish. Cover the pot and let the mixture cook for further 10-15 minutes.
The soup paste is now ready. If you don't want to use it all, you can let it cool and keep it in the freezer for up to 4 weeks.
Now it's time for the soup itself: Place the soup paste, rice flour, water and the fish broth (should you use defrosted paste, simply use 500ml water) which was put aside into a pot, bring to the boil stirring continuously. The rice flour should not get lumpy. Add the shallots and simmer for 20-30 minutes. Lastly, add the paper and fish sauce to taste.
Serve the soup in small bowls and add a handful of noodles or rice. Place the other ingredients onto small side plates so everyone can season their own soup to taste.
Evelyn Narciso, February 2015
To find out more, go to food and eating out. Look out for the second part of this blog, including curries and vegetarian food, in the coming months!
Did you know you can book Shan cooking classes on our Inle Lake page? See booking options on right sidebar of that page. 
This article first featured on Landmeedchen – the food and travel blog