Nay Pyi Taw (pronounced 'Naypiddaw', meaning 'Abode of Kings', and sometimes abbreviated to NPT) has been the capital of Myanmar since 2005. A massive and bizarrely empty place, it is a gaudy, multi-lane highway strewn testament to the power of the generals who ruled (and to some extent, continue to rule) this country.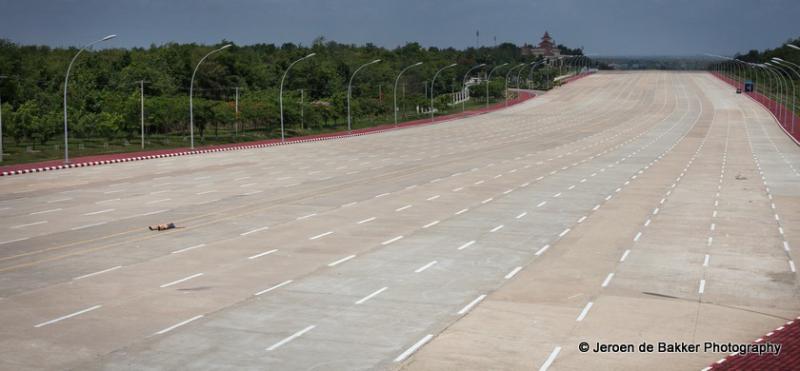 Gigantic spaces between occasional ministries, government buildings, malls and hotels are one of Nay Pyi Taw's most striking features, and the city is divided into different 'zones', with most foreigner-registered hotels being situated in three hotel zones (called Dekkhinathiri, Uttarathiri and Pohbbathiri – but your own hotel is the only name you need to know).
Take a look at this great drone footage of Nay Pyi Taw from Coconuts TV, including some further background on the city. 
Nay Pyi Taw events and the MICC
Nay Pyi Taw has recently held a number of large-scale events, including the Southeast Asian Games and World Economic Forum, so there has been a big drive for accommodation infrastructure and as a result you will find a large selection of business-standard hotels at reasonable prices (unlike in Yangon, where prices are high).
Most conferences and events in Nay Pyi Taw are held at one of the huge Myanmar International Convention Centres (MICC 1 or 2), which are close to the main hotel zones; they both have quick, free wifi. Unlike the rest of Myanmar, most of Nay Pyi Taw has round-the-clock electricity and most hotels have good internet speeds.
Commuting between NPT and Yangon
Many business travellers, and those involved in Myanmar's politics and development, travel to Nay Pyi Taw for government meetings – although the bulk of business is done in Yangon, which is also the point of arrival for most international visitors.
Many senior politicians commute to Nay Pyi Taw from Yangon on a weekly basis, which is easier to do now that flights are more regular and the main trunk road through middle of the country has been improved (go here for more information and online transport booking).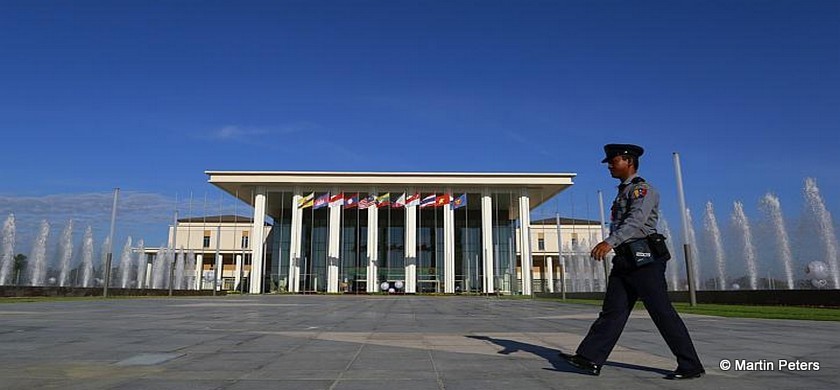 Things to do in NPT
Although the primary focus of Nay Pyi Taw is the business of government, there are a variety of things for visitors and tourists to keep themselves occupied:
The Water Fountain park is well worth a visit and is best seen at sunset; the main attraction is a fountain show, where the fountains dance in time with music. There's also a big play area, and a tower you can climb up with good views of the city.
The huge Uppatasanti Pagoda,  a replica of Yangon's Shwedagon Pagoda built in 2009, is impressive - and has the added attraction of being able to walk inside its domed interior. It was built just 30cm shorter than the Shwedagon in order to not upstage its historically revered counterpart. Outside the pagoda are six white elephants, intended to be auspicious but in reality a rather depressing sight.
The National Museum is home to a range of artifacts reflecting Myanmar's past, from fossils up to 20th century political history. Like many museums in Myanmar, it is poorly curated but does offer some points of interest. K5,000 entry fee. 
The Pyidaungsu Hluttaw, Myanmar's vast 31-building parliament, is a sight to behold and also gives a chance to see the Nay Pyi Taw's widest highway, with 12 lanes of empty road in each direction. Normally the Hluttaw can only be viewed from a distance, but you can get a guided tour of the buildings with a pre-arranged permit. We can arrange this for you as part as a package with accommodation and guiding; permits must be obtained at least 10 days in advance and we will need a scan of your passport page and, if you have a car, registration details. To find out more, contact us through this form or email

[email protected]

 (note that we can only arrange guides from Yangon or Mandalay, as we do not have guides based in Nay Pyi Taw).
The towering statues of three old kings, presumably designed to reflect the power of the generals, feature on postcards in Myanmar (often accompanied by military parades) – but are in fact off-limits to visitors.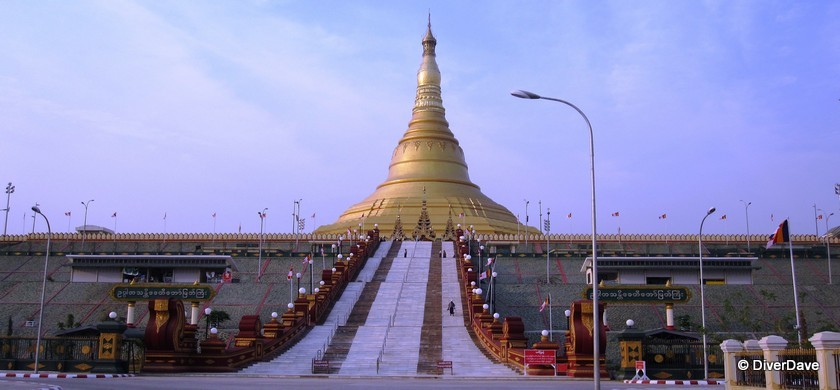 45 minutes drive to the northeast of Nay Pyi Taw, near the town of Yezin, there are a bunch of things to see - a zoo; safari park; planetarium; the site of the SEA Games athletics complex; and the Defence Services museum, a sprawling place where the best exhibits are outside; you can climb around old tanks, rockets, boats, helicopters and planes (including a Spitfire).
The enjoyable National Landmark Garden is just to the south. A 400 acre park built in the shape of Myanmar, here you get driven around in golf buggies to see the country's famous sights. It's quite pricey at $10 for foreigners – that includes a one hour guided tour, but not attractions such as the log flume, bumper carts and haunted house (!). Within the grounds are two tall observation towers which give good views of the area.
A taxi to get to this area and back will cost around K40,000 from most Nay Pyi Taw hotels, and if you take a 15 minute detour on the way back you will find a row of beer stations lining the Sittang river, offering a great spot for a drink and a bite to eat.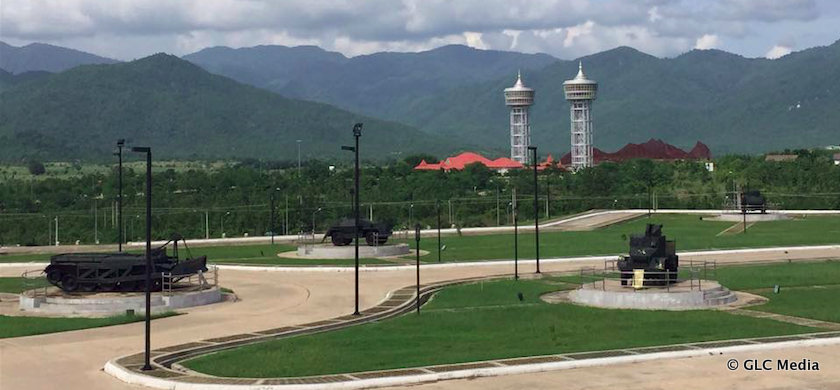 Eating out and nightlife
There isn't a big choice of restaurants or bars in Nay Pyi Taw, but here are some of the best options:
Emerald Restaurant is a stylish, western-run place at the Emerald Palace Hotel, serving a number of quality western and Asian dishes. Phone: + 95 (0) 6741 9321, + 95 (0) 67810 6001, 6002, 6003, email:

[email protected]

Cafe Flight. Housed in an old aeroplane, this restaurant is more of an interesting curiosity than a fine dining experience. Make sure to book in advance to get a table in the plane itself, as the main restaurant building is devoid of character. Phone: +95 (0) 9 420 712 432, email:

[email protected]

Diplomatic Bar and Yangon Kitchen at the Kempinski Hotel. These high-end establishments offer great food, drinks and service – and the outdoor pool deck is good for a sunset drink.
Maw Khan Nong. At the budget end, this large and lively beer station serves simple local and Thai dishes; it is located on a small hill above the well-known Thabyegone (Tha Pyay Kone) Market. Note that there are two restaurants with the same name, one at the bottom of the hill, and one at the top.
YKKO. Part of a well-known Myanmar restaurant chain, this restaurant serves good Myanmar fare and can be found at Capital Hypermarket on Yaza Thingaha Road.
Junction Centre shopping arcade has modern facilities and a range of places to eat, as well has a cinema. It is located close to the main hotel zone.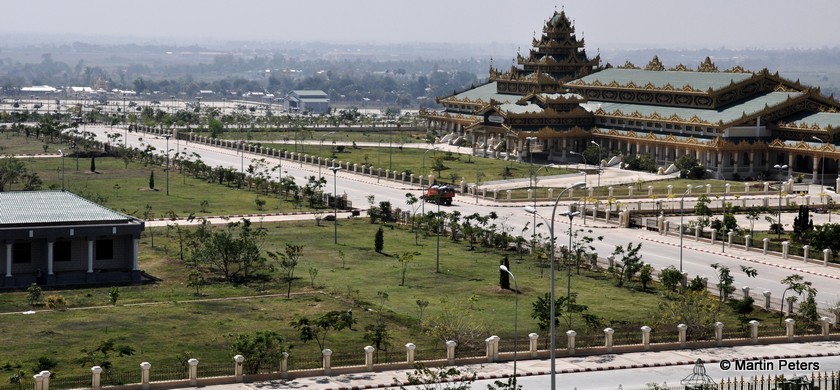 Getting around and ATMs
Distances are almost always too long to walk, so getting around Nay Pyi Taw is usually done by taxi, which will need to be ordered from your hotel and are far more expensive than in other cities in Myanmar – usually costing at least K5,000 to K10,000 per journey, and sometimes more. Yang Ni Oo Taxi Service offer good cars, and can be contacted on +95 (0) 9333 55884 or +95 (0) 9360 60850.
A cheaper alternative is to get a ride on a tuk tuk or motorbike taxi, which cost from K1,000 per person.
Visa- and Mastercard-ready KBZ Bank ATMs can be found at Nay Pyi Taw International Airport and at the popular Myoma Market (where many buses arrive and depart from). ATMs can also be found at many hotels.