November 09, 2018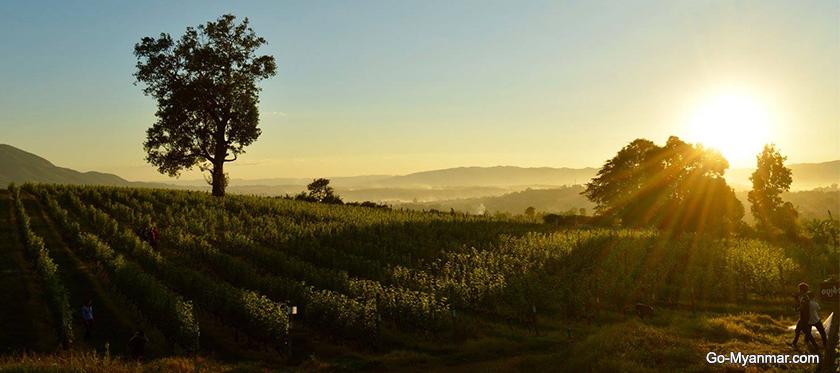 Heading east from Inle Lake or Kalaw, as you ascend the sharply winding road to Taunggyi, you can't miss the sign for Aythaya vineyard – one of only two vineyards in the whole of Myanmar. Spectacularly located on the side of a mountain ridge, you could not wish for a more beautiful setting to sit back for a relaxing afternoon of wine tasting.
Named after the nearby town and originally opened in 1999, the vineyard has been managed by the experienced German sommelier Hans Leiendecker since 2006. If you're at Aythaya, it is well worth tracking Herr Leiendecker down in his office or wandering around the fields; he is a youthful 60 year-old raconteur who has a deep knowledge of winemaking and a wealth of stories about local history and politics. He lives on the grounds with his wife, Ma Ei Ei Brown, who is Karen but born in Kalaw, and their Labrador retriever.
Down the years, it is fair to say that the quality of Aythaya's wines has varied. However, as Herr Leiendecker has got to grips with producing wine on the other side of the world – and investment has been made on new machinery and training local staff in the subtle nuances of winemaking – the product has begun to match the majesty of the setting.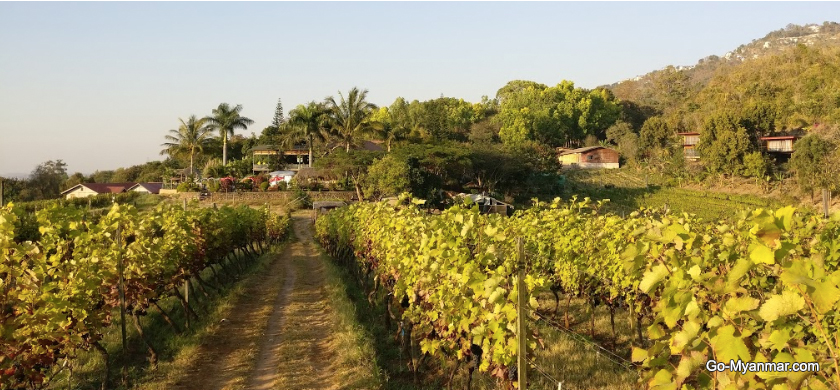 Tropical Myanmar in general has a very different climate to most successful wine growing regions of the world, but the area around Aythaya has good soil and crucially is located at an altitude of 1,200m – making conditions more conducive for the production of wine.
However, compared to winemaking in Europe or the New World, challenges abound. To name but some: in Myanmar, weather seasonality is entirely different so there are two winemaking seasons in the year; the length of the day is relatively short, so in order for the leaves to absorb sufficient sunlight, the rows of vines must be placed further apart; there are a range of potentially devastating local fungi that the vines must be protected from; and contract farmers from around Myanmar grow grapes that are transported to Aythaya from up to 800km away.
While grappling with all of this, Herr Leiendecker remains big on experimentation with different products and styles, using Shiraz, Dornfelder and Sauvignon Blanc grapes, as well as other examples such as their own Shan Panya, for a sparkling wine they offer. And from the offcuts, they produce other drinks such as grappa and lychee brandy.
A room with a view - Monte deVino lodge
Located on the hillside next to the vineyard is Monte deVino lodge, which in fact comprises of three boutique rooms all offering stunning views over the fields and towards Inle Lake. Great consideration has gone into the design – certainly not always the case in Myanmar – with generously proportioned balconies, floor-to-ceiling windows 180 degrees around the centrally placed beds, and delightful interior stone and woodwork. You can book a room or a tour here.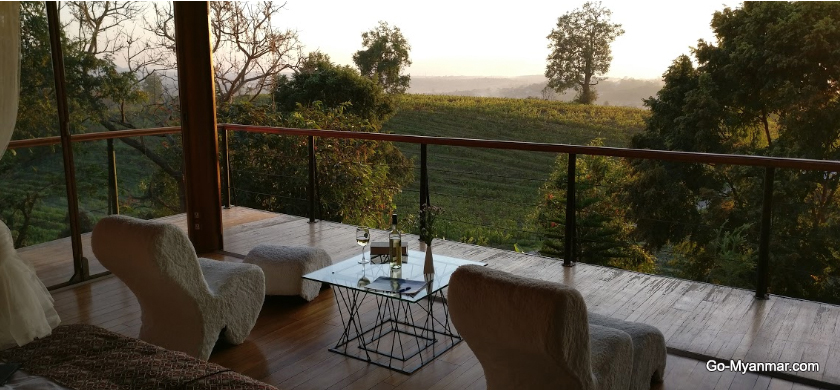 There is also a delightful restaurant at Aythaya, which hosts the occasional tour group during the day and is a frequent haunt for wealthy locals from the trade city of Taunggyi, capital of Shan State, which is just up the hill. If travelling with a group of four or more, call ahead to reserve the large dining table above the pool.
Exploring the area
Most foreign visitors to Aythaya will take in the sights of Inle Lake as part of their trip, but fewer will head up to Taunggyi. Whilst it is by no means a beautiful town, being on a huge plateau on the edge of a mountain ridge makes its setting quite extraordinary, and it is a fun place to explore the meandering streets.
If you're feeling adventurous, you can hire a bike at Aythaya, take the quick ride up to the city and then explore the abandoned railway on the city's east side; the steeply inclined townships of its western flank; and then cut back downhill on a rough track through Aythaya village back to the vineyard. That would make a half day trip – and you can find some more conventional tourist sites on our Taunggyi destination page!   
Marcus Allender, November 2018
For tours of Myanmar including the Inle Lake and Taunggyi area go here and for information on how to get there go here.