October 18, 2013
Nowadays, most of the stuff we buy is mass produced, the focus is on cost and quality is a secondary consideration. Therefore, one of the beauties of Myanmar is that, as a result of having a limited access to modern techniques and technologies, most products are made using using traditional methods and locally sourced resources. Trades like mining, weaving and carving still form an important part of the Myanmar life. In the markets you will find a wide variety of products made from materials like bamboo, cotton, silk, teak wood and precious stones. However, with so many options its hard to know which souvenirs to bring home with you. To help you out, here we highlight a few things that you should definitely save a space in your suitcase for.
The first is lacquerware, a product that you are bound to see all around the country. Traditionally, it comes from Bagan and there, in amongst the temples, you will find workshops which are open to visitors. Made from carved bamboo, the product is lacquered and then decorated with intricate hand-painted designs. Apart from the traditional designs, more modern designs are appearing, with brighter colours and bolder designs, for a more luxurious finish look for the lacquerware decorated with gold-leaf. It comes in many different forms, including cheroot cigar boxes, bowls and plates and the best thing is that it weighs very little, so no need to worry about excess luggage.
Another iconic product that you are likely to come across whilst on your travels around Myanmar is the parasol. Used throughout Asia, the parasol is considered a necessity when heading out onto the street to protect yourself from the sun. In Myanmar, many still favour the traditional style, made with bamboo (for the frame and handle) and cotton, which is stretched over the bamboo frame and then decorated with a hand-painted traditional Myanmar design. It's common to see monks carrying an orange version of the parasol as they go through the streets on their morning rounds. They are made in Pathein, and if you get the chance, you should visit one of workshops where they will be more than happy to show you how they are made, as well as the different sizes, designs and colours that they produce.
If you are looking for an extra special souvenir, why not invest in one of Myanmar's precious stones. Rubies and sapphires are popular, but jade is the stone that is most abundantly available and precious stone experts should head to the jade market in Mandalay to negotiate a good deal on a top quality stone. However, if you don't want to blow your travel budget all in one go, fear not. There's plenty of slightly lower quality jade available in the tourist markets, so you can pick up a nice bracelet or necklace for around $10.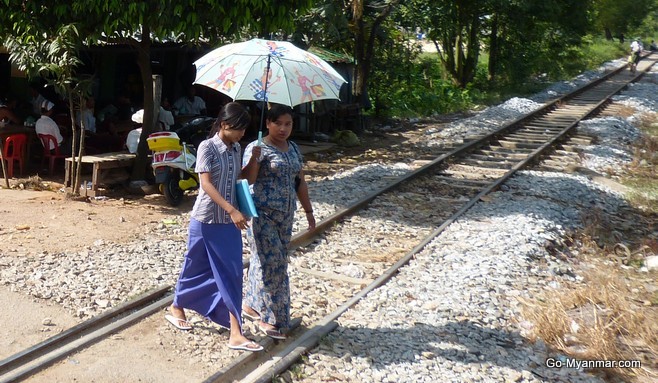 Finally, probably one of the first things that you will notice about the people of Myanmar is theirtraditional dress, as it's still common for men and women to wear the 'longyi', a type of wrap-around skirt. They are normally made from cotton or silk, which is woven into unique patterns with each ethnic group and region having an identifiable design. If you visit Inle Lake, you are bound to be taken to the weavery where you can see the whole longyi making process and the designs specific to the Shan State. In the Bogyoke Market in Yangon you will find textiles from all over the country; look out for those from the Naga tribe, which are particularly desirable.
Of course, there are many more exquisite souvenirs to buy apart from these, so take your time to explore the markets and don't pass up the opportunity to visit workshops, where you will see local people crafting beautiful objects using age-old techniques. You really will be impressed.
Carin Cowell – 18th October 2013
Carin Cowell is an independent online marketing and tourism consultant. Find out more here.
For more information on shopping in Myanmar, go here.