Travelling by train is one of the most exotic and characterful ways to explore Myanmar, as railway journeys often afford scenic views and great chances to mix with locals – albeit on lines that are slow and bumpy. Take this tour from the infamous Death Railway in the south to journeys across the dramatic gorges of Shan State.
Tour Overview
Book Tour
Tour Highlights
Take the sleeper train between Myanmar's great cities, Yangon and Mandalay
Enjoy cool air, hiking and cycling in the Shan hills at Hsipaw
Witness hair-raising views of deep gorges as you cross the historic Gokteik Railway Viaduct
Visit the Allied War Memorial and end of the infamous Death Railway at Thanbyuzayat
Relax in tropical Mawlamyine, the old British capital of Lower Burma
Take the boat up the Salween River to charming Hpa An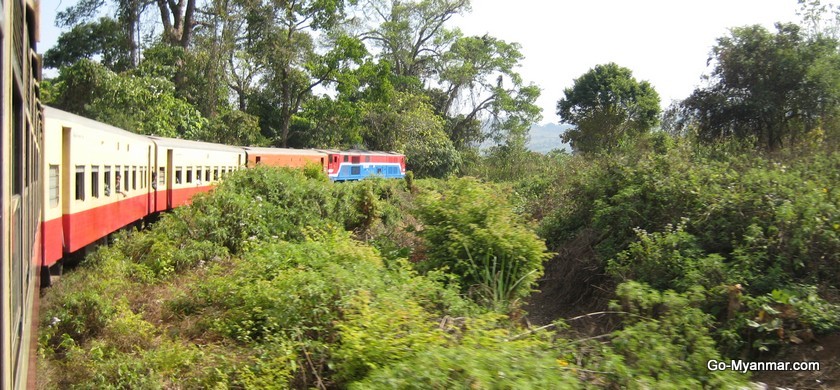 Day-by-day Itinerary
Arrive in the bustling city of Yangon, with its streets that are home to more colonial-era buildings than any other large city in Southeast Asia. Take the Yangon Circular Railway, which slowly loops around the city and is a fantastic way to see how local people really live – with commuters, hawkers and market sellers all relying on this important mode of transportation.
At the end of your second day, take the overnight train on Myanmar's only double-track mainline, from Yangon to Mandalay. Don't expect a quiet night, though, 
Pull in to the central terminus in Mandalay and, after checking in to your hotel, visit the last royal palace of the Konbaung dynasty and recount the final days of Thibaw and his queen, Supayalat, before they were expelled to India by the British. Visit the sacred Mahamuni Pagoda and receive a blessing for auspicious travels and then climb the 1729 steps up Mandalay Hill (or catch the lift up!) to be rewarded with a stunning sunset.
Just to the south of Mandalay, take a stroll down the longest teak bridge in the world, the iconic U Bein bridge in Amarapura  – and then take a canoe for two to view the bridge from the water. The town of Amarapura is full of textiles stores and small metal works factories, where you can watch master craftsmen cast Buddha statues in bronze or visit a weaving factory to see how fabrics are made.
Further south, you can take a horse and cart around the quiet, meandering roads of Inwa, that once made up a powerful kingdom's capital city. Then head by car up to the cooler air of pretty the pretty old hill station, Pyin U Lwin. 
Day 5 Pyin U Lwin to Hsipaw
Taking the train eastwards through the Shan hills to Hsipaw makes for one of the most memorable railway journeys in Asia; the route was made famous by Paul Theroux in his books The Great Railway Bazaar and later Ghost Train to the Eastern Star, and takes in the towering Gokteik Viaduct. When completed in 1900, it was the largest steel trestle in the world and a true engineering triumph; today, trains slow down to a snail's pace when crossing, and it is not just the stunning scenery that leaves travellers breathless!
A charming and laid-back town located high in the hills of Shan State, Hsipaw's quiet, dusty streets, beautiful traditional buildings and trekking opportunities make it a special place; there are numerous shrines in the area, including the atmospheric collection of pagodas to its north, dubbed 'Little Bagan'; a hilltop pagoda with lovely views over the town and its valley; and a huge Chinese cemetery. Or you can ride around by bicycle to get to the waterfalls, fresh water pools and rock formations of the surrounding hills, witnessing the lives of local farmers in their paddy fields and banana plantations.
Drive back to Mandalay for one night ahead of next leg of your tour.
It's an early start from Mandalay to Bagan, and it can get quite chilly in the early morning so come prepared with some warmer gear. Enjoy breakfast on the boat and make sure to pack your camera to capture beautiful Irrawaddy riverside scenes. There are some quieter stretches on the water so this is a perfect time to catch up on some reading or write those postcards to people back home. Arrive in Bagan in time for one of its famously stunning sunsets.
Start a full day exploring Bagan at the Ananda pagoda, dating from the 12th century and famed for its gilded sikhara tower. Gubyaukgyi pagoda has extensive murals of Buddha in his previous lives and the Gawdawpalin or Bupaya pagodas are great for sunsets. Choose from bicycle, horse and cart or minibus tours for your preferred mode of transport around Bagan. The area is renowned for its lacquerware, so schedule an afternoon visit to one of the local shops.
We can arrange in advance hot air balloon rides that will give you spectacular sunrise views of the Bagan plain (additional cost).
Fly to Heho airport and transfer via car to the characterful town of Nyaung Shwe, the gateway to Inle Lake. If you go for the superior hotel option, a boat will take you to your hotel on the lake (standard hotels are in Nyaung Shwe). Hop on a boat around the lake to see the local Intha fishermen employing their traditional one-leg rowing technique and handicrafts in Nampan village; if the time is right, see the floating markets that are a photographer's dream. Finish up your day with sunset wine tasting at Red Mountain Estate vineyard and then dinner on the lakeshore.
Fly to Yangon for one night ahead of next leg of your tour.
Take the train eastwards from Yangon to historic Mawlamyine, through rice paddies and skirting mountain ranges. Known as Moulmein in colonial times, the tropical capital of Mon State has many colonial buildings lining its streets and a magnificent pagoda with views of the surrounding area – it was a short visit here that inspired Rudyard Kipling to write his famous poem Mandalay.
Day 13 The Death Railway and Thanbyuzayat
Take the road south to visit the moving and beautifully preserved Allied War Memorial, as well as the Burmese end of the Death Railway, at Thanbyuzayat; standing on its own next to the main Mawlamyine to Dawei line, you will find an old steam locomotive that poignantly marks where the Death Railway ended, as well as a commemorative sign.
Take a relaxing boat trip up the Salween River to Hpa An, the charming and laid back capital of Karen State. The dramatic limestone karst mountain scenery of the surrounding area offers much to explore, including lush paddy fields; pagodas that sit atop strange rock formations; natural pools; and, best of all, a number of huge caves, which hold religious significance that date back many hundreds of years.
Next day, hike up the sacred and monolithic Mount Zwegabin, which offers a good work out (particularly in the heat!) and immensely satisfying vistas when you reach the monastery at the summit.
Return to Yangon from Hpa An by car.
Would you like to extend your tour to the beautiful and relaxing Ngapali Beach? Our travel advisors will be able to arrange this for you, along with any other travel, accommodation or activity requirements you may have. Just fill out the 'Any further queries' box after you have clicked on the 'Book Tour' button.
Indicative standard and deluxe hotels for this tour
| | |
| --- | --- |
| Standard hotels for above program | Deluxe hotels for above program |
|  Yangon - Clover Hotel |  Yangon - Chatrium Hotel |
|  Mandalay - Hotel Rama |  Mandalay - Mandalay Hill Resort |
|  Pyin U Lwin - Royal Park View Hotel | Pyin U Lwin - The Governor's House |
|  Hsipaw - Mr. Charles Guest House | Hsipaw - Hsipaw Riverside Resort |
| Bagan - Floral Breeze Hotel | Bagan - Bagan Lodge |
|  Inle Lake (Nyaung Shwe) - Hupin Hotel |  Inle Lake - Amata Garden Resort |
|  Mawlamyine - Attran Hotel |  Mawlamyine - Strand Hotel |
|  Hpa An - Hotel Zwekabin |  Hpa An - Hpa An Lodge |
To get prices for this tour with luxury accommodation or basic accommodation, please enter a query in the 'Any further queries' field when you submit your tour booking form (link below).
Our Service Include:
Accommodation with breakfast (twin room basis)
Domestic flight tickets, including insurance surcharge and current fuel surcharge
Passenger service charges for domestic flights
Entrance fees and zone fees for the visits mentioned
All transfers and sightseeing by private air-con vehicle with drivers, as mentioned in program
Private local boat fare for Inle Lake excursion, as mentioned in program
Our Service Do Not Include:
International ticket to/from Yangon
Visa fees and visa arrangements for Myanmar
Visits not mentioned in the program
Dinner at hotel
Drinks and personal expenses
Tips and porters at the hotels
Any other items not mentioned
Important Notes:
The above itinerary is indicative and some details may change according to conditions and availability; you will always be informed of such changes.
There may be changes to estimated prices depending on air fuel cost, domestic airfares, US$ exchange rates and festive season surcharge. All supplemental cost to be advised.
[1] Price per person based on two person tour (twin hotel room sharing basis) during high season (October to April). Larger groups will pay less per person, single person purchase will mean a higher price.