A major supply line for the Allied powers during WW2, this scenic and culturally fascinating route is a great challenge for serious cyclists. Travel through mountainous Yunnan Province across the border to the plateau of northern Shan State, little visited by foreigners, finding deep gorges and old colonial hill stations on your way to historic Mandalay.  
This tour is currently unavailable as the overland border with China is temporarily closed.
Tour Overview
Book Tour
Accommodation:
guest house, hotel, resort
Tour Highlights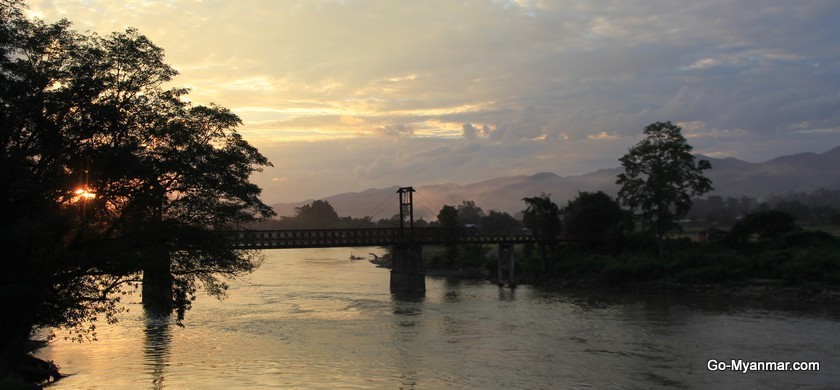 Day-by-day Itinerary
Meet at Kunming hotel for dinner and trip briefing.
Days 2-3 Baoshan and Tenchong
Fly to Baoshan in western Yunnan Province and start cycling the Burma Road, passing through remote farming villages and landscapes of dramatically plunging valleys and mountains. Ride through the varied terrain of Tenchong, a volcanic region that features smooth tarmac and rougher dirt roads. The area hosts over 80 hot springs, which you can visit at the end of the day to sooth some of your well-used muscles. 
Days 4-6 South on the Daying River
The scenery changes near Heshun village, cycling over stone bridges and green paddy fields as you reach this charming town with traditional Chinese rustic architecture and cobbled streets. Continuing south along the Daying River, the closer you get to Myanmar, the more you will notice the increasing variety of ethnic and tribal groups that call these border lands home. This part of Yunnan is known for its pottery production and you will see many kilns lining the road.
At the end of this segment of the trip, you will reach the border town of Ruili (Shweli in Burmese), once a wild frontier town, but now a growing trade post.
Days 7-8 Ruili to Muse and on into Myanmar
Cross the border from China and continue on the Burma Road into Myanmar itself, starting early the next day for a long day of cycling through the beautiful, winding roads of the northern Shan hills. End the day at the market village of Kuktai.
Today's ride makes for an easier run over flats then downhill all the way to Lashio; you may be well inside Myanmar now, but this fascinating trading post has a large Chinese population. At the end of the day, visit the Mansu Pagoda, which offers a panoramic views of Lashio and the surrounding hills.
Start the day with an uphill cycle towards the scenic and relaxing hill station of Hsipaw, getting the chance to see its pre-dawn market the next day; Hsipaw is a riverside town that is home to an eclectic mix of Chinese, Shan, Danu, Bamar and other ethnic groups.
Days 12-13 Gokteik Gorge, Pyin U Lwin and Mandalay
Heading westwards, you will pass through the deep and dramatic Gokteik Gorge, with its huge steel railway bridge, and you'll get the chance to see the picturesque Pwe Kauk waterfalls. Next up is the former summer capital of the British Raj in Burma, Pyin U Lwin (formerly known as Maymyo), which has many charming colonial-era houses and some colourful botanical gardens, modeled on Kew Gardens in London. After exploring this cool and relaxing town, you will have the chance to descend 1,000 metres along a wonderful winding road to Mandalay. 
Explore some of the sights of Mandalay, including its palace and hill, before departing in the afternoon.
After your biking adventure, would you like to continue to the beautiful and relaxing Ngapali Beach or the temples of Bagan? Our travel advisors will be able to arrange this for you, along with any other travel, accommodation or activity requirements you may have. Just fill out the 'Any further queries' box after you have clicked on the 'Book Tour' button.
Indicative standard and deluxe hotels for this tour
| | |
| --- | --- |
| Standard hotels for above program | Deluxe hotels for above program  |
| Hsipaw - Mr. Charles Guest House | Hsipaw - Hsipaw Riverside Resort |
|  Pyin U Lwin - Royal Park View Hotel | Pyin U Lwin - The Governor's House |
|  Mandalay - Hotel Rama |  Mandalay - Mandalay Hill Resort |
To get prices for this tour with luxury accommodation or basic accommodation, please enter a query in the 'Any further queries' field when you submit your tour booking form (link below). 
Our Service Include:
Accommodation with breakfast (twin room basis)
Mountain bike hire and service back-up
Domestic flight tickets, including insurance surcharge and current fuel surcharge
Passenger service charges for domestic flights
Entrance fees and zone fees for the visits mentioned
All transfers and sightseeing by private air-con vehicle with drivers, as mentioned in program
Our Service Do Not Include:
International ticket to/from Kunming or Yangon
Visa fees and visa arrangements for Myanmar
Visits not mentioned in the program
Dinner at hotel
Drinks and personal expenses
Tips and porters at hotels
Any other items not mentioned
Important Notes:
The above itinerary is indicative and some details may change according to conditions and availability; you will always be informed of such changes.
There may be changes to estimated prices depending on air fuel cost, domestic airfares, US$ exchange rates and festive season surcharge. All supplemental cost to be advised.