November 02, 2017
Something special about Myanmar is its diversity. There's the great geographical diversity ranging from the snow-capped mountains in northern Kachin State to the wetlands of the Irrawaddy Delta and demographic diversity ranging from the semi-nomadic sea-dwelling Moken tribe in the southern islands to the fifty-plus subgroups of the Chin minority in the hills to the west.
With this diversity comes a wonderful diversity of cuisines. Each plate is a reflection of the climate, agriculture, socio-economy and the very people who hold these traditional dishes as part of their culture identity. Often the food plays a major part of any ceremony or event in a community.
The good news is that you don't need to leave Yangon to find these delicious dishes. Here, we have outlined where to get the best ethnic food and what to order for the ultimate ethnic culinary experience.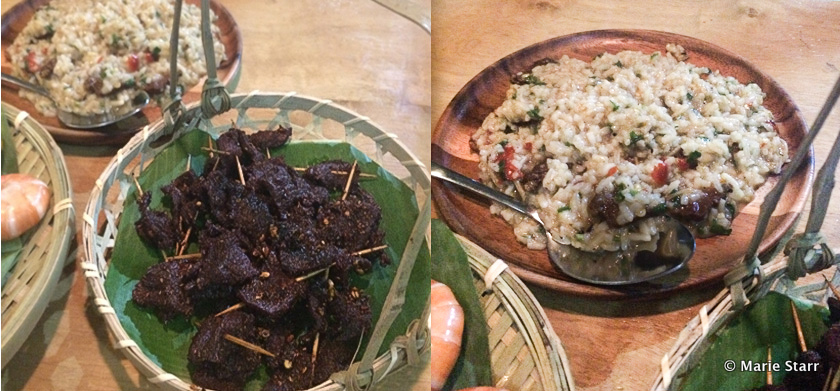 Wa Zone: Ha Tai Wa
This is an unpretentious Wa restaurant in a quiet, residential area where you can sit in typical country style on the floor of their outdoor bamboo houses around a low circular table. There are also indoor, air-conditioned seating options. The food is phenomenal. Traditional Wa 'porridge' tastes much better than it sounds and the option which includes beef is a peppery, fiery party in the mouth. The river prawns are simple, succulent and very fresh. The rice set is a fun and traditional and very hands on.
Order: Wa porridge with pounded beef, dried beef, beef beef beef, river prawns
Address: No.4/1 Thirimingalar Street, 8-mile, Mayangone Township (The avenue between the main street and the restaurant is dark so bring a light and watch out for scorpions!)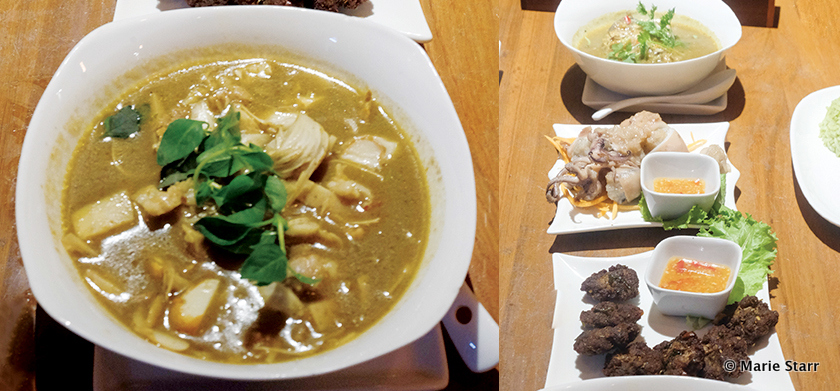 Mon State: Jana Mon
Mon State, taking up much of the border between Myanmar and Thailand takes a lot of influence in its language and cuisine from its neighbor but make no mistake, Mon food deserves its own place in ethnic cuisines of Myanmar. Despite how little known Mon food is, the food here will blow you away and you might even schedule another trip here soon. This cosy restaurant is located in walking distance from Shwedagon Pagoda and would make for a great dinner stop after sunset there. Beer is not on the menu but the proprietors are happy for you to buy some from the little shop across the street and have it with your food.
Order: banana stalk salad, stuffed squid, mangosteen pork curry
Address: 114 Nandawon Street (off Yar Tar Shay Street), Bahan
Shan State: Shan Kitchen
With a lot of competition in Yangon due to the popularity of Shan food, this restaurant is among the best. Opened by a Shan repat to Yangon, the air-conditioned and clean interiors are a welcome respite – especially if you have just come from Bogyoke (or Scott) Market over the railway bridge.
Order: Maymyo coffee, Inle hin htote, tofu nway, shan noodles
Address: 26/4 Nawaday Street, Dagon Township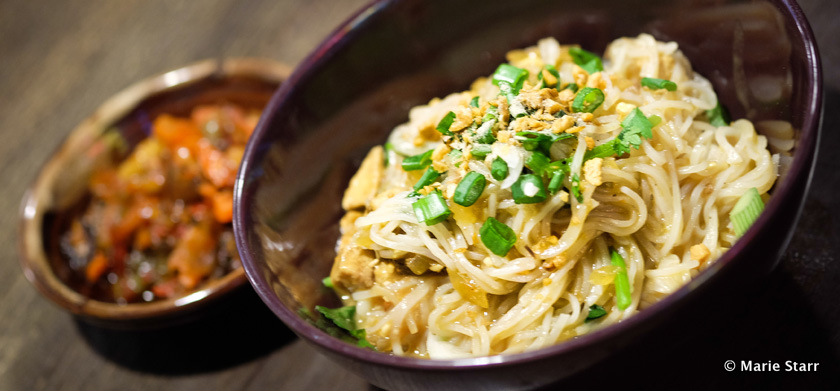 Kachin State: Jingpaw Myay
Kachin food is a delightful, spicy cuisine and uses lots of fresh coriander. Again, beef is what they do best and at Jingpaw Myay, Kachin style pounded rice (with chicken, pork or beef) is warming and flavourful and you can easily imagine it being eaten on the cold Kachin mountains. The pounded dried beef looks simple but is a lip-smacking shock of flavour and so full of herbs and spices that it feels almost medicinal. Blocked noses will be cleared! The restaurant is small and brightly lit but buzzing with locals and foreigners any evening of the week.
Order: Kachin rice wine, dried pounded beef, Kachin chicken
Address: 2B Kyun Taw Street, Sanchaung Township
Rakhine State: Ko Ta Ngar
Rakhine food is known for being spicy and fresh and usually features seafood. Yakhine (Burmese for Rakhine) mont dti is a simple noodle salad with fiery green chilies and there are stalls on almost every busy street though rarely with an English signboard. Ko Ta Ngar is a very casual restaurant with a focus on Rakhine food and it's often bustling with locals downing cold beers to cool their fiery tongues. Seafood is fresh and good value.
Order: squid salad, Rakhine montdthi, draught beer
Address: Bogalay Zay Street (near the corner of Mahabandula Road)
Dry Zone: Anya Ahta
This is the only Burmese place on this list. Anya Ahta refers to a huge part of upper central Myanmar known as the dry zone. Special because the owner is a well-known artist, art dealer and collector, Aung Soe Min, and the walls are covered in the works of local painters, yet it maintains all the best parts of a 'beer station' experience and ambience. Much like the Spanish and their tapas, Myanmar people like to snack on simple but strongly flavoured dishes while having a beer and a chat. A lot of the food at Anya Ahtar is meant as an accompaniment to a cold draught beer and at Anya Ahta, they really do go very well together. This place is bustling any night of the week with young locals and backpackers from nearby hostels.
Order: draught beer, dried beef, sausage, tea leaf salad
Address: 37th Street between Anawratha (pronounced Anoyata) and Mahabandoola Street
Marie Starr, November 2017
Marie Starr is copy editor, writer and photographer at Myanmar's leading travel magazine, My Magical Myanmar. She also freelances for several other Yangon publications focusing on the topics of food, travel and art as well as teaching part time at Thabyay Education Foundation. She can be contacted at [email protected].