August 13, 2013
Travelling to the south of Myanmar has long been possible by air, but foreigners were until recently restricted to the city limits of Dawei, Myeik and Kawthaung – and such trips were usually the preserve of businessmen and NGO workers. Earlier this year, that all changed. Theoretically, it is now possible to travel the length of Mon State and the Tanintharyi Division (also known as Tenasserim, after the 1,700 kilometre mountain range the forms a barrier between Myanmar and Thailand) – making the journey from Yangon to the southern tip of Myanmar at Kawthaung over land.
But having recently undertaken a trip to this region, the theory proves different from the practice. The truth is that any form of tourist infrastructure stops at Mawlamyine – from there southwards, you are on your own. The train goes as far as Dawei, but you are likely to be told in Yangon that you cannot buy a ticket, despite the prices being advertised on the boards in tourist dollars. And it can be the same story with the bus. Your best bet is to get a train or bus as far as Mawlamyine, and then get a ticket on from there. If you encounter resistance, head to the immigration office, where the staff are usually helpful in reiterating to ticket sellers that foreigners can indeed now travel south.
I travelled with a friend during the Thingyan New Year festival in April, so things were made even trickier by many offices being closed. Through a mixture of determination and blind luck, we found our way to a pick-up station fifteen minutes by motorbike taxi from central Mawlamyine, from where we got on a very crowded vehicle to Ye (no buses were running). This journey was extraordinary for a number of reasons: it was dangerous (sitting on the roof of a fast moving pick-up truck on bad roads for over five hours); extremely uncomfortable (ditto); and utterly fascinating (the wonderful people, the Mon hill scenery, the sheer unfamiliarity of everything and the assault on the senses). There were numerous military checkpoints along the way, but, surprisingly, none of the soldiers batted an eyelid at the strange, sunburnt white men on the roof.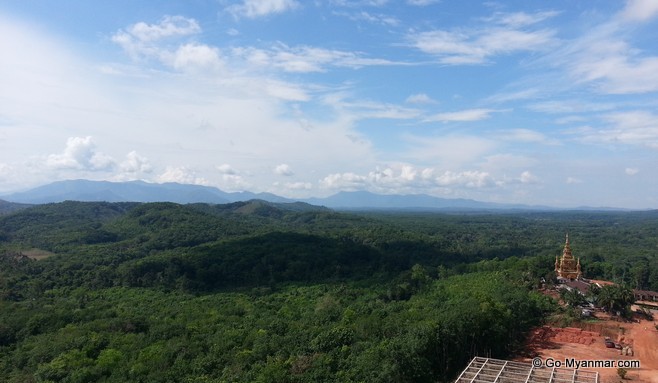 We had an overnight stay in Ye (choice of hotels: one) – you can read more about things to do here. At Ye railway station we found a typically chatty Myanmar station master, who spoke to us for about half an hour in broken English while are tickets were being prepared (that's pretty much the standard waiting time for buying tickets!). Why they will sell foreigners tickets here, in the middle of nowhere, but will not do so in Yangon is one of the many mysteries of Myanmar travel.
The train itself changes in Ye: it is the end of the 'main line' from Yangon, and the start of the journey on an even slower train, with carriages barely bigger than a minibus. Although it still uses the same gauge as the rest of the Myanmar network, this section is quite unlike any you will experience going between major cities; it twists and turns through the Tenasserim hills towards Dawei, literally pushing through the thick jungle growth. You have to be careful when taking photos not to be constantly hit by stray bamboo. The lack of development in this part of Myanmar is also a real eye-opener: as we snaked our way slowly through the villages and trees there was absolutely nothing that appeared different from how it would have been a hundred years ago, apart from people's clothing and the odd mobile phone.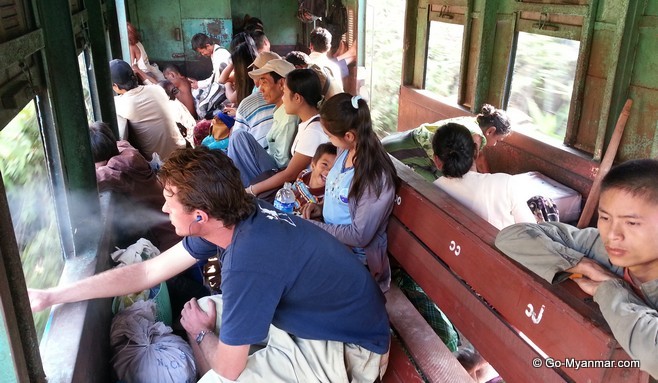 When we arrived at Dawei railway station, it was late in the evening, and we crashed at the only accommodation we could find there (it is a bit of drive into town, and there seemed to be a shortage of pick-ups and taxis). We paid K2000 for the night, which is extraordinarily cheap – but you get what you pay for. The staff were friendly, but my 'room' was about twice the size of my body (I'm tall); it had no ceiling (it did have walls); and it had no mattress (just hard wood and a very thin mat). They also started playing rock music at 4am. After one of the more restless nights of sleep I have ever had, it was refreshing to move to a proper guest house the next day, of which there are plenty in central Dawei.
Dawei is typical of a number of towns in Myanmar, in having a degree of colonial charm mixed together with less appealing newer developments, which have been (understandably) built on the cheap. It's worth wandering around for a few hours, and nearby you can also find Maungmagan Beach. You can read more about what to do in and around Dawei here.
Despite a strong urge to explore further south towards Myeik and Kawthaung, we ran out of time at Dawei. Over land journeys everywhere in Myanmar tend to be time- and energy-sapping affairs, and travelling in this part of the country really takes it out of you – even more so given that English levels tend to be much lower in less developed areas, so navigation isn't always straightforward. But in getting to see an amazing part of the country that has effectively been off-limits for over 50 years, it is more than worth the effort.
Some notes:
If you'd like to see some more photos from this trip, check out our albums on Facebook and an even wider selection on Flickr.
You may have noticed a lot of 'mights', 'shoulds' and 'best bets' in this blog. That simply reflects the nature of travel in more far-flung parts of Myanmar; there are no certainties.
If you are interested in travel to the Myeik Archipelago, further south, then check out this article from theNew York Times.
Marcus Allender – founder, Go-Myanmar.com. 13th August, 2013