Spectator and participatory sports are hugely popular in Myanmar, and come both in the form of imports – primarily football (soccer) and golf – and home grown sports such as chinlone (a ball sport) and lethwei (kick boxing).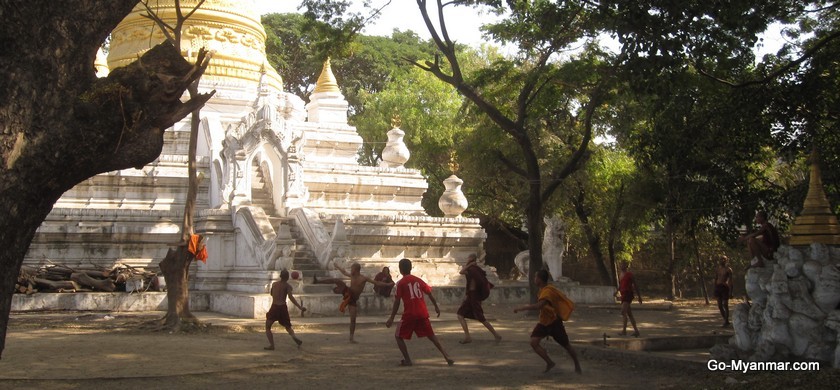 Football
Since the government began opening the country up in the early 1990s, allowing foreign television and large public gatherings for the first time in decades, football fever has grown in the country; it is now so massive in Myanmar that some people say, tongue only slightly in cheek, that 'Buddhism, family and football' are the main tenets of society.
On every town street and throughout the countryside you will regularly see games being played, both informally and as part of local and a nationwide leagues. Football is every bit as popular as a spectator sport; the Myanmar National League is the main countrywide football competition (tickets to lively matches can be bought on the right hand side bar of this page, subject to seasonal availability). In Yangon, live matches can be watched at the huge Thuwunna stadium (often used for international matches) and the smaller Aung San stadium, closer to downtown. 
At beer stations, bars and restaurants, you will be able to catch live football games on tv with rapt local audiences. The English Premier League and European Champions League are the most popular competitions, and, perhaps unsurprisingly, Manchester United is the most popular team.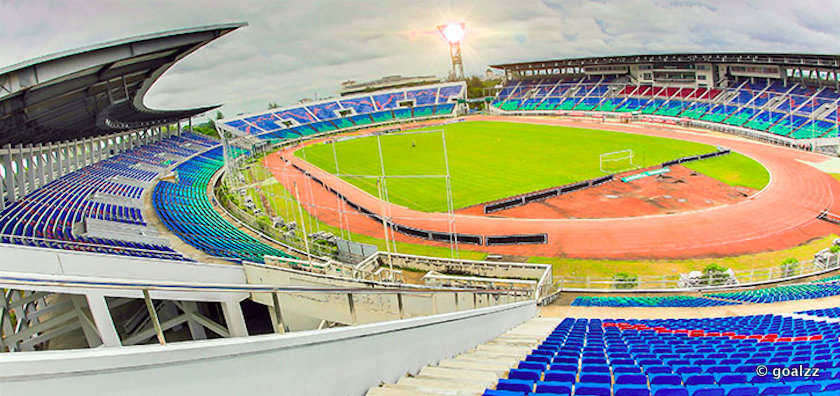 Golf
As a legacy of significant Scottish influence in colonial Burma, golf is hugely popular – courses can be found all over the country, and range from those laid out many years ago under British rule to modern, world-class Gary Player-designed courses, such as the Pun Hlaing Golf Club in Yangon. Most courses are easily accessible from major centres like Yangon, Mandalay and Nay Pyi Taw, in addition to courses located at beach resorts and other tourist spots, such as Ngapali and Bagan. Golf is of course a favourite of the growing middle classes, but was also notoriously the favoured sport of the military junta.
Prices vary from course to course, but you can expect to pay US$80 green fees and around $30 for golf set rental. We also offer a 10 day Myanmar golf tour.
For a list of golf courses, driving ranges and golf shops in Myanmar, go here.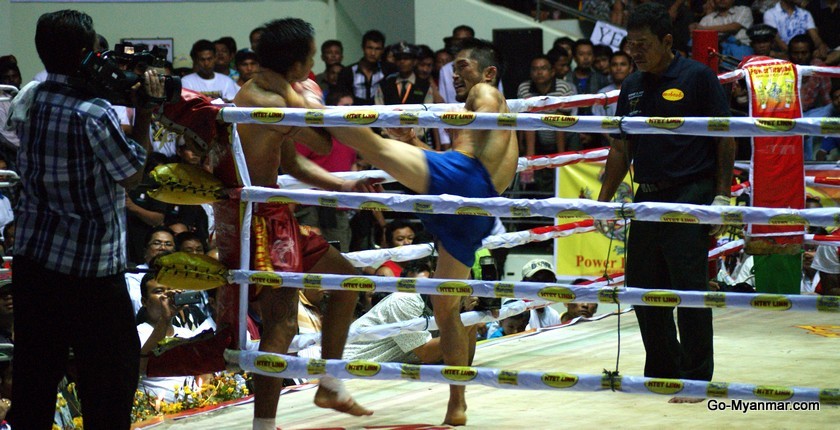 Lethwei and chinlone
Lethwei (pronounced 'la-way' and sometimes spelled letwhay) is Myanmar's most popular martial art; it is a form of kickboxing that is related to other renowned Southeast Asian forms such as Muay Thai. Matches are won by knockout only; if there is no knockout after a set number of rounds, a draw is declared.
Matches can be seen in Yangon at the National Indoor Stadium and Thein Byu Indoor Stadium on the south side of Kandawgyi Lake. You can book a match and/or training by clicking here.
To try on the gloves, Phoenix Leithwei Gym is a Yangon martial arts institution. The trainers (all former fighters) hold a rigorous training session at the top of every hour for all experience levels. A full session is K7,000 and includes access to a locker and shower.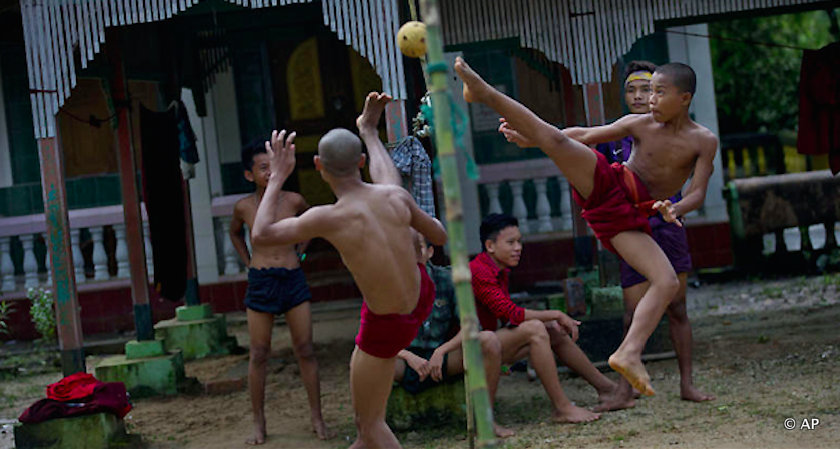 Chinlone is an ancient game that is the traditional sport of Myanmar. It is a ball sport with a difference: the focus is not on winning or losing, but on how beautifully the game is played. Teams of six combine sport and dance, using feet and knees to control a ball that makes a distinctive clicking sound when kicked, and there is no opposing team. Form and focus are central to the art of chinlone, and in many ways it is akin to meditation.
Chinlone is a particularly popular activity at the many festivals that take place around the country. To find out more about these, go to festivals and individual destinations.