Situated on a peninsula jutting out into the Andaman Sea, the town of Myeik has been a busy and strategically significant port for over 500 years. Previously known as Mergui (and still sometimes referred to by that name), it retains a number of colonial-era buildings on its characterful, meandering back streets.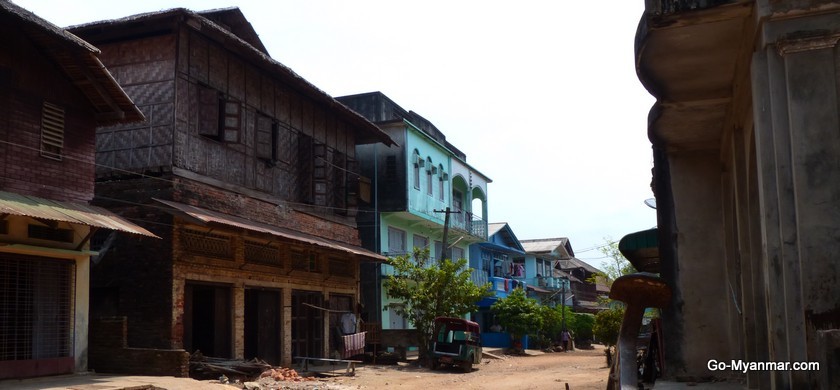 Unlike sleepy Mawlamyine, Myeik's harbour is a hive of activity, with hundreds of fishing boats of differing sizes arriving and departing from their work in the vast Myeik Archipelago, which can be found stretching far out to the south and west. Most of these islands can only be accessed by foreigners on organised tours, which sail from Myeik (shorter trips) and Kawthaung (multi-day live aboard trips).
The town and Strand Road
Strand Road (Kanna Lan in Burmese), which lines the waterfront, is a great place to start exploring Myeik – and if you arrive by boat from Dawei or Kawthaung, you will be dropped off at the jetty here. The life of the town is centred on this bustling road, and it offers the best views of the fishermen and their boats. Myeik's night market at the southern end of Strand Road, and at its northern end you will find Shwe Yar Su restaurant, which offers great food, fantastic service and a vibrant atmosphere.
The Theindawgyi Pagoda, located on a hill in the centre of Myeik, offers lovely views across the town and harbour. If you walk 20 minutes north from here along Bogyoke Road as far as Mingalar Lake , you will find Myeik's market; clock tower; a number of charming colonial-era buildings; and a fire station with old fire trucks. To the east of Mingalar Lake is another good place to eat - the classy Mergui de Kitchen, housed in a colonial-era building that was once the top hotel in town.
Check out our YouTube videos of Myeik harbour at dusk and the view of the town and harbour from Theindawgyi Pagoda.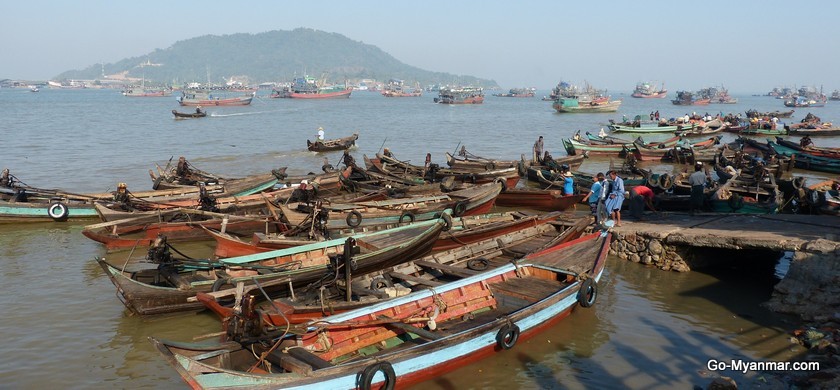 Islands off the coast
The outlying islands of the northern Myeik Archipelago can be reached on day trips from Myeik. There are some beautiful islands with white sand beaches off the coast of Myeik, with chances to meet the Moken people (or 'sea gypsies') who live on the islands and surrounding waters. Bear in mind if you are snorkeling that the water is not as clear here as further south in the archipelago, towards Kawthaung.   
Islands that can be visited include Kadan (King), Kala, Marcus, Natthamee Yae (Drakes) islands; they are all within a few hours of Myeik by boat and tours include English language guides and full safety equipment. Day trip prices range between US$120-$150 per person and you can find out more and make bookings by filling out this form.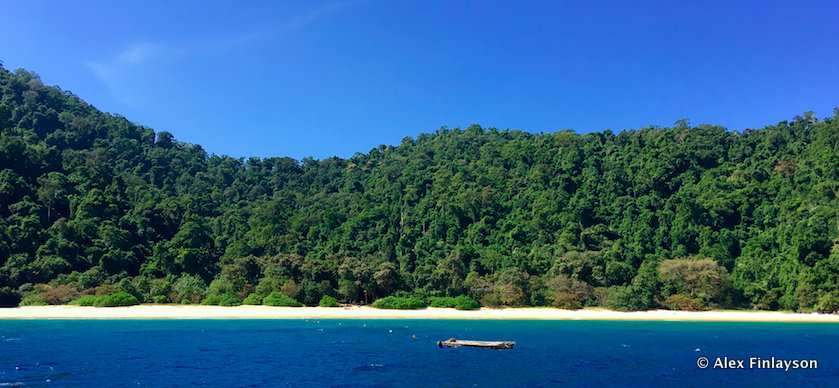 For a shorter trip, Pataw Padet Kyun is the closest island to Myeik, sitting 500 metres across the water. K25,000 will buy you a fishing boat charter, which will allow you to circumnavigate the island and visit the reclining Buddha, hilltop pagoda and monastery at its southern end.
The large reclining Buddha is made interesting by virtue of being hollow, with hundreds of small, pink Buddhas lining its interior. The hilltop pagoda, which can be reached through the monastery located just north of the Buddha, offers panoramic views of Myeik across the water and the islands further out to sea. You may also encounter a wide variety of birdlife on your boat journey, from cranes to large birds of prey and fluttering groups of smaller birds.
Take a look at our YouTube video of the view across to Myeik from Pataw Padet Island and, for a wider selection of photos from the town and surrounding area, go to our Flickr photo album.
Upriver to Tanintharyi
Another newly accessible place near Myeik is the historic town of Tanintharyi, which was once a waypoint on the overland route to Siam but is now a sleepy backwater. The four hour boat journey up the Tanintharyi River is an atmospheric one, lined by riverside jungle villages. Teak and betel nut are the main trade in Tanintharyi now, and after seeing the town market you can explore the nearby plantations. If you want to book a trip, fill out this form or email us here.
ATMs and practical information
There are a number of Visa- and Mastercard-ready ATMs in the centre of Myeik, including at an AGD Bank on Bogyoke Road and Ayerwaddy Bank branch close by.
Sidecars and motorbike taxis are the normal modes of transport for getting around Myeik, although they tend to be more expensive than in other parts of Myanmar.