December 21, 2013
Tourism high season in Myanmar is in full swing, and once again this year tourist infrastructure in the major destinations is straining. Independent travellers looking to escape the stumbling crowds of elderly European tour groups and the price gouging of the big four destinations are looking for off-the-beaten track destinations. Indawgyi Lake in remote Kachin State provides a perfect option.
It's a long 16-hour train ride from Mandalay, or a shorter 4.5-hour train journey from Myitkyina to the closest train station to Indawgyi Lake (Hopin). From there it's a minimum two more hours along a bumpy road to the village of Lonton, which has the only guesthouse where foreigners are allowed to stay at Indawgyi Lake.
What awaits there, is a tranquil and secluded paradise. This is a destination that sees very few tourists. As a result, what you find are people living a simple, traditional, rural lifestyle, who are still excited to see foreigners in their community. And Indawgyi Lake itself is a beautiful place. Surrounded by mountains and with pristine water, you could easily spend days just admiring the views from the large balcony of the lake-front guesthouse.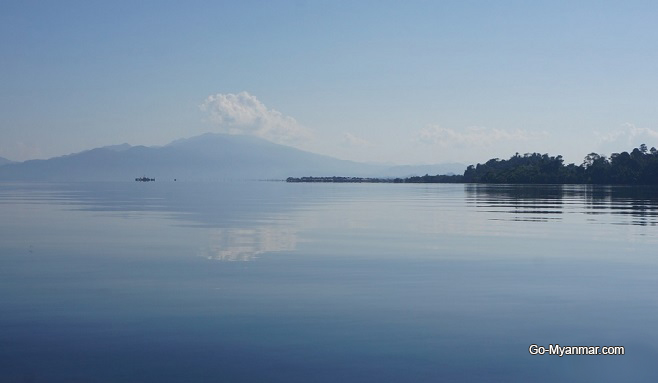 However, Indawgyi Lake has recently become something of an adventure destination as well. Previously, the only viable way to explore the lake was by comparatively overpriced motorboat rental (K65,000 per day as opposed to around K20,000 per day at Inle Lake). Inn Chit Thu Tourism Group, however, has recently started offering a range of tourism services there, such as kayak and bicycle hire, trekking and even recreational fishing.
Inn Chit Thu (Lovers of Indawgyi) Tourism Group is a community based organisation made up of local people, and their profits go into environmental conservation and livelihood projects of their own choosing.
Although it's a long way to travel, Indawgyi Lake links well with other Myanmar destinations. From Hopin, it's only five hours train ride south to Katha (best known as the former home of George Orwell and inspiration for his novel Burmese Days). From Katha, you can take a boat along the Irrawaddy River to Kyaukmyaung or Mandalay, from where you can easily press on to Bagan.
On such an itinerary, visiting Indawgyi Lake instead of Inle Lake makes a lot of sense. You might not see leg-rowing or floating gardens at Indawgyi Lake, but you also won't be assaulted by the constant sound of boat engines or be surrounded by thousands of other tourists. Instead, you'll find stunning natural scenery and experience peace and quiet at a destination largely untouched by tourism.
The tourism development at Indawgyi Lake was supported by Fauna and Flora International (FFI) and is part of a wider conservation program undertaken by the Myanmar Forest Department in partnership with FFI. Funding is provided by the European Union and several other donors.
Check out Go-Myanmar's bumper section about Indawgyi Lake for more information.