After decades of being off-limits to foreigners, the Myeik Archipelago is now accessible to intrepid divers – who will discover a hidden pearl with a vast range of colourful sea life, corals and underwater caves. One of the most pristine dive areas in Southeast Asia, a cruise around these islands makes the experience of a lifetime. 
Tour Overview
Book Tour
Start:
Kawthaung (for Ranong, Thailand)
Finish:
Kawthaung (for Ranong, Thailand)
Tour Highlights
Dive along underwater cliffs and through tunnels, including a spectacular night dive
Witness the unique lives of the Moken people, indigenous to these islands
Swim through the long fronds of the sea forest at Honour Rock
View a multitude of sea life including turtles, sharks and manta rays
Explore the jungles, beaches and rivers hundreds of uninhabited islands
Catch your own lobster around Macleod Island for dinner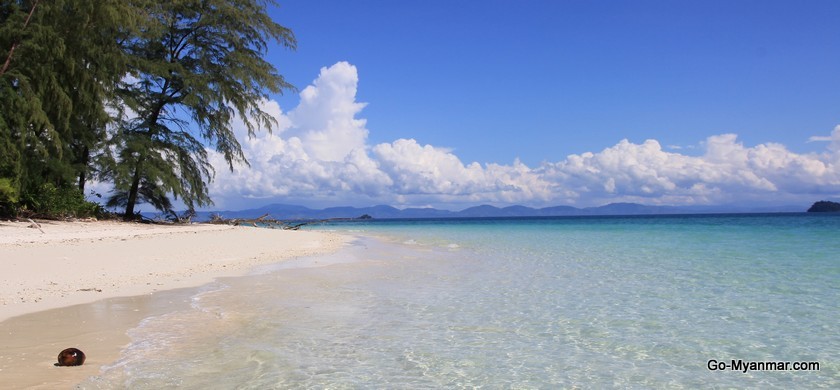 Day-by-day Itinerary
Day 1 Kawthaung - Western Rocky
Depart the jetty at Kawthaung for Western Rocky, a premium dive site at the weseternmost reach of the Myeik Archipelago. Enjoy the first onboard meal as the sun sets over open ocean. Drop anchor at the dive site and get a good night's rest before the first dive.
Day 2 Western Rocky - Shark Cave
Start the day at Western Rocky, one of the best dive sites in Myanmar, famous for its cave-like tunnel at 20 metres depth that goes all the way through the island. There are also good chances of spotting bowmouth guitarfish, nurse sharks, grey reef sharks, cuttlefish, harlequin shrimps, frogfish, sea horses and a plenty of lobsters. In the afternoon, dive at Western Rocky Pinnacle; sea leopard, grey reef and nurse sharks, eagle ray, eels, ghost pipefish and sea horses are all known to congregate in this area.
Last dive of the day is at Shark Cave, one of the most famous dive sites in the archipelago, known for the strong possiblity of encountering sharks inside the cave.
Begin with two dives at North Twin Island and the North Pinnacle, renowned for clear waters, vibrant coral and excellent chances of swimming alongside a large variety of colourful fish. Finish the day with afternoon dives at the beautiful South Twin Island.
The first two dives are around Macleod Island, a site offering plentiful opportunities to see manta rays, various shark species, harlequin shrimp, frogfish, and sea horses among other smaller ocean critters. After lunch, dive at the arch of Stewart Island, a site filled with coral reefs and steep walls lined with clams and sponges, creating a stunning atmosphere. Finish the day with a night dive near Macleod Island!
Day 5 Rocky Island - High Rock
Day 5 begins with two dives at Fan Forest Pinnacle, a spectacualy dive site long off-limits to foreigners, that contains a huge forest of soft coral, or 'fans'. After lunch, we have two dives at the incredible Western Rocky. 
Day 6 Shark Point - Kawthaung
The final 2 dives are at Shark Point and Secret Lagoon. Both sites have amazing and colorful soft coral and caves, with the potential for spotting sharks, fish, rays and sea turtles. After the last dive the boat will head back to port in Kawthaung.
If you would like an extended diving trip around the Myeik Archipelago, or you would you like to travel northwards to other parts of Myanmar, our travel advisors will be able to arrange this for you – along with any other travel, accommodation or activity requirements you may have. Just fill out the 'Any further queries' box after you have clicked on the 'Book Tour' button.
Our Service Include:
Accommodation and full board
All transfers and sightseeing by private air-con vehicle with drivers, as mentioned in program
All meals
Our Service Do Not Include:
International flights or transfer
Visa fees and visa arrangements for Myanmar
$200 Entrance fee
Visits not mentioned in the program
Drinks and personal expenses
Any other items not mentioned
Important Notes:
The above itinerary is indicative and some details may change according to conditions and availability; you will always be informed of such changes.
There may be changes to estimated prices depending on air fuel cost, domestic airfares, US$ exchange rates and festive season surcharge. All supplemental cost to be advised.