Travelling by train can be one of the most alluring ways to explore Myanmar, as railway journeys often afford scenic views and chances to mix with locals that are less likely when travelling by air or bus. In upper class and overnight sleeper carriages, a sometimes more comfortable journey is possible than on buses – albeit with significantly bouncier ride than you will be used to on trains elsewhere! 
Taking the train is usually invariably slower than taking the bus and, for reasons that range from flooded tracks to mechanical problems, trains are also less reliable than buses; apart from the usually reliable Yangon to Mandalay express train, journey times can vary wildly.
Please note that the map on this page indicates primary train routes accessible to foreigners, not all train routes.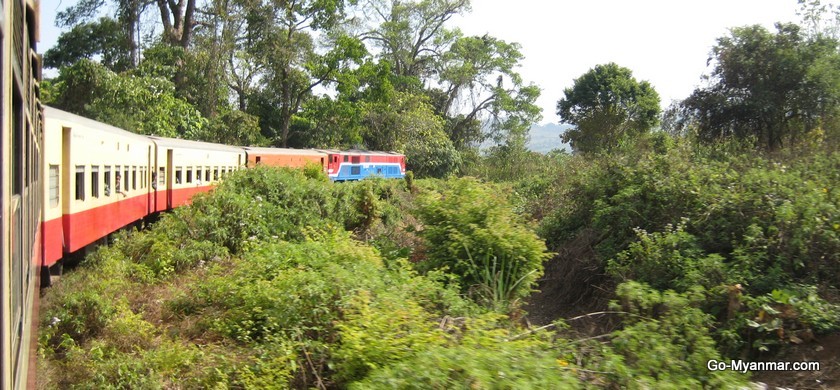 Types of train and classifications
Trains in Myanmar are classified Up (heading north) or Down (heading south), and each route has a number. Each train route also has a designated two- or three-digit number.
Classes are divided into:
Ordinary class

: simple wooden seats, usually very crowded. Available on all trains.

First class

: usually wooden seats with cushioned bottoms. Only available on certain trains.

Upper class

: comfortable, large seats. Be prepared for general lack of cleaning and upkeep – and broken adjustment mechanisms! Available on all trains.

Standard sleeper

: four-berth and two-berth lockable compartments, with bedclothes provided. Washbasin and toilets at the end of each sleeper carriage. Available on Yangon to Mandalay and Mandalay to Myitkyina routes.

Special sleeper

: self-contained compartments (maximum four people), with privacy (separate entrance, toilet, sitting and sleeping areas) but no access to the rest of the train. Water and fresh bedclothes provided. Usually only available on the Yangon to Bagan route.
Note that, in general, train conditions on the main Yangon to Mandalay route are superior to other lines around the country: trains are cleaner and air conditioning systems are more likely to work. Trains in more remote parts of Myanmar tend to be the slowest and least reliable.
We have a dedicated railway tour of Myanmar, which takes in the infamous Death Railway in the south; the Yangon to Mandalay Express; and the stunning Gokteik Viaduct in Shan State. To get in touch, go here.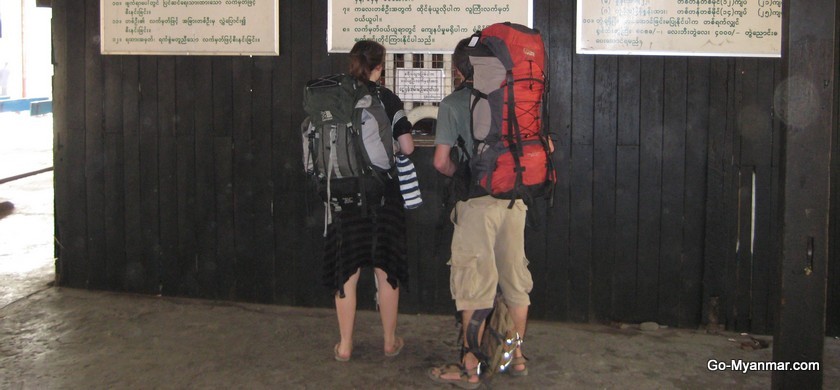 Train stations, tickets and schedules
Train tickets from Yangon to destinations around Myanmar can be booked online here. Online bookings through this website must be made at least five days ahead of your departure date. Otherwise, tickets must be bought at the train station from which you will be departing (although in Yangon the advance booking office is separate from the main building – go to getting to Yangon for more details), and at smaller stations you may have to sit down with the station master to buy your ticket, as foreigners have to provide passport details.
At railway stations, you can book tickets one day in advance for normal class seats and three days in advance for upper class seats; sleepers can be booked a week or two in advance. Seats are usually numbered in all classes – as long as you have a reserved seat, you should be able to sit down. Booking early is recommended, particularly for sleepers. At some local stations on branch lines you can only get tickets on your day of travel, but this should not be a problem for foreigner travellers.
Ticket pricing
At railway station ticket offices, tickets are paid for in kyat at the same rate for everyone (in 2014, Myanmar Railways ended the price differentiation for rail tickets between Myanmar locals and foreigners; previously, foreigners paid in dollars and at a substantially higher rate). On this website, prices are listed in US dollars where it is possible to book tickets online (price includes booking fee); for journeys where we cannot make bookings online, we quote the price in kyat.
Tickets range from US$10 to $25 when booking long-distance journeys online, depending on the length of the journey and the class of seat or bed (see below for more information). Buying tickets in kyat at railway stations is cheaper, costing between K1,000 and K10,000 - but we are able to offer secure online advanced booking for peace of mind and English-speaking staff who can offer detailed travel advice.
To find out about trains to specific places around the country, go to destinations.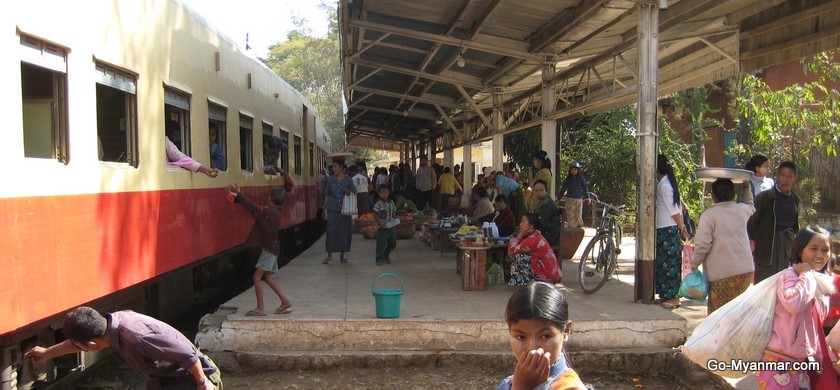 Important notes on train travel
As trains are unreliable, 

arrival and departure times can vary

. Yangon station has a digital departures board (in English), but few other stations offer this facility.
You will need 

your passport

 to buy a train ticket.
Many train journeys have 

multiple stop-off points

, often allowing you to get out of the train, stretch your legs, and grab some refreshments.

Trains can get cold at night

, so make sure to take warm clothes.
Buying train tickets can take a long time (sometimes as long as half an hour), as station staff go through the antiquated and bureaucratic form-filling that is required for foreigners, and friendly station masters take an opportunity to practice their English.
Even in upper class, seats can sometimes be a little smelly and greasy. Also, 

toilets are basic

, and can be dirty.
Monks have free upper class travel; they are often very chatty and offer interesting conversation!
Trains, and transport in general, tend to be heavily booked during then Thingyan festival in April.
Classic Myanmar railway journeys
Mandalay to Pyin Oo Lwin and Hsipaw
One of the most visually stunning journeys in Myanmar, made famous by Paul Theroux in The Great Railway Bazaar and later in Ghost Train to the Eastern Star, is this line which takes in the beautiful hill country of Shan State and the towering Gokteik Viaduct. When completed in 1900, this steel structure was one of the largest of its kind in the world and was considered an engineering triumph. It is said that repairs over the years are not what they should have been, so the train slows down to a snail's pace when crossing the dramatic Gokteik Gorge, meaning that it is not just the stunning scenery that leaves travellers breathless!
This journey has many fascinating stops, such the old colonial hill station of Pyin Oo Lwin and the rustic charms of Hsipaw. But as it is currently not possible to travel over land to/from China, unless you are heading beyond the eastern end of the line at Lashio with a special permit (for more information, go to arriving and departing over land), you will have to double back on yourself at some point. The best option is to take the bus one way, and the train the other.
For a selection of photos from this railway journey, go to our Flickr photo album.
Thazi to Kalaw and Inle Lake
Another charming Myanmar rail journey is the branch off the main Yangon to Mandalay line that veers off at Thazi, heading to Kalaw and Shwe Nyaung (for Inle Lake), and further onwards to Taunggyi, the capital of Shan State. This line winds its way very slowly through beautiful hill scenery, and is a wonderful alternative to the (much faster) bus route that most people take. It also connects travellers to two of the tourist highlights of Myanmar – the hill trekking around Kalaw and the numerous delights of Inle Lake.
Check out our YouTube video of the train between Shwenyaung Junction and Kalaw - this is a fairly typical speed for a train in Myanmar!
Mandalay to Myitkyina
For the truly adventurous, the train journey north from Mandalay to Myitkyina is an epic, taking in remote parts of the country that few foreigners ever see, including the beautiful expanses of Indawgyi Lake; the journey lasts between from 24 to 40 hours along rough and bumpy tracks. As with the Mandalay to Lashio route, you will have to double back on yourself at the end of your journey north. However, some of this journey offers you a parallel boat route that is equally adventurous; go to getting around Myanmar by boat for more details.