Mount Victoria (Nat Ma Taung in Burmese, or Khonuamthung in the local Chin language) is set in the stunning and little-visited Nat Ma Taung National Park, home to a variety of rare and beautiful 
flora and fauna
 and ethnic tribes known for their 
tattoo-faced womenfolk
. The national park's biodiversity has led to it being awarded ASEAN Heritage Park status and of Outstanding Universal Value by UNESCO.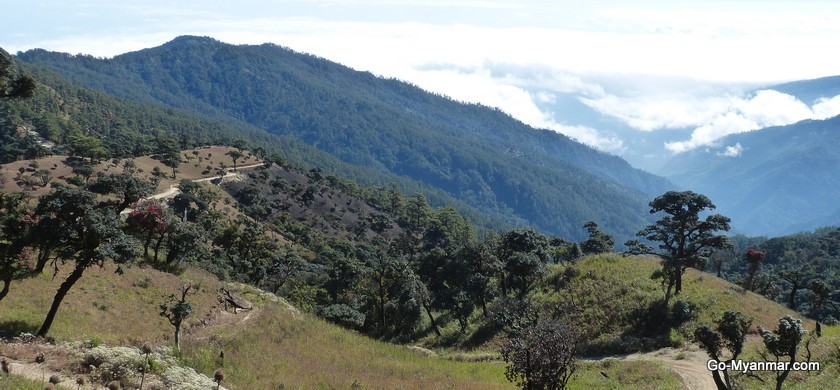 Standing at 3,053 metres (10,016 feet), Mount Victoria is the tallest peak in mountainous Chin State and the third highest in Myanmar overall (the others are in northern Kachin State). There are great views all the way up the simple ascent; in November, December and February colourful rhododendrons are in bloom; and at the twin peaks of Mount Victoria you will find 360 degree panoramas of the surrounding mountains (plus a pagoda and Buddha, for good measure).
Climbing Mount Victoria
The trail head from which the hike begins is a 45 minute drive uphill from the small town of Kanpetlet, where accommodation can be found; the hike itself takes around five hours to the summit and back to the trail head.
Although the walk is not technically challenging (it follows a rough road between villages, which could be driven in a 4×4 vehicle), it is a good idea to pack water and some snacks. In hot season the days can get very hot indeed; Mount Victoria is best climbed between November and February for the cool, clear air at that time of year.
With an upswing of local tourism, the main path leading up the mountain can become congested with motorbike taxis and other vehicles during peak season. It also not uncommon to find the stunning summit littered with rubbish. 
Check out our YouTube videos of hiking up Mount Victoria and a 360 degree view from the summit of Mount Victoria.
For a wider selection of photos from Mount Victoria, go to our Flickr photo album.
Other hikes and birdwatching
Mount Victoria can easily be climbed in one day, but there are longer, quieter and more remote hiking options in the area, including a direct route through the mountains and tribal villages from Kanpetlet to the nearby town of Mindat (two days, two nights) and a longer circular route to the west and north from Kanpetlet, which begins with the road to the summit of Mount Victoria (five days, four nights). For both of these hikes, you will need a guide and porter, and accommodation is at very simple village homestays.
Nat Ma Taung national park is also a great place to visit for keen ornithologists; the area is home to a number of species, including the endemic (and endangered) White-browed Nuthatch, as well as larger birds of prey.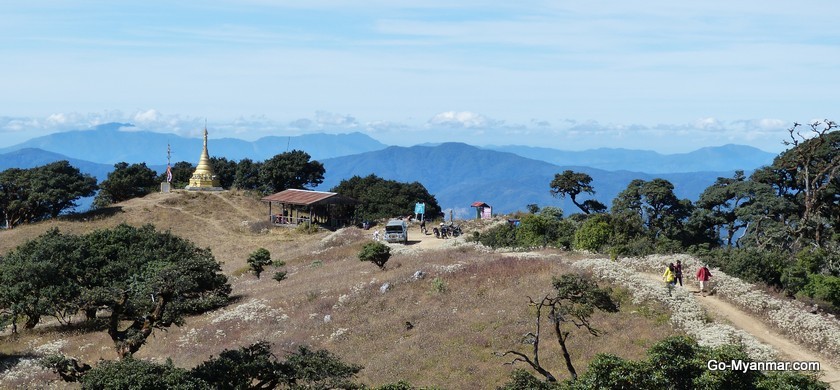 The towns and local culture
Kanpetlet
The small town of Kanpetlet is where most eco lodges in the area can be found – although they are not in the town itself, but higher up the mountain on the road to Mount Victoria. Meeting the locals by wandering around the simple homesteads and churches of this quiet rural backwater is all there is there is to do in Kanpetlet itself.
For a wider selection of photos, go to our Kanpetlet photo album.
Mindat town and local culture
A larger town than Kanpetlet, Mindat is about five hours to its north and is set spectacularly along a mountain ridge. In Mindat and the surrounding area you will find members of the indigenous Dai, Upu and Ya tribes; the older women of these tribes sport full facial tattoos that differ in design according to their tribe (the practice is now outlawed by the central government, so you do not see tattoos on younger women).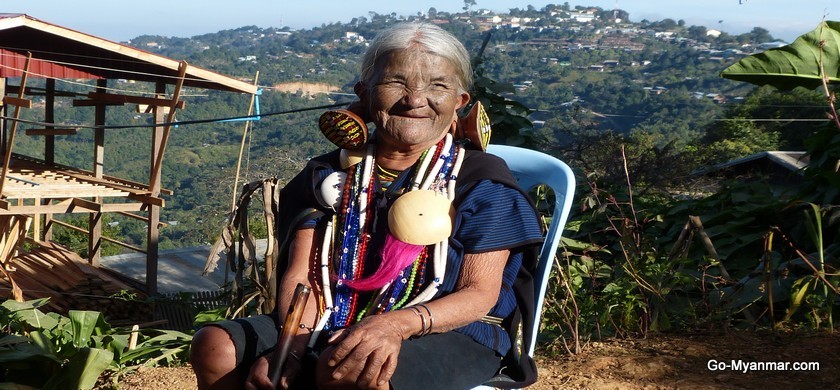 These are long-established traditions, the origins of which are somewhat lost in the mists of time, but the reasons seem to be protective: either as an attempt to hide the tribal women's beauty so they would not be kidnapped by Burmese kings, or to prevent kidnapping between tribes. Whatever the reasoning, this practice is symptomatic of the mixing of Christianity and animist traditions in Chin State; many locals identify themselves as Christian and attend church every Sunday, and yet hold to many of their ancient rituals.
In these parts of Chin State, many older people only speak the local language – they do not speak Burmese. But, due to the influence of Christianity, the level of English is quite high, and as a foreigner the first question you may be asked by people is 'Are you Christian?'. In Mindat alone, there are ten churches, including Presbyterian, Catholic, Baptist and Pentecostal churches. 
Take a look at our YouTube videos of a charming old Chin lady playing nose flute and the Assembly of God Pentecostal church in Mindat.
At the market in the centre of Mindat (the town is strung out along the road which follows the mountain ridge), you will find colourful Chin clothing and tapestries; local wine (made from millet); and other local handicrafts including a traditional Chin shoulder holster, that is made exclusively to carry a drinks bottle and a large knife!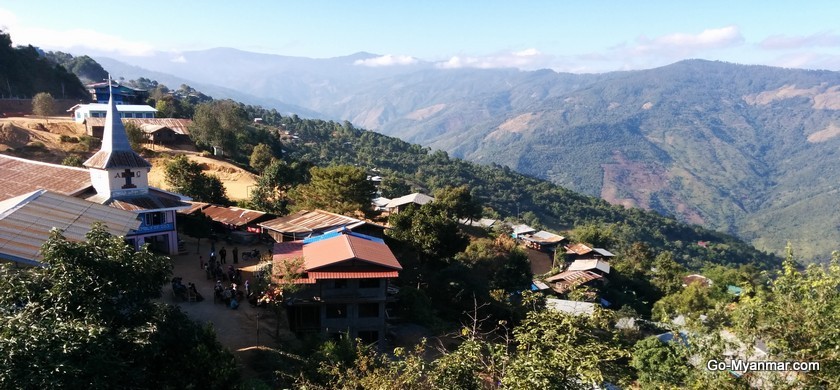 On a mountainside to the west of Mindat is the picturesque tribal village of Pan Auge, where you can find a traditional Chin graveyard, made distinctive by the unusual circular designs of headstones – all of which hold the ashes of family generations.
Check out our YouTube videos of the main road in Mindat and the panoramic view of the town and surrounding mountains from the pagoda to the north of Mindat. And for a wider selection of photos, go to our Mindat photo album.
We offer a variety of tours of Myanmar that include Mount Victoria, Kanpetlet and Mindat - find out more here. 
Park entry fees and practical info
There is a $10 entry fee for Nat Ma Taung national park which is included in the cost of pre-arranged tours.
In Kanpetlet and Mindat, mains electricity is limited. Eco lodges have generator back up that is typically turned off at 10pm, and simpler guest houses may have no generators. The eco lodges in the area are open from September to May (Mindat has one eco lodge and some simple guest houses). 
Mount Victoria (Nat Ma Taung)