Set spectacularly on a mountain ridge, Taunggyi the capital of Shan State and home to a large number of traditional ethnic tribes, including the Intha and the Pa-O – who in fact outnumber Shan here.
The city hosts a bustling market, where you will find large numbers of Pa-O, instantly recognisable by the colourful towels that the women wear on their heads. There are also a variety of tasty local Shan dishes to be tried out, as well as a range of wines at the nearby Aythaya vineyard. 
The dazzling fire balloon festival that takes place in November and the thousands of pagodas that can be found nearby at Kakku are other reasons to visit (more info below).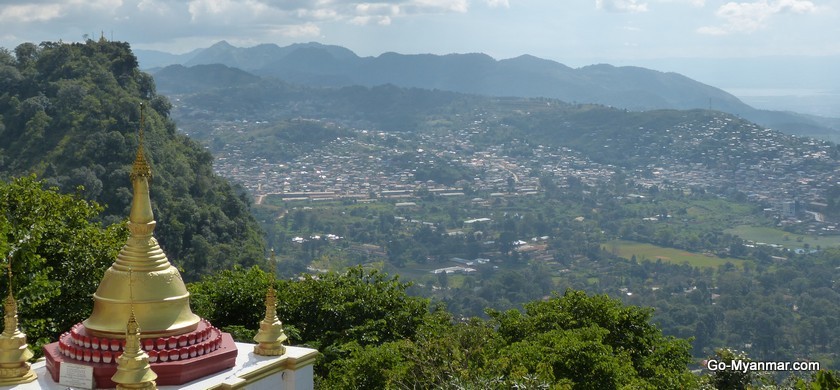 The city
Taunggyi's culturally diverse population means that it has places of worship for a host of religions, including a number of mosques, a Chinese Buddhist monastery (Kwan Yin Si Hpaya Kyaung) and a Catholic cathedral (St Joseph's).
Panoramic views of the entire city, and further across the plains to the north of Inle Lake, can be found at the Shwe Phone Pwint Pagoda, which sits at the top of a ridge to the east of Taunggyi. Walking there from the centre of town takes around 40 minutes, or you can get a taxi for K5000. The city's most prominent religious monument is the Sulamuni Pagoda, a huge white stupa modelled on the Ananda Pagoda in Bagan; it was built in 1994 to commemorate Taunggyi's centenary. 
The Shan State Cultural Museum a pretty dusty and basic place, but offers some insight into the history and style of the various tribes in the area, as well as some local political history. Entry is K2,000. Being located at an altitude of 1,436 metres, Taunggyi (which means 'Big Mountain' in Burmese) has a cool and pleasant year-round climate.
Check out our YouTube video of Taunggyi from Shwe Phone Pwint pagoda and, for a wider selection of photos, go to our Taunggyi photo album.
Visa- and Mastercard-ready CB and KBZ bank ATMs can be found near the centre of Taunggyi on the main thoroughfare, Bogyoke Aung San Road.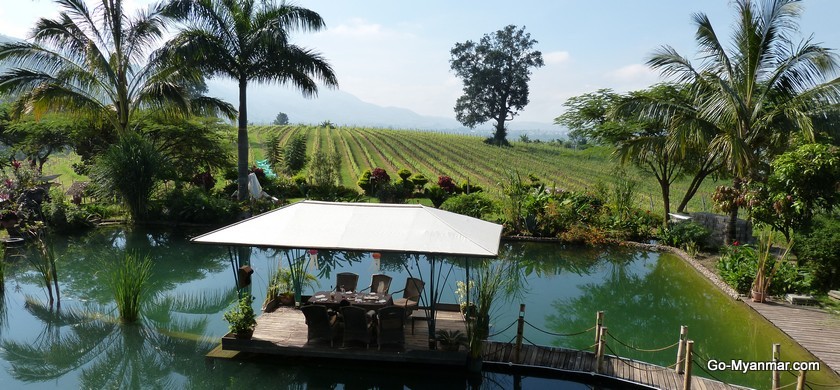 The German-run Aythaya Vineyard is immediately to the west of Taunggyi; one of only two vineyards in Myanmar, it also hosts attractive teak-built accommodation (the 'Monte Di Vino Lodge') with views of the picturesque Aythaya Valley. See our YouTube video of Aythaya vineyard.
Festivals
The Fire Balloon Festival
One of Myanmar's most famous yearly gatherings, the Taunggyi Fire Balloon Festival is held for several days around the Full Moon of Tazaungmon, which is a national holiday and marks the end of the rainy season (early November in the Gregorian calendar). The festival features fireworks and a startling array of different balloon designs, with competitions for style and elevation achieved.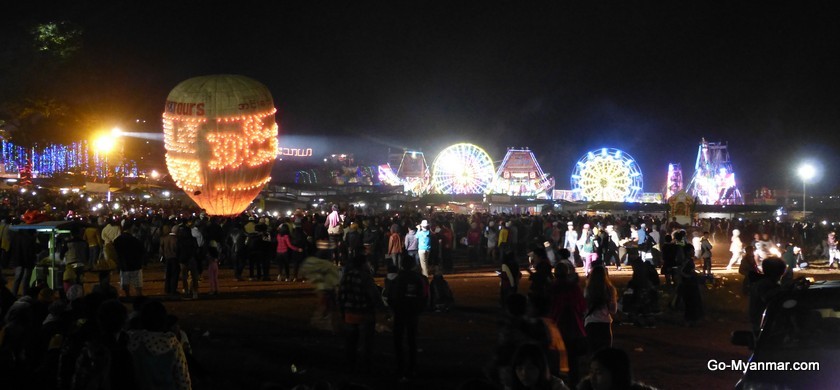 The daytime hours are focussed around family entertainment, with large animal-shaped balloons – but the revelries go on through the night until the early hours of the following morning, when huge balloons laden with hundreds of fireworks are sent up into the sky.
Visitors should note that safety standards are not what they should be, and there have been a number of accidents over the years; you should make certain to maintain a safe distance from the balloons. During the festival, accommodation prices are sharply increased and transport to Taunggyi should be booked well in advance.
Take a look at our YouTube videos of the Fire Balloon Festival during the day and at night. For a wider selection of photos, go to our Fire Balloon Festival photo album. And to read more about the festival, see our blog.
Other Taunggyi festivals
In late November or early December, ethnic Shan gather from far and wide in Taunggyi to celebrate Shan New Year with traditional dancing, colourful costumes and Shan long drum music; at midnight, new year is marked with fireworks and balloons.
For dates and full Myanmar festival listings, go to our festivals calendar.
Kakku
The pagoda complex at Kakku is a centre of worship for the Pa-O people and features thousands of closely-packed stupas in a small area, all with tinkling bells on top – making for an enchanting atmosphere. Unfortunately, many of the structures have been insensitively restored, using concrete instead of traditional brickwork – but the setting remains an impressive one.
Behind the pagodas to the east, you will find a lovely rural scene, with the Shan hills stretching out into the distance and a small river in which you can take a swim. Kakku is one and half hours south of Taunggyi on the road to Loikaw.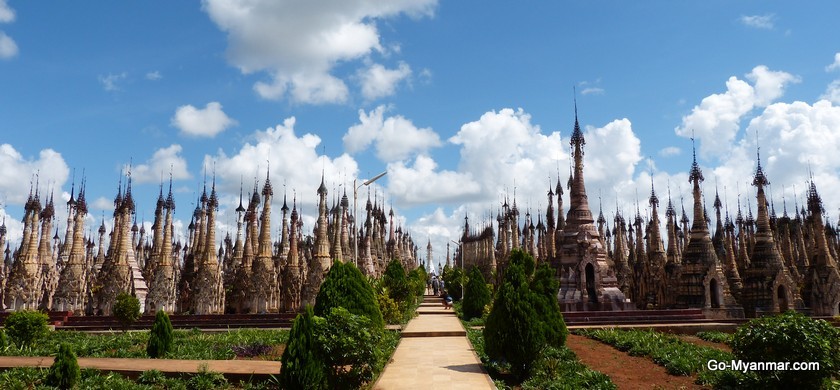 The Kakku pagoda festival is held on the Full Moon of Tabaung (usually February or March). During the festival, the Pa-O pay homage by wearing their finest ethnic clothing and by decorating their prize bullocks. For exact dates, see our festivals calendar.
For a wider selection of photos, go to our Kakku photo album.
Hten San Cave
60 kilometres east of Taunggyi, Hten San is a dramatic and extensive limestone cave system which hosts large stalactites and stalagmites. It offers more natural beauty than the other famous cave in Shan State at Pindaya, although it does have some gaudy Buddhist tributes.
Entry costs an eye-watering US$20 – although determined visitors may be able to negotiate this down to $10.
We offer a variety of tours of Myanmar that include Taunggyi and its surrounds - find out more here.